Bassett High School
Vet: FOUR DAYS!!! Aug 10 - Sat Aug 13th, 2005
Rookie: THREE DAYS!!! Wed Aug 10 - Fri Aug 12th, 2005

• StandardCamp • HighExpectationsCamp • CoachesCampInfo • Staff • InSeasonCamps • TenReasonsWhy •
• 2005 STAR Calendar • Bassett2005 • BassCommCenter2005 • JeffersonForest2005 • Westover2005 • Narrows2005 • AnEntireList • Search CoachHouser.com •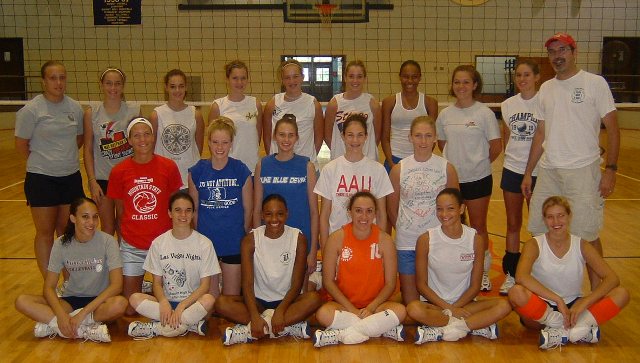 The Veteran Camp!!
The Rookie Camp!!
TOP QUIZZES THAT VETS TOOK ON TUESDAY!!
#1: Jennifer Blankenship
#2: Jami Thompson and Katelyn Ison
#4: Maranda Manns, Bekah Walker, Stephanie Blankenship, Sarah Stone, Kathryn Taylor and Rebecca Byrd

MOST LIKE COACH ISON
There were two teams that were only TWO POINT OFF!!
Team 1: Mallory Stewart & Olivia Randall
Team 2: Molly & Karen

If you want to contact the assistant coaches, their email addresses are below!! And you can visit Coach Jennifer at her Shenandoah University webpage: http://www.su.edu/athletics/vb/players.cfm?rid=583

Camp Format!!!

Rookie Camp: 9am to 1pm. Wed, Thurs & Fri.
Cost: $60


Vet Camp: 9am to 3, Wed through Fri with a 30 minute lunch break.
9am to 1pm on Saturday
Cost: $95



If you want to see the registration form that we used,
you can download it by touching here!
| | |
| --- | --- |
| Last updated: 10/28/2011 10:14 PM | |

• StandardCamp • HighExpectationsCamp • CoachesCampInfo • Staff • InSeasonCamps • TenReasonsWhy •
• 2005 STAR Calendar • Bassett2005 • BassCommCenter2005 • JeffersonForest2005 • Westover2005 • Narrows2005 • AnEntireList • Search CoachHouser.com •
• 2006 STAR Calendar • JeffersonForest2006 • WestoverChristian2006 • Lebanon2006 • NewCovenant2006 • Bassett2006 • RedLionDE2006 •
• 2007 STAR Calendar • WestoverChristian2007 • JeffesonForest2007 • Timberlake2007 • RedLionDE2007 • OconeeSC2007 •