Narrows High School
Monday July 18 - Thursday July 21, 2005

Home / CampHostingInfo / StandardCamp / HighExpecationsCamp / MaxExpectationsCamp / Staff / In-SeasonClinics / 10ReasonsWhy / A Complete List!
2005 STAR Calendar / BassettVa2005 / BassCommCenterVa2005 / JeffersonForestVa2005 / WestoverChristianVa2005 / Narrows2005 / Facebook

It was a great camp!!
Rookies: You did awesome! We were all so impressed!
Vets: You're going to have a SUPER season! You guys are GOOD!!
Katie Hambrick, assistant coach for the camp, talks to the campers about the importance teamwork and being a positive member of a team.
Putting Important Things In Order 1-10!

1st Place: Lelia & Ashley
2nd Place: Natasha and Cara
The Veterans Awards!!

Arlene was named Camp Digger
Kayla won the Leadership Award.
Katlin was named Passer of the Week
Lee was named Best Spirit.
But she was too bashful to accept it.
Kellie was given the Hitter of the Week Award
Lola/Lala/Lela (whatever) was named Camper Of The Week!!
Laura was given a "We're Proud of You" Award
Here Meagan accepts the Camp Setter award.
Laura was named Camp Server
The Rookie Certificates and Rookie Team Picture!

Alyssa Shines, rising 8th grader
Cara Ganoe, Rising 6th grader
Ashley Sadler, Rising 8th grader
Madison Bragg, Rising 4th grader
Andy Johnston, rising 6th grader
Katy Griffith, rising 8th grader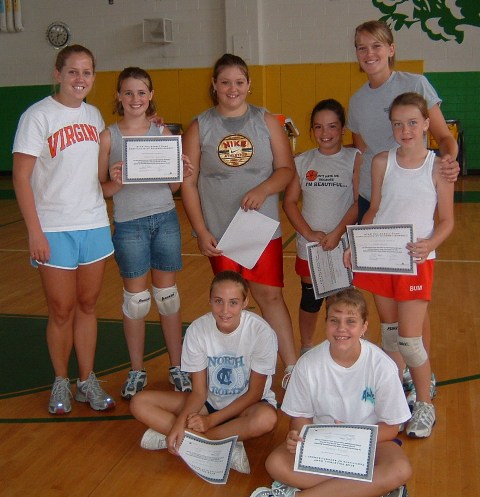 Camp Format:



Rookie Camp: 12 noon to 2:30.


Open to any girl of any grade who has limited playing experience.
Cost: $50



Vet Camp: 12 noon to 3:30 pm.


Open to any girl of any grade who has had at least 1 season of competitive school ball or club ball.
Cost: $60


Camp Assistant Coaches:

Karen Carrier
Karen is a 2000 graduate of Honaker High. She was named 1st team All-District MB and 1st team All Region D MB. She also led her team to the most wins in school history. She graduated from Radford in 2003 and is now working on her masters degree at Va Tech.

Katie Hambrick
Katie is a team MVP, all-district & all-state performer at Patrick Henry High School. She also played OH and MB for Roanoke Juniors for four years. She is rising sophomore at UVa.

Blair Bullock
Blair is a rising senior at William Byrd Terriers, where she is a hard-hitting, All-District MB. She has played 3 years of Roanoke Juniors and just completed a season on the Roanoke area's top 17's Red team.


Narrows High School info:
Touch here to see the school website.

Touch here to see a map to the school.
| | | |
| --- | --- | --- |
| | If an athlete is interested in one-on-one training, Coach Houser and his staff offer private lessons in Roanoke. There are athletes who come from Pulaski, Martinsville, Hillsville, Lynchburg, etc. The website is here. It's a TON of fun!! If you or your teammates have any questions, you can email Coach Houser anytime at coachhouser@yahoo.com | |


~~~~~~~~~~~~~~~~~~~~~~~~~~~~~~~~~~~~~~~~~~~~~~~~~~~~~~~~~~~~~~~~~~~


Home / CampHostingInfo / StandardCamp / HighExpecationsCamp / MaxExpectationsCamp / Staff / In-SeasonClinics / 10ReasonsWhy / A Complete List!
2005 STAR Calendar / BassettVa2005 / BassCommCenterVa2005 / JeffersonForestVa2005 / WestoverChristianVa2005 / Narrows2005 / Facebook
2006 STAR Calendar / JeffersonForestVa2006 / WestoverChristianVa2006 / LebanonVa2006 / NewCovenantVa2006 / BassettVa2006 / RedLionDE2006 / Facebook
2007 STAR Calendar / WestoverChristian2007 / JeffersonForest2007 / Timberlake2007 / RedLionDE2007 / OconeeSC2007 / Facebook
2008 STAR Calendar / WestoverChristian2008 / HighExpVa2008 / JeffersonForestVa2008 / StMarysPA2008 / RoanCath2008 / RedLionDE2008 / Facebook
2009 STAR Calendar / FranklinCoVa2009 / RiverheadsVa2009 / HighExpVa2009 / TimberlakeVa2009 / RoanokeCatholicVa2009 / FuquaVa2009 / StMarysPA2009 / ChugiakAlaska2009 / RedLionDE2009 / Facebook
2010 STAR Calendar / DanRiver2010 / HighExpVa2010 / TimberlakeVa2010 / RoanokeCatholic2010 / StMarysPA2010 / VaEpiscopal2010 / PatrickCounty2010 / Fuqua2010 / Facebook
2011 STAR Calendar / TimberlakeVa2011 / DanRiverVa2011 / JamesRiverVa2011 / HighExpVa2011 / MaxExpVa2011 / RoanokeCatholicVa2011 / CarlisleVa2011 / PatrickCoVa2011 / WestoverChristianVa2011 / Facebook
2012 STAR Calendar / TimberlakeVa2012 / DanRiverVa2012 / MagnaVistaVa2012 / HighExpVa2012 / MaxExpVa2012 / WestoverVa2012 / RoanokeCatholicVa2012 / CarlisleVa2012 / PatrickCountyVa2012 / PaulVIVa2012 / JohnBattleVa2012
2013 STAR Calendar / AppomattoxVa2013 / HighExpVa2013 / CollegeExpVa2013 / MacArthurOK2013 / RoanCathVa2013 / ChathamVa2013 / SonomaCountyCA2013 / WestoverVa2013 / JohnBattleVa2013 / SouthCaldwellNC2013
2014 Camp Calendar / PulaskiCoVa2014 / FoothillsVballClubSC2014 / StateLineClubVa2014 / AppomattoxVa2014 / GretnaVa2014 / HighExpVa2014 / CollegeExpVa2014 / SonomaCountyCA2014 / JohnBattle2014 / WestoverChristian2014 / PatrickCounty2014 / LibertyVa2014 / Facebook
2015 Camp Calendar / PatrickHenryCommCollVa2015 / AlleghanyVa2015 / LebanonVa2015 / HighExpVA2015 / CollegeExpVa2015 / SonomaCoCA2015 / HighExpCA2015 / FoothillsVballClubSC2015 / PatrickCountyVa2015 / WestoverChristianVa2015 / GretnaVa2015 / SouthCaldwellNC2015 / Facebook
2016 Camp Calendar / RoanokeCatholic2016 / ArundelRookieMD2016 / HighExpVA2016 / CollegeExpVa2016 / ArundelHighExpectationsMD2016 / FortChiswell2016 / FranklinCounty2016 / SonomaCountySTARCA2016 / SonomaCountyHighExpCA2016 / WestoverChristianVa2016 / PatrickCountyVa2016 GretnaVa2016 / ArundelH.S.PrepMD2016 / McMichaelNC2016 / Facebook
2017 Camp Calendar / DanRiverVa2017 / ChristiansburgVa2017 / WilliamMonroeVa2017 / HighExpVA2017 / CollegeExpVa2017 / RockbridgeCoVa2017 / PatrickCoVa2017 / FortChiswellVa2017 / GretnaVa2017 / McMichaelNC2017 / Facebook
2018 Camp Calendar / GeorgeWashingtonVa2018 / WilliamMonroeVa2018 / HighExpVA2018 / CollegeExpVa2018 / MagnaVistaVa2018 / PatrickCountyVa2018 / CarrollCountyVa2018 / FortChiswellVa2018 / GretnaVa2018 / McMichaelNC2018 / Facebook