School: Hidden Valley Middle
Birthday: 10/26/90
Class 2009
Height: 5'6"Position: OH
Years playing Jrs: 0
Years playing school ball: 2
Other sports: School softball & travel softball.
Favorites:
Animal: Horse; Band: Tim McGraw
Way to Waste Time: Instant Messaging
Clothing Store: H&M
Place To Vacation: Saratoga Spring NY
Restaurant: Alexanders;
TV Show: The OC
Type of Food: Steakhouse; Word: Mediocre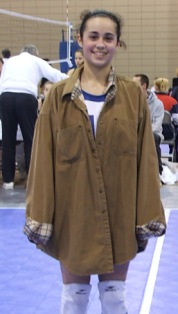 Jessica with her favorite coat!!

Is your nose cold?
Or do you just fear the next drill?

The Fashion Show was awesome! Jessica walks down the runway made of mats!