First Day Pictures
(Touch any thumbnail and you'll see the big picture
Round 1 - We played Thursday 4pm, 6pm, 8pm and we played Friday 2pm and 4pm
Team Name

Matches W/L

Games W/L

Jammers 14's (Hawaii)

0

5

0

10
Sunshine 15 Spikerz (Calif)
5

0

10
1
TAV 15 Molton (Texas)
4
1
8
2
Dayton Jrs 15-Blue
3
2
7
6
Roanoke 15 National
1
4
3
8
Team Tulsa 15 Select
2
3
5
6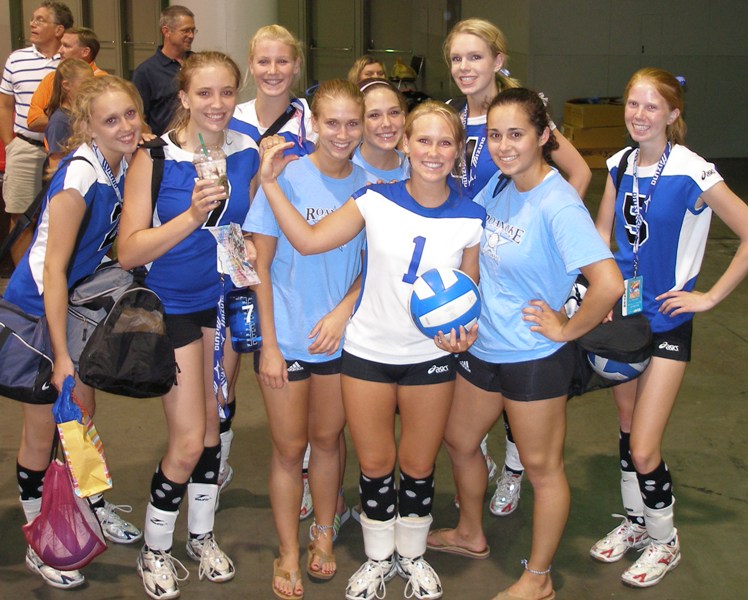 After our first day! On the way to get supper!
Happy Birthday, Tori, #2
Our Play Schedule for Thursday June 29 and Friday June 30
GREAT JOB ROANOKE 15 N!!!

Results

16-25, 14-25

21-25, 16-25

- - - - - - - - - - - - - - -

25-17 ,22-25, 11-15

- - - - - - - - - - - - - - -

25-18, 25-19

19-25, 20-25
Second Day Pictures
at Nationals
If you act goofy enough at an Atlanta Braves baseball game,
will they put you on the Jumbo Screen? YEP!!
Before our Friday matches!

Our Play Schedule for Saturday July 1st.
We have a 3-team pool, then a Challenge Match!

Results

- - - - - - - - - - - - - - -

5:00 PM

Amarillo Elite Vball 15-2

20-25, 25-14, 11-15

6:00 PM

27

15ND2P4

Vision 15 Blue

15

-25, 21-25

9:00 pm

Triangle 15 Keapa

25-17, 25-16

After our two Friday matches!

Third Day Pictures at Nationals
| | |
| --- | --- |
| | |
| Coach Houser pours water on Meredith's head | We leave the GWCC after a great win! |
| | |
| Lindsey talks after beating Triangle...... | ........that match was satisifying! |
Our Play Schedule for Sunday July 2nd.
We're in Flight 6
Court Masters 15-1

15NF6M1

Court 1

Game Time 15 Black

Sun 8:00 AM

Game Time 15 Black

15NF6M3

Court 35

Idaho Stars 15

Roanoke 15 National

Sun 11:00 AM

25-17, 25-16

15NF6M2

Court 2

Idaho Stars 15

Sun 8:00 AM

25-20, 25-20

Idaho Stars 15

Pics From Our 4th & Final Day!
We left together the first time Jan 28h at the Monument Classic in Richmond. On Sunday July 2nd, we leave together for the final time. Good-bye 2006 Roanoke 15 Nationals! It was an awesome, awesome season!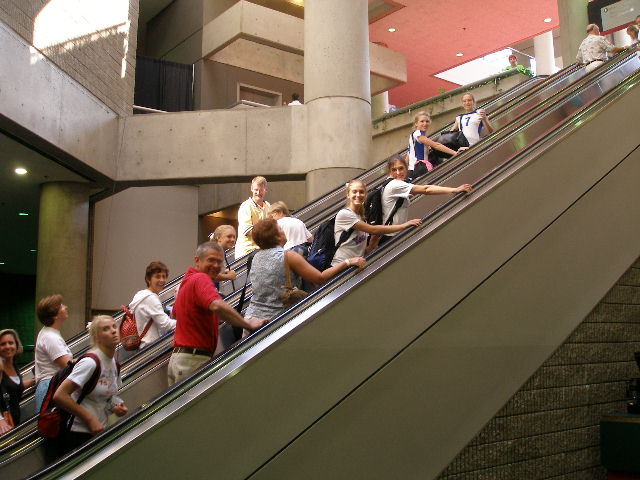 The Results Of Other 15's Teams
That We've Played This Year
Jammers, record 0-9, finished 47th
Triangle 15, record was 2-8, eliminated Jammers in 3 games, and finished 46th
Idaho, won our final flight, finished 41st.
Amarillo15-2, finished 39th. Team Tulsa 31st Vision (Calif) 27th. Dayton 19th
TAV Molten (Texas)17th. Sunshine (Calif) 3rd
Impact Teal (Nashville) WON THE NATIONAL DIVISION!!

Other Teams Of Interest
RVC 17N 's record was 3-6, finished 23rd RVC 18N's record was 3-6, finished 43rd.
Chesapeake Region Representative in 15's National: Va Elite 15's, 4-5, finished 31st.
Old Dominion Region Rep in the 15's National: VEVO Shazam: 3-7, finished 45th.
Carolina Region Rep in 15's American: NC Challengers 15's, 0-9, 47th in the American Division's
Chesapeake Region Rep in 16's National: Va Elite 16's 3-6, finished 31st
Carolina Region Rep in 16 Nationals: NC Challengers, 2-7, finished 31st.
Old Dominion Region Rep in 14's: VB4Y (Synergy) finished 43rd, won 1 match.
Old Dominion Region Rep in 13's: Tidewater 13's finished 47th, won no matches.
We started off Wednesday night with a team meeting at 10pm.........and a new game that Shannon & I learned.......The Cup Game! Now the entire team knows it!! We met Thursday June 29th at Court 45 at 2:30pm. LET'S GO!! We Can't Wait!!
Team I
nformation!
Our play dates were:
June 29, 30, July 1, 2
We played in the PM wave (3pm to 9pm) on the first three days.
Playoffs were Sunday 7/2.
OUR HOTEL WAS:


Hampton Inn Atlanta-Buckhead


Address: 3398 Piedmont Road NE, Atlanta, Georgia, United States 30305
Telephone: +1-404-233-5656
It's website was here.
Websites
The USA Vball website for juniors is here.
To see a lot of info about Junior Nationals, touch here.
To see when all age groups play, touch the PDF file here
To see the 43-page PDF manual, touch here!
FINAL TEAM LISTING!!

Team Name

Team Code

Region Division

Event Qualified

1

A5 Mizuno 15 Kelly

FJ5AFIVE1SO

Southern

Northeast Qualifier

2

Amarillo Elite 15-2

FJAEVBC2SU

Sun Country

Sun Country Region Bid

3

Arrowhead 15 Ravens

FJ5ARROW1AZ

Arizona

Arizona Region Bid

4

Asics KIVA 15 White

F

JASMUN1HO

Hoosier

Pioneer Region Bid

5

Asic Munciana WIldKats

FJ5AKIVA2PR

Pioneer

Hoosier Region Bid

6

Austin 15 Mizuno

FJAJVBA1LS

Lone Star

Reallocation Bid (MK)

7

AVVC 151 (Atlantic Valley)

FJAVVC11GE

Garden Empire

Garden Empire Region Bid

8

Charleston Juniors 15 Red

FJ5CHARL1PM

Palmetto

Palmetto Region Bid

9

Court Masters 15-1

FJ5CTMST1IA

Iowa

Iowa Region Bid

10

Dallas Skyline Jrs 15 Roshambo

FJ5SKYLN1ST

North Texas

North Texas Region Bid

11

Dayton Jrs. 15 Blue

FJ5DJVBC1OV

Ohio Valley

Reallocation Bid (CE)

12

Delta Valley 15 Blue

FJ5DELTA1NC

Northern Calif.

Pacific Northwest

13

Front Range 151 White

FJ5FRVBC1RM

Rocky Mountain

Rocky Mountain Region Bid

14

Front Range 152 Cardinal

FJ5FRVBC2RM

Rocky Mountain

Far Western

15

Game Time 15 Black

FJ5GTVBC1LK

Lakeshore

Lakeshore Region Bid

16

Golden Bear 15 Roshambo

FJ5GBEAR1NC

Northern California

Northern Cal Region Bid

17

Golden West 15 Black

FJ5GLDWT1SC

Southern California

Reallocation Bid (EV)

18

Idaho Stars 15

FJ5ISYOU1IM

Intermountain

Intermountain Region Bid

19

Illini Elite 15 Cardinal

FJ5SPVBG2GL

Great Lakes

Great Lakes Region Bid

20

Impact VBC 15 Teal

FJ5IMPAC1SO

Southern

Big South

21

Jammers 14s

FJ4JAMME1AH

Aloha

Aloha Region Bid

22

Kaepa Invasion 15-1

FJ5INVAS1HA

Heart of America

Heart of America Region Bid

23

Kaepa Northern Lights 151

FJ5NLITE1NO

North Country

North Country Region Bid

24

Minnesota Select 15-1

FJ5MNSEL1NO

North Country

Reallocation Bid (IE)

25

N-3 15 Price

FJ5N3VBC1HO

Hoosier

Northern Lights

26

NASA 151 Connie

FJ5NASAV1SO

Southern

Southern Region Bid

27

Nebraska Jrs 15 Red

FJ5NEJRS1GP

Great Plains

Great Plains Region Bid

28

Niagara Frontier 15 National

FJ5FRONT1WE

Western Empire

Hoosier Mideast

29

Niagara Frontier 15 Red

FJ5FRONT2WE

Western Empire

Western Empire Bid

30

OK Peak Performance 15

FJ5OP2VB1OK

Oklahoma

Colorado Crossroads

31

OVA 15 National (Orlando VBA)

FJ5OVAVB1FL

Florida

Florida Region Bid

32

Ozark Juniors 151

FJ5OJVBC1DE

Delta

Delta Region Bid

33

R&B Select Klang

FJ5RNBSV1KE

Keystone

Keystone Region Bid

34

Renaissance Cleveland 15 N

FJ5RENCL1OV

Ohio Valley

Ohio Valley Region Bid

35

Roanoke Jrs. 15 National

FJ5RNKJR1OD

Old Dominion

Old Dominion Region Bid

36

St. Louis CYC 15 TM

FJ5SLCYC1GW

Gateway

Gateway Region Bid

37

Sunshine 15 Spikerz

FJ5SUNSH1SC

Souther California

Southern Cal Region Bid

38

TAV 15 Molten (TX Advantage)

FJ5TXADV2NT

North Texas

Lone Star Classic

39

Team Tulsa 15 Select

FJ5TMTVB1OK

Oklahoma

Oklahoma Region Bid

40

Texas Tornados 15 Nike

FJ5TXTOR1LS

Lone Star

Lone Star Region Bid

41

Triangle 15 Kaepa

FJ5TRNGL1CR

Carolina

Carolina Region Bid

42

VA Elite 15s

FJ5VEJVB1CH

Chesapeake

Chesapeake Region Bid

43

Vision 15 Blue

FJ5VSION2NC

Northern California

So Cal Qualifier

44

Volleyball Baton Rouge 15 Regan

FJ5BATON1BY

Bayou

Bayou Region Bid

45

Volleyball Pensacola 15 Nikkel

FJ5VBPEN1GC

Gulf Coast

Gulf Coast Region Bid

46

Wisconsin Power 15 Red

FJ5WIPWR1BG

Badger

Badger Region Bid

47

WVBA Mizuno 15 Black

FJ5WAVBA1PS

Puget Sound

Puget Sound Region Bid

48

SF Jrs 15 Roshambo

FJ5SFJRS1NC

Northern California

Reallocation Bid (NE)