Shamrock Runner-Ups!! That's 2nd place of 90 team!!
GREAT JOB!!



All the tournament pairings and
results could be seen here.



Our Results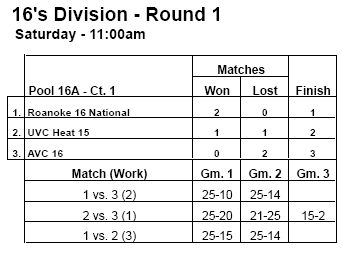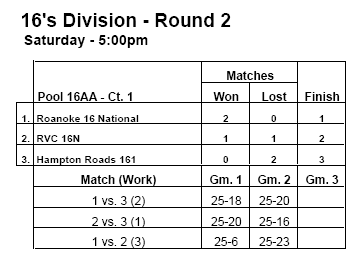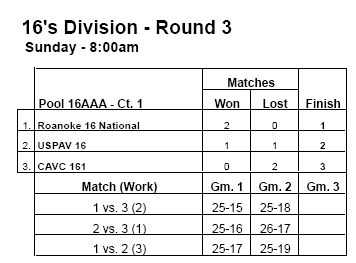 Playoffs Sunday April 15th:
2pm We defeated I.C. Stars 15-1: 25-10, 25-15
3pm: We defeated MVSA Fierce 16: 25-18, 25-18

4pm, Gold Medal Finals:
We lost to NVVA Fairfax 16 Black: 20-25, 25-13, 7-15.


INCREDIBLE TOURNAMENT!!!
17 - 2 for the weekend.
We're now 68 - 15 overall (81.9% winning %)

We started as the top seed on Court 1!!
After day 1, we were undefeated!!

OUR PLAYING SCHEDULE!!

* We started with a 3-team pool on Saturday at 11am./
* Our second pool was at 5pm on Saturday.
* We had our final 3-team pool starting Sunday morning at 8am.

Playoffs started around noon.

Teams That Were Competing In The 16's Division


| | | |
| --- | --- | --- |
| Team Name | City & State | USAV Code |
| Apex U16 | Fredericksburg, VA | FJ6APEXV1OD |
| AVC 15 | Arlington, VA | FJ5ARLVA1CH |
| AVC 16 | Arlington, VA | FJ6ARLVA1CH |
| BAVA 15 Blaze | Millersville, MD | FJ5BAVAJ1CH |
| BAVA 16 Breakers | Millersville, MD | FJ6BAVAJ1CH |
| BCVC 16 Black | Morganton, NC | FJ6ABCVB2CR |
| BCVC 16 White | Morganton, NC | FJ6ABCVB1CR |
| Botetourt Blaze 15 | Daleville, VA | FJ5BOTET1OD |
| Carolina Select 15-1 | Hickory, NC | FJ5CSLCT1CR |
| Carolina Storm 15-1 | Harrisburg, NC | FJ5STORM1CR |
| Carolina Storm 16-1 | Harrisburg, NC | FJ6STORM1CR |
| Carolina Storm 16-2 | Harrisburg, NC | FJ6STORM2CR |
| CAVC 151 | Charlottesville, VA | FJ5CAVCX1OD |
| CAVC 161 | Charlottesville, VA | FJ6CAVCX1OD |
| CCVC Chaos 16-3 | Apex, NC | FJ6CCVC13CR |
| CCVC Rush 16-2 | Apex, NC | FJ5CCVC11CR |
| CCVC Smokin' Aces 16-4 | Apex, NC | FJ6CCVC14CR |
| CCVC Sparks 15-2 | Apex, NC | FJ5CCVC12CR |
| Charleston 16 | Charleston, WV | FJ6CHARL1OV |
| FAVA Cyclones 15-1 | Fayetteville, NC | FJ5FAVBA1CR |
| FAVA Thunder 16-2 | Fayetteville, NC | FJ6FAVBA2CR |
| FAVA Tornados 16-1 | Fayetteville, NC | FJ6FAVBA1CR |
| FAVA Tsunami 16-3 | Fayetteville, NC | FJ6FAVBA3CR |
| Floyd 15 Gold | Floyd, VA | FJ5FLOYD1OD |
| Floyd 16 Gold | Floyd, VA | FJ6FLOYD1OD |
| Glenvar Juniors 16 | Salem,VA | FJ6GJVBC1OD |
| Hampton Roads 151 | Hayes, VA | FJ5HRJRS1OD |
| Hampton Roads 161 | Hayes, VA | FJ6HRJRS1OD |
| Hampton Roads 162 | Hayes, VA | FJ6HRJRS2OD |
| HOV 15 Navy | Lynchburg, VA | FJ5HOVJR1OD |
| HOV 16 Navy | Lynchburg, VA | FJ6HOVJR1OD |
| HOV 16 Red | Lynchburg, VA | FJ6HOVJR2OD |
| I.C. Stars 15-1 | Statesville, NC | FJ5ICSTR1CR |
| Jammers 15 Red | Durham, NC | FJ5JAMMR2CR |
| MAVC 15 | Midlothian, VA | FJ5MAVBC1OD |
| MAVC 16 | Midlothian, VA | FJ6MAVBC1OD |
| Mizuno Yorktowne 15 | Windsor, PA | FJ5MIZYO1KE |
| MVSA 15R | Montgomery Village, MD | FJ5MVSAV1CH |
| MVSA Fierce 16 | Montgomery Village, MD | FJ6MVSAV1CH |
| MVSA Hott Shots 16 | Montgomery Village, MD | FJ6MVSAV2CH |
| MVSA Starz 15 | Montgomery Village, MD | FJ5MVSAV2CH |
| MVSA Xtreme 16 | Montgomery Village, MD | FJ6MVSAV3CH |
| NETVC 15 Red | Bristol, TN | FJ5NETVC2SO |
| NETVC 16 Blue | Bristol, TN | FJ6NETVC1SO |
| NOVA 15 East | Fairfax, VA | FJ5NOVA_2CH |
| NOVA 15 West | Fairfax, VA | FJ5NOVA_1CH |
| NOVA 16 | Fairfax, VA | FJ6NOVA_1CH |
| NVVA Fairfax 15 Black | Leesburg, VA | FJ5NVVA_4CH |
| NVVA Fairfax 16 Black | Leesburg, VA | FJ6NVVA_4CH |
| NVVA Fairfax 16 Red | Leesburg, VA | FJ6NVVA_6CH |
| NVVA Fairfax 16 White | Leesburg, VA | FJ6NVVA_8CH |
| NVVA Fauquier 15 | Leesburg, VA | FJ5NVVA_2CH |
| NVVA Fauquier 16 | Leesburg, VA | FJ6NVVA_2CH |
| NVVA Loudoun 15 Black | Leesburg, VA | FJ5NVVA_3CH |
| NVVA Loudoun 16 Black | Leesburg, VA | FJ6NVVA_3CH |
| NVVA Loudoun 16 Red | Leesburg, VA | FJ6NVVA_5CH |
| NVVA Loudoun 16 White | Leesburg, VA | FJ6NVVA_7CH |
| NVVA Skyline 15 | Leesburg, VA | FJ5NVVA_9CH |
| NVVA Skyline 16 Black | Leesburg, VA | FJ6NVVA_9CH |
| NVVA Skyline 16 Red | Leesburg, VA | FJ6NVVA_ACH |
| R&B Jazz 16 | York, PA | FJ6RNBSV1KE |
| R&B Platinum 15 | York, PA | FJ5RNBSV1KE |
| RCV Renegades 16 | Mooresville, NC | FJ6RACE11CR |
| River Valley 16-1 | Blacksburg, VA | FJ6RIVAL1OD |
| Roanoke 15 Club | Roanoke, VA | FJ5RNKJR1OD |
| Roanoke 16 Club | Roanoke, VA | FJ6RNKJR2OD |
| Roanoke 16 National | Roanoke, VA | FJ6RNKJR1OD |
| RRVC 16 | Charlottesville, VA | FJ6RRVC11OD |
| RVC 15N | Richmond, VA | FJ5RVCJR1OD |
| RVC 15Z | Richmond, VA | FJ5RVCJR2OD |
| RVC 16N | Richmond, VA | FJ6RVCJR1OD |
| RVC 16S | Richmond, VA | FJ6RVCJR3OD |
| RVC 16Z | Richmond, VA | FJ6RVCJR2OD |
| SC Juniors 16 Blue | Columbia, SC | FJ6SCPLX1PM |
| Sports Academy 16 | Statesville, NC | FJ6SPTAC1CR |
| SWVJ 16 Blue | Radford, VA | FJ6SWVAJ1OD |
| TEVA 151 | Bristol, TN | FJ5SRTEV1SO |
| TEVA 161 | Bristol, TN | FJ6SRTEV1SO |
| USPAV 16 | Richmond, VA | FJ6USPAV1OD |
| UVC Fusion 16 | Monroe, NC | FJ6UNION1CR |
| UVC Heat 15 | Monroe, NC | FJ5UNION1CR |
| UVC Titans 16 | Monroe, NC | FJ6UNION2CR |
| VBVBA 15R | Virginia Beach, VA | FJ5VBVBA2OD |
| VBVBA 16N | Virginia Beach, VA | FJ6VBVBA1OD |
| Velocity 15-1 | Glen Burnie, MD | FJ5VELVB1CH |
| Velocity 16-1 | Glen Burnie, MD | FJ6VELVB1CH |
| WVC 15 Black | Williamsburg, VA | FJ5WMSBG1OD |
| Xceleration 16-1 | Wayne, PA | FJ6XSPVB1KE |
| York YMCA Fire 16-1 | York, PA | FJ6YORKY1KE |
| YVVC Sting 16 | Boonville, NC | FJ6VBALL1CR |