Match results for all age groups, all clubs and all teams are here.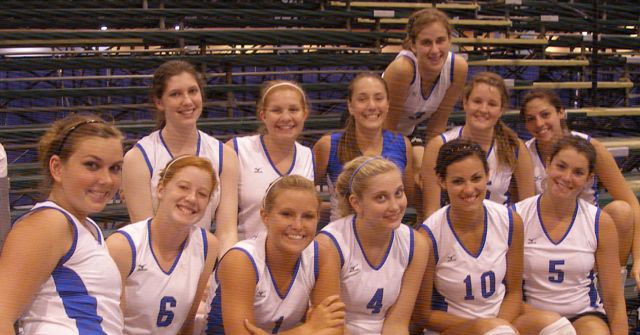 After Our First Day!
Play Schedule For Friday 6/26 and Saturday 6/27

Pool/Bracket

Match Opponent

Result

Location/Date/Time

R1G1P5

Asics Rainbows 16 Blk (AH)

Lost 0-2

Miami Court 14 at 6/26 4:00 PM

R1G1P5

ALCiS 16-1 (NC)

Lost 0-2

Miami Court 16 at 6/26 6:00 PM

R1G1P5

Braggin Rights 161 (LS)


Lost 0-2

Miami Court 16 at 6/26 8:00 PM

R1G1P5

Asics Mem Metro 16N (DE)


Lost 1-2

Miami Court 14 at 6/27 6:00 PM

R1G1P5

Triangle 16 Black (CR)

Lost 1-2

Miami Court 15 at 6/27 8:00 PM

We met at 5:15 to take the team pics.......then we all had to check 'em out!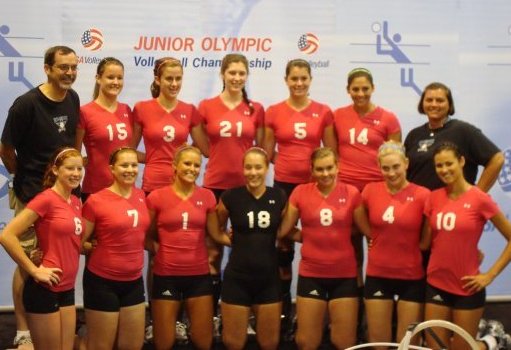 And this is the picture that we had posed for! Sweeeet!
Play Schedule For Sunday 6/29

Match #

Pool/Bracket

Match Opponent

Result

Location/Date/Time

6

Lost 0-2

Miami Court 42 at 6/28 6:00 PM

7

Lost 0-2

Miami Court 42 at 6/28 7:00 PM

8

R3G5CG5C4

Legacy 16-National

Lost 0-2

Miami Court

16 at 6/28 9:00 PM, but it started 45 minutes late! :(

After Our Second Day!


Our Play Schedule for our final day, Monday June 29th.
We were in Flight 7
Roanoke 16 National

Mon June 29th, 12 noon

Court 28

Roanoke 16 Nationals

25-12, 25-12

LAT 42 U 16-1

Court 7

Roanoke 16 National

Team Yakima 16 Gold

Monday, June 29 2pm

25-21, 25-15

Mon, June 29th, 12 noon

Court 29

Digs 16 Red

Digs 16 Red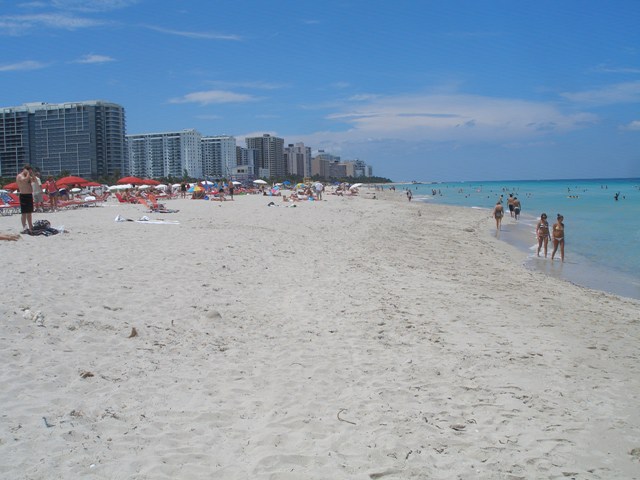 Here is Miami Beach, Florida!

How Did The Teams We Played Finish?
Day 1
Match #1: Asics Rainbow 16 Black finished 4-5, 23rd.
Match #2: ALCiS 161 finished 6-3, 27th
Match #3: Bragging Rights 16-1 finished 4-5, 13th
Day 2
Match #4: Asics Memphis Metro 16N finished 4-6, 41st.
Match #5: Triangle 16 Black finished 7-2, 5th
Day 3
Match #5: Club Utah 16 Black finished 7-3, 25th
Match #6: Top Select 16 Elite, finished 4-5, 35th.
Match #7, the Challenge Match vs. Legacy 16N. They finished 2-7, 43rd
Day 4
Match #8: LAT 42 finished last, the only team to go 0-9.
Match #9: Digs 16 Red finished 2-8, 46th.


2009 Team I
nformation!

Tournament Venue:
Miami Beach Convention Center, Miami, FL
1901 Convention Center Dr. • Miami Beach, FL 33139
Tel: 305.673.7311 • Fax: 305.673.7435
The website was here.
A map of the venue was here
You may want to zoom out to see exactly where we are! HOLY COW!


The Junior Nationals 16's play dates for 2009 were:
June 26, 27, 28 and 29

We started off with the P.M. wave on Friday June 26. We were originally scheduled to play the morning wave on Sat, Sun & Mon; but, we were told on Tuesday June 23 that that would change. Grrrrr. Our final match was supposed to be no later than 2pm on Monday, June 29th. Luckily, that was accurate, but it wouldn't have been if we'd gotten into flight 4 or flight 5.


Our 2009 Hotel Info

Some families were staying at the Holiday Inn Oceanfront
It was 2 miles from the Convention Center

Other families were staying at the Loews Hotel. That was 4 blocks.

Coach Houser and Coach Shannon stayed at the Doubletree Surfcomber, because they had single rooms. (Plus it was only 2 blocks from the site.)

To see the list of all THS hotels, touch here.


Websites
The USA Vball website for juniors is here.
To see a lot of info about Junior Nationals, touch here.
To see the teams that qualified, touch here
If you're curious about the HUGE tournament manual, touch here!
To see the playing dates for each age group, touch here.
Ticket info was here.


Incredible Weekend In Miami! And Incredible Players!

Thanks to all the players for a great season! Even while we encountered challenges in ways that we didn't expect (losing matches, birds on the court, rain every day, etc.), the players remained a team. The players willingly sacrificed, voluntarily looked out for each other, kept celebrating, encouraging and giving through 4 days.

Some might think that this is too much sacrifice for the players to withstand. But the members of our team knew better, and the final two matches were the reward for the players' unity. Lesser people would not have had enough courage to play. Lesser people would have been thinking of "me," and "Where's my playing time?", but not the 12 girls of the Roanoke 16N's! The team was each girl's top priority, and their own personal glory was secondary. Isn't that refreshing? The players understood "team"!!

It's the players who usually do understand all this! Others didn't.
It's the players who knew that together we would succeed, and if we separated, we would fail.
And the players wouldn't let any person separate them from the success that they ultimately earned!

Regardless of the horrible memories that were forced upon us by a few people in our final few minutes together, we will focus on the great times we had, and we're proud to be a part of the Roanoke 16 Nationals for 2009.

It was a team built to win the ODR Championship.... and together we did!

We had an incredible season. Congratulations!!

Teams Entered:
| | | |
| --- | --- | --- |
| fj6afive1so | A5 161 Gabe | A5 Volleyball Club |
| fj6ajvba1ls | AJV 16 Mizuno | Austin Junior Volleyball |
| fj6alcis1nc | ALCiS 16-1 | ALCis Volleyball |
| fj6asics1ah | Asics Rainbows 16 Blk | Asics Rainbows Volleyball Club |
| fj6avama1su | Advanced 16 Navy | Advanced Volleyball - Amarillo |
| fj6brvbc1ls | Braggin Rights 161 | BRAGGIN RIGHTS VBC, INC. |
| fj6cajun1by | Cajunland Tommy | Cajunland Booster Club, Inc. |
| fj6ccity1ho | Circle City 16 Purple | Mizuno Circle City |
| fj6charl1pm | Chas Jrs 16 Red | Charleston Juniors |
| fj6chgjr1gl | Chicago Jrs 16-1 | Chicago jrs |
| fj6cojrs1rm | Colorado Jrs16Peer | Colorado Juniors |
| fj6colva1ov | CVA 16 National | Columbus Volleyball Academy |
| fj6cutah1im | Club Utah 16 Black | Club Utah Volleyball |
| fj6digsv1ge | DIGS 16 Red | DIGS - Jersey Girls Volleyball Club |
| fj6gbear1nc | Golden Bear 16 Mizuno | Golden Bear Volleyball Club |
| fj6imiik1ah | Imi Ike 16s | Imi Ike |
| fj6ipvhp1ia | IPVA 16 Black | Iowa Power Volleyball Alliance |
| fj6knvbc2ha | KNVBC Impact 16-2 | Kansas Networks Volleyball Club |
| fj6laser1gp | Lincoln Lasers 16s | Lincoln Elite Lasers |
| fj6legvc1lk | Legacy 16-National | Legacy Volleyball Club |
| fj6lfjvb1ne | LAT42 U16-1 | LAT 42 VBX |
| fj6mavbc1ha | Asics MAVS 16-1 | Asics Mid-America Volleyball |
| fj6mizyo1ke | YORKTOWNE COUGARS | MIZUNO YORKTOWNE |
| fj6mmjvb1de | Asics Mem Metro 16N | Memphis Metro JVC, Inc. |
| fj6mnsel1no | Minnesota Select 16-1 | Mizuno MN Select |
| fj6ncajv1ie | NCAJ 16-1 | North Country Albany Juniors |
| fj6nkyvc1ov | NKYVC 16-1 Tsunami | NKYVC |
| fj6nlite1no | Northern Lights 16-1 | Mizuno Northern Lights |
| fj6norca1nc | NorCal Black 16-1 | NorCal Volleyball Club |
| fj6onevb1ok | CLUB ONE 16 Black | Club ONE |
| fj6op2vb1ok | OK Peak Perform. 16-1 | Oklahoma Peak Performance |
| fj6premr1gp | Premier 16 Gold | Premier Volleyball |
| fj6premr1nt | Premier 16 Mizuno | Dallas Premier Volleyball Club |
| fj6rnkjr1od | Roanoke 16 National | Roanoke Juniors |
| fj6sixpk1ia | Nike Six Pack 16 | Nike Six Pack VBC |
| fj6spirl1az | Spiral VBC 16-1 | Spiral Volleyball Academy |
| fj6sport1sc | Sports Shack 16-1 | Sports Shack VBC |
| fj6suvba1im | SUVA 16's Cindy | Southern Utah Volleyball Academy |
| fj6swivb1gw | SWI 16 Smack | Southwest Illinois Volleyball Club |
| fj6tavbc1ov | Atlantis Pterodactyls | Team Atlantis |
| fj6tmykm1ev | Team Yakima 16Gold | Team Yakima |
| fj6trngl1cr | Triangle 16 Black | Triangle Volleyball Club |
| fj6tsvac1fl | Top Select 16Elite | TOP SELECT VOLLEYBALL ACADEMY |
| fj6vejvb1ch | VA Elite 16s | Virginia Elite |
| fj6volfx1we | VolleyFX 16 Mantra | VolleyFX Volleyball Club, Inc. |
| fj6wavba1ps | WVBA Mizuno 16 | Washington Volleyball Academy |
| fj6wbpvc1bg | WestBend Pwr16-Purple | West Bend Power Volleyball Club |
| fj6wvevb1sc | Wave 16Katie Spalding | Wave Volleyball Club |