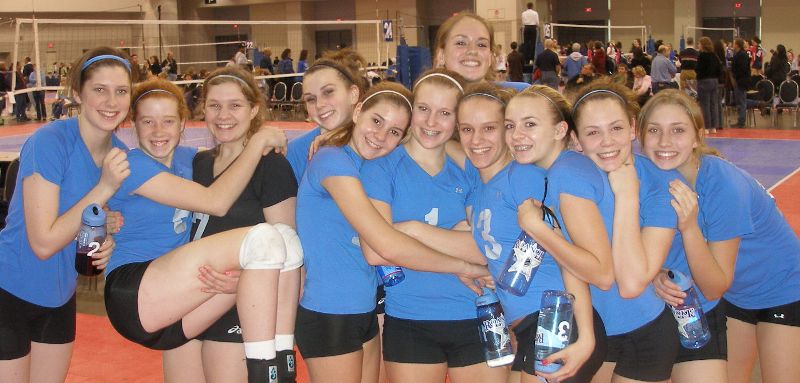 15's Division Champions. The only undefeated team in the tournament!! 10-0!!!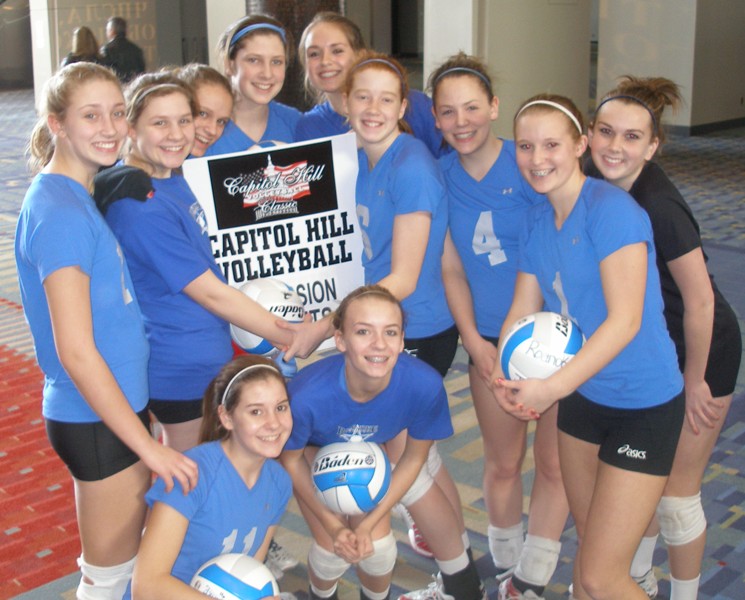 To see the players' comments about the tournament, scroll down to the bottom!

Results from day 1:
We defeated Metro Virginia Xtreme 15F 25-13, 25-5.
We defeated Diamond Juniors 15s 25-16, 25-21
We defeated NOVA Eclipse 15 25-5, 25-6

Results from day 2:
We defeated Velocity (Md) 25-11, 25-17 (we had a different libero jersey, but our opponents didn't!!)
We defeated Monarch (NY) 25-10, 25-9
We defeated Williamsburg 15 Black 25-21, 23-25, 15-11

Results from day 3:
We defeated Push The Rock 15-1 25-22 (after being down 13-17) and 25-14 (after Morgan's serve got us up 17-3!).
We then defeated Metro Virginia 15R 25-17, 27-25
(GREAT one-on-one block Aidan!)
Then we defeated Valley Forge 25-15, 22-25, 15-8

15's Gold Finals
We defeated Tidewater 16-25, 25-20, 15-12 (after being up 14-6......Aidan finished the match with a banging hit!!!)

CONGRATULATIONS!!!!!!!!
Taylor Baumann was named top setter in the 15's division!!!
Macey Tyree was named MVP of the 15's division!!!

But, more importantly,
our team was the best team in the 15's division........
maybe the best team in the entire tournament!
RoJo 15 Open ROCKS!!!


GREAT JOB TEAM!!
To see all results of all the age groups, touch here.


TEAM MEMBERS MEMORIES:

#1 Macey:
The Capital Hill Classic was one of the most fun tournaments for me so far. Our whole team played great which led to us winning the whole tournament. Whenever we would get down, whether it being the score or getting down on ourselves, our teammates would encourage us and bring us back up. I believe that teamwork is what really got us through the tournament, working together and supporting each other helped us out a ton. One thing I won't forget is how the tournament directors "misplaced" our medals! Also Lauren's "boob dig" which was great! I think it was kind of ironic that we played Tidewater in the championship match, because last year we played them many times and have already played them once this season. The final match ended up being a very good game that I won't forget! Overall, I'm very proud to be on one of the few teams from Roanoke that has won a big tournament like we did!

Assistant Sam Thomas
I am so proud of them! Tidewater i know is such an intense team! im also so happy that the team was able to reach and even surpass their goals! CONGRATS GIRLS!!


#13 Jessi:
I think we did an amazing job this weekend, Tay's serves were beastly and contributed greatly to the team. I thought that Aiden's hits improved so much....there was some that I couldn't even see the ball because it was going so fast!!!!! I thought Kim's passing was impeccable and that she is amazing, she dug some balls I didn't think were even possible. Taylor and Bekah's setting was amazing all these hitters wouldn't be able to do anything or get any glory without them and I thought they had some amazing plays! Morgi was totally on with her hitting Tay and Bekah could set her anywhere and I was almost sure it would go down! Lauren and Macey are amazing outsides; Lauren I couldn't believe those digs especially that one you took with your um...you know....and you even got it up it was so awesome! And Macey is an amazing hitter she always knows where to place it and how to go through the block, I don't even know how someone can do it I am still trying to learn!!!! Caroline is so magnificent, she can play almost any position and be bouncy and not get lost, she has amazing team spirit it is really inspiring! The two Rachels are so reliable I can always see them as a teacher because if you hit it out they are so patient and are like good try do it again you will get it in I know it! This tournament was an awesome experience for me and I really enjoyed it. I thought it was really cool how even though Shannon had to leave we could still win the tournament. I thought it showed how well we adapt and how well we help each other out. I know that Coach Houser had to ask us to help him look for dumps and serving spots and I thought it was sooooo cool how he trusted our judgment for those types of things. It was also really cool that we were in the morning pool because then we could go out and have team bonding and do things with each other. I know Morgi, Tay, Bekah, and I had a great time site seeing and I personally thought it was awesome to be able to eat at the Hard Rock Cafe all together as a team. This was a great experience and I know it won't be out last!


#7 Lauren
I wanted to thank Kim for trying to pick me up in the last game against tidewater. I don't know if anyone else saw or heard what she said to me, but I really appreciate it. I hadn't been passing very well and had made a couple of mistakes in the last few points and I was starting to get down on myself because I thought I was doing bad, but Kim came over to me told me to just forget about it and to please not get mad because that wouldn't help, and she gave me a high five, and a smile, and encouraged me. I will never forget that moment. She did it more than once too. I just wanted to thank her for it because it really helped and I really appreciated it. And I wanted to tell you because I think if "best teammate ever" was in the dictionary then what she did for me would have been the definition. I wanted to thank all of the other girls too for being great teammates and I'm glad that we don't fight like other teams do because if we did then we wouldn't have been able to win or accomplish what we have so far. I'm just glad that we are a close team. Also I wanted to say that I was really proud to be on our team, (not that I wasn't before, and not just because we won too) but because we really gave it our all. Everyone hustled after every ball, the people not playing cheered the entire time, everyone had a good attitude, and really tried on every single point. I just wanted to say I think we are really special team and I'm so happy I got a chance to be on it. I can't wait for the rest of the season! Thank you for everything Coach Houser, Shannon, Sam, and the 10 other amazing girls I get the privilege to play with.

Coach Houser
This group of players is just an incredible bunch. They have every characteristic a coach could ask for: dependable, athletic, caring & loving, hard working and "team first". The team is made up of girls who play great when asked and are patient when not playing. Everytime one of them goes in, they contribute positively to the team effort. It's incredible! They are always touching, smiling, thinking, encouraging and loving each other. New friendships have been created, and old friendships renewed. Each girl has come to respect her teammate's positive qualities. This team is remarkable. I love coaching for Roanoke Juniors! And I love this team!!

Head Assistant Shannon
I enjoy spending time with the girls and getting to know them. But most of all I enjoy seeing them succeed and put into action what Coach Houser, Sam and I teach them to do. It takes a team to be successful and that is what we proved this weekend. Every player contributed and every player should be proud. I know I am. The team has shown time again how much they enjoy being with each other. No one has to force them to get along. They just do it. Our setters made good decisions. Our hitters made good decisions, but it all starts with the pass. Our passers are incredible. Taylor and Bekah are amazing. You guys come in and out for each other and encourage each other all the way. Lauren, Macey, and Kim serve received your butts off (I guess you guys hit ok too) :). You guys are awesome. Aiden, Caroline, Rachel T, and Rachel K do your job in the middle and without you we aren't as successful. And Jessi and Morgan rocked out the right side on defense and offense. I love watching you guys play and I can't wait for UVA.

#12 Rachel Th
At Capitol Hill I think that everyone did an amazing job!!! Macey was so great at hitting the ball and getting her serves in strong. Kim did really really good digging every ball that came to her. Lauren was a great hitter and she did a good job getting around the block. Jessie did an awesome job playing back row she was everywhere and getting tons of digs. Morgan was the awesomest hitter ever she did a great job. Taylor did an amazing job setting she was also a strong server. Bekah did a awesome job setting, and coming in, in the championship game and doing a great job probably was nerve racking for her but she did an amazing job. Caroline did a great job as middle blocker she had a great tournament. Adian was amazing she got tons of blocks and some really really good kills. Rachel K did awesomely amazing as middle blocker, she had some amazing slide and some amazing hits and she served great.


OUR 2008 HOTEL INFO!!!

Hampton Inn - Washington DC Convention Center
901 6th Street, NW, Washington,
District of Columbia, USA 20001
Tel: +1-202-842-2500 Fax: +1-202-842-4100

$109 per night, $28/day parking.
However, we got a hot b'fast every morning!
And since we were only 2 blocks from the convention center,
there was no subway & no commute!!

It's website is here.

RESTAURANT INFO!!
There were lots of restaurants nearby!
The list was here.

A map from our hotel
to the D.C. Convention Center:
That could be found here.

ADMISSION
Yes, there was a $5 admission fee per day for anyone over 7 years old. More info in the parent's newsletter.

Websites That We Found Useful:
The Washington Convention Center website was here.
For more info, the tournament website was here.
The Metro American Volleyball Club sponsors Capitol Hill.
Here's their home page.
Playing Info!!!

We played in a.m. wave on the first day.
That meant 8am to 2pm.
There was an alert that a team's wave play could change on Sunday and Monday, but ours didn't.

2008 Playing Site Info
!
NO COOLERS ALLOWED
OR OUTSIDE FOOD ALLOWED
NO COOLERS of any kind, of any size, or for any reason are permitted in the Washington Convention Center . Coolers left inside the building will be removed to the outside of the building. Coolers left outside the building are the sole responsibility of the owner, but may be confiscated if security deems them a hazard. Neither Metro American VBC or the facility will assume any responsibility for coolers or providing a place for them.

No outside food can be brought into the Convention Center building, not even into the lobby. This is a Convention Center rule that we must enforce as a condition of our contract. It is not our rule. We understand people don't like this, and neither do we. But we are bound by the terms of the contract and cannot negotiate this away. We apologize for any inconvenience it causes.

NO CHAIRS ...... PENALTIES WILL BE ASSESSED!
In this post 9/11 world, major facilities reserve the right to restrict any items being brought into the building that they consider to be a problem. We do provide seating for spectators at each court.

Teams will be penalized if supporters hassle the security staff about these rules. Please abide by the rules and let the tournament be enjoyable for everyone.


PLAY TIMES

Competition begins at 8 am on Saturday, February 16, 2008 in Washington, DC
The event runs in waves. The morning wave begins at 8 am; the afternoon wave begins at 3:00 pm . We will post exact starting times for age groups later.

Final matches on most courts are scheduled for 2:00 pm.

Playing times for 2nd and 3rd days will depend on how the team finishes the day before. DO NOT assume you play in the same wave on the second day as you did on first.
Check in For Teams:

This had to be done between 6pm and 8:30pm at the Washington DC Convention Center
List Of Teams Involved:

52 team entered the 2008 event.
The teams we played are in red.

| | | |
| --- | --- | --- |
| 15 Red | Valley Forge Jrs | FJ5VFORG1KE |
| 151 | Push The Rock USA Juniors | FJ5PTRUJ1KE |
| 151 jaguars | Mizuno Yorktowne | FJ5MIZYO1KE |
| Atlantic VAlley 15 National | Atlantic Valley-Schultz | FJ5AVVC11GE |
| BAVA Blaze 15 | Bay Area Volleyball Academy | FJ5BAVAJ1CH |
| C.O.T. Crush 15-1 | Champions of Tomorrow | FJ5COTVB1CH |
| Del Juniors Smash 15-1 | Delaware Juniors VBC | FJ5DEJRS1CH |
| Del-Val 15 Travel | Del-Val Volleyball | FJ5DELVA1KE |
| Diamond Juniors 15's | Diamond Juniors Vball Club | FJ5DIJRS1OD |
| DIGS 15 Blue | Jersey Girls Volleyball | FJ5DIGGS3GE |
| DIGS 15 Red | Jersey Girls Volleyball | FJ5DIGGS1GE |
| DIGS 15 White | Jersey Girls Volleyball | FJ5DIGGS2GE |
| Downstate 15 Black | Downstate Junior VBC | FJ5DSTJR2GE |
| Downstate 15 Smack | Downstate Junior VBC | FJ5DSTJR1GE |
| FAVOR Storm | Frederick Area Volleyball Orga | FJ5FAVOR1CH |
| FJVC 15-2 Regional | Fredericksburg Juniors | FJ5FRDJR2OD |
| HOVU15NAVY | Heart of VA- Central VA Vball | FJ5HOVJR1OD |
| IchibanVa 15-1 Tachi | Ichiban Va | FJ5ICHVA1CH |
| Keystone Juniors 15 Pink | Keystone Juniors | FJ5KEYJR1KE |
| Metro American 15-1 | Metro American VBC of DC | FJ5MAVBC1CH |
| Metro American 15S Blue | Metro American VBC of DC | FJ5MAVBC4CH |
| Metro American 15S Red | Metro American VBC of DC | FJ5MAVBC2CH |
| Metro American 15S White | Metro American VBC of DC | FJ5MAVBC3CH |
| Monarch Volleyball Club 15-1 | Monarch Volleyball Club | FJ5MNRCH4GE |
| MVSA 15J | MVSA VBC | FJ5MVSAV2CH |
| MVSA 15R | MVSA VBC | FJ5MVSAV1CH |
| MVSA Xtreme 15F | MVSA VBC | FJ5MVSAV3CH |
| NCAJ Dynamite | North Country Albany Juniors | FJ5NCAJV1IE |
| NOVA Eclipse 15 | NOVA VBC | FJ5NOVA_1CH |
| NVJ 15-1 | Nittany Valley Juniors | FJ5NVJVC1KE |
| NVVA FX 15 Red | Northern Virginia Volleyball | FJ5NVVA_6CH |
| NVVA LN 15 Black | Northern Virginia Volleyball | FJ5NVVA_3CH |
| NVVA LN 15 White | Northern Virginia Volleyball | FJ5NVVA_9CH |
| NYC Juniors 15-1 | NYC Juniors | FJ5NYCJR1GE |
| Roanoke 15 Open | Roanoke Juniors | FJ5RNKJR1OD |
| RVC 15N | Richmond VBC Juniors | FJ5RVCJR1OD |
| RVC 15S | Richmond VBC Juniors | FJ5RVCJR3OD |
| RVC 15Z | Richmond VBC Juniors | FJ5RVCJR2OD |
| Synergy 14-1 Orange | Synergy VBC (Pa.) | FJ4SYNRG1KE |
| TCA MD 15 ASO | TCA Baltimore | FJ5TCAVC2CH |
| TCA MD 15 Black | TCA Baltimore | FJ5TCAVC3CH |
| TCA MD 15 Third Degree | TCA Baltimore | FJ5TCAVC1CH |
| Tri County 15 | Tri County | FJ5TRICO1GE |
| TVA 15 | Tidewater Volleyball Juniors | FJ5TIDEW1OD |
| TVA 15-2 | Tidewater Volleyball Juniors | FJ5TIDEW2OD |
| UNITED 15 | UNITED Volleyball Club | FJ5UNITE1GE |
| VA Elite 14-1 | Virginia Elite | FJ4VEJVB1CH |
| VBVBA Breakers 15G | Va Beach Volleyball Academy | FJ5VBVBA1OD |
| VBVBA IncREDibles 15 Red | Va Beach Volleyball Academy | FJ5VBVBA2OD |
| Velocity 15 | Velocity Volleyball Club | FJ5VELVB1CH |
| WVC 15 Black | Williamsburg Volleyball Club | FJ5WMSBG1OD |
| Xceleration 15-1 | Xceleration VBC | FJ5XSPVB1KE |

When a list of entered teams in all age groups,
I'll activate this link.
Complete Directions:

Directions from Roanoke to the hotel can be seen here.
Or you can print these directions.

Turn <![if !vml]><![endif]>RIGHT to take ramp onto I-81 N toward LEXINGTON

go 159.0 mi

Take exit #300/FORT ROYAL/WASHINGTON onto I-66 E

go 64.6 mi

Take exit #64A/RICHMOND onto I-495 S

go 1.0 mi

Take exit #50A-B/ARLINGTON BLVD/FAIRFAX/ARLINGTON onto ARLINGTON BLVD(US-50 E) toward ARLINGTON/ARLINGTON BLVD

go 8.3 mi

Take ramp onto WASHINGTON BLVD(VA-27 S) toward WASHINGTON BLVD./PENTAGON (I-395)

go 1.1 mi

Take ramp onto I-395 N toward WASHINGTON (US-1 S)/WASHINGTON

go 4.5 mi

Take the MASSACHUSETTS AVE exit onto 2ND ST NW

go 0.3 mi

Turn <![if !vml]><![endif]>LEFT on MASSACHUSETTS AVE NW

go 0.4 mi

Turn <![if !vml]><![endif]>RIGHT on 6TH ST NW(US-1)

go < 0.1 mi

Arrive at 901 6TH ST NW, WASHINGTON, on the <![if !vml]><![endif]>RIGHT
If anyone is coming to visit and wants to park around the Convention Center,
that can be seen
here
.
Directions from Roanoke to Convention Center are
here
:
248 miles, 3 hours 55 mins......
but watch out for rush hour......
last year it was HORRIBLE!!!