Revolutionary Rumble,
Williamsburg, Va, Sat-Sun April 26-27, 2008
Tournament Information Page
The more of ourselves that we sacrifice for our team, the more glory our team will give back to us.
Last updated: 07/04/2010 10:05 AM


Show me a scared face. I said scared. Scared!
OK, I give up! You can smile now!


Our Results For The Weekend
First Round, Saturday Morning, 8am
We defeated Diamond 15's 25-17, 25-14, 25-16.
We defeated VBVBA IncREDibles 24-26, 25-13, 25-14

Second Round, Saturday Afternoon, 2pm
We defeated Del-Valley 25-18, 25-14, 25-16
We defeated RVC 15N 25-22, 25-14, 23-25

Third Round, Sunday Morning, 8am
We defeated Del-Valley 25-21, 25-14
We split with Coastal 14N 23-25, 33-31
And that was win #100 for the season!!!!

15 Open Gold Playoffs
First Round: Bye
SEMI-FINALS: We defeated RVC 15N 25-16, 25-18
FINALS: We lost to Piedmont Triad 18-25, 25-17, 15-8

Remember the "fluffy" track?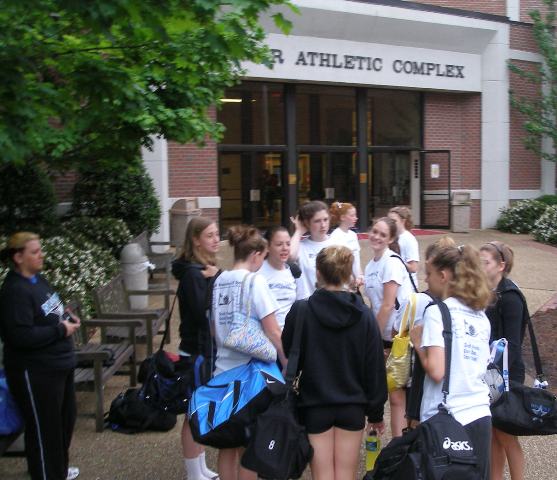 Sunday morning. Our final day together.......And everyone walked in together!!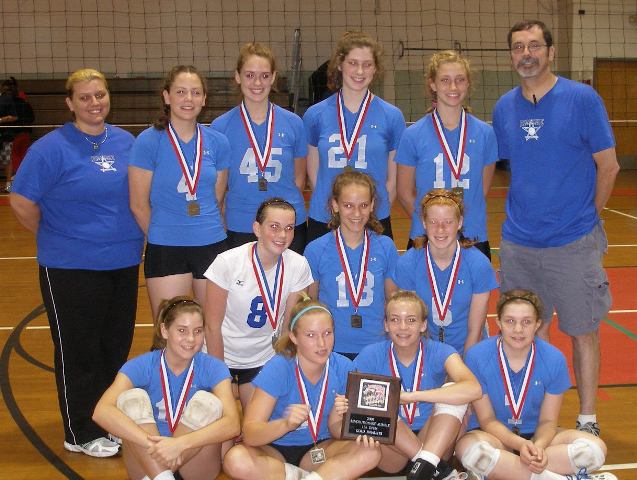 We finished 2nd with a 16-5 record! GREAT JOB!!!!!






Finally........pics on everyone on our final day together!


The Location Of The Tournament:

The tournament website was here.

The 15's Open division was played at two sites:

Walsingham Academy
1100 Jamestown, Rd, Williamsburg, VA 23185

Berkeley Middle School
1118 Ironbound Rd., Williamsburg, VA 23185

Directions to the sites were posted below! :)

Our hotel was only 5 miles from Walsingham
& was only 2 miles Berkeley!

Teams That Were In The Tournament


Coastal VA VBC SharkAttack 14N

Coastal Va VBC

FJ4CVVBC1OD

Del-Val 15 Travel
(They won Bronze in DC!!)

Del-Val Vball

FJ5DELVA1KE

Diamond Juniors 15's
(We played them at DC and at Albemarle)

Diamond Jrs Vball Club

FJ5DIJRS1OD

HR Juniors 15 Lady Pirates

Hampton Roads Jrs VB Club

FJ5HRJRS1OD

Niagara Rapids Vball Club

FJ5RAPID1CD

NVVA SK 15

Northern Virginia Vball

FJ5NVVA_5CH

PTVC-Piedmont 15's
(We played them at Monument!)

Piedmont Triad VBC

FJ5PDTRD1CR

Roanoke 15 Open

Roanoke Jrs

FJ5RNKJR1OD

RVC 15N

Richmond VBC Jrs

FJ5RVCJR1OD

TVA 15-2

Tidewater Volleyball Jrs

FJ5TIDEW2OD

VBVBA IncREDibles 15 Red

Va Beach Vball Academy

FJ5VBVBA2OD

WVC 15 Black
(We played them at DC)

Williamsburg Vball Club

FJ5WMSBG1OD
OUR PLAYING SCHEDULE!!

Our Saturday morning playing schedule was here!
We played Diamond at 8am, then worked, then played a Va Beach team at 10am.


This Was Our Hotel Info!

Our team hotel was the Comfort Inn, Central Williamsburg.
2007 Richmond Rd. , Williamsburg, VA, US, 23185
Hotel phone: Phone: (757) 220-3888
Toll Free Reservations: 877-424-6423

I reserved 10 rooms in my name.
They were 2 double bed, nonsmoking.

The hotel website was here.

I asked the parents to call the hotel
and reserve a room before noon on Wed April 23rd.
All info wass in a Dec 27th email.

From Frank Guilfoyle: " We stayed at that hotel in 2006 for the Rumble and it was fine. The good news: our 14's girls won the tournament! That should be a good vibe."

Directions For The Weekend:

To get to our hotel: I-64 exit 234. Then follow 199E to Route 60E.
The hotel is 3 miles on the left.

A webpage with directions to the hotel (and a map) was here.

Directions to our hotel on 64 East were here. They look EASY!!!

Directions from our hotel to Walsingham were here.

Directions from our hotel to Berkeley were here.