Junior Hi Neighbor,
Asheville, NC, Sat-Sun March 29-30, 2008
Tournament Information Page
The more of ourselves that we sacrifice for our team, the more glory our team will give back to us.
Last updated: 07/04/2010 10:04 AM


Champions!!
2008 Hi Neighbor 15's Gold!!
18-1 overall record.


Did you notice the background!!
You can thank Shannon!! She got permission to peel it off the wall in the lobby of the gym as we were walking out!! (Do you want to see it more clearly? Scroll all the way down to the bottom of the page!)

Final Results From HiNeighbor
All playoff brackets in all age groups are here!

We had a great first day!!

Okay... I thought the tournament was great!!!!!! We did not have the opportunity to play the best teams all throughout, but we played hard and we did our job. We all work together so well and plays just fall into place. Everyone worked hard and once again it paid off. Our passes improved which just jumpstarted all of our offense. And I was thinking about how are setters help us so much. What would we do without them?? How terrible would it be if I had TO SET!!!!!!! You guys are so amazing. I really enjoyed this tournament and I cant believe our season is almost over... it went by really fast. Thank you guys for everything you contribute towards our team... especially the coaches!!!!!! I love being on this team and I don't want it to be over. I think we all work so well together and I definitely showed in Asheville!!!!! -Aidan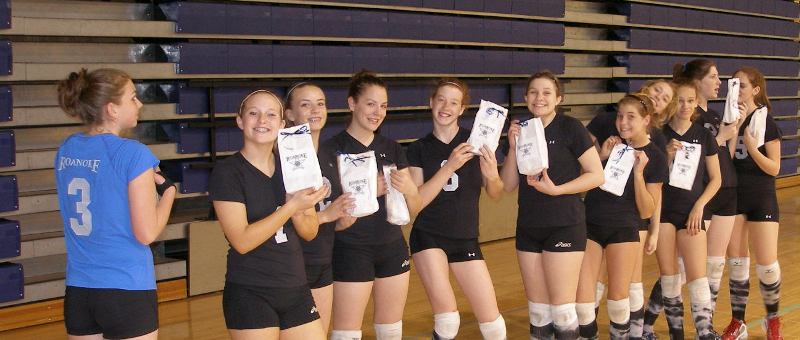 Thanks to all the parents and kids, we were ready with our gift bags!
And our gifts were the bomb........kinda like TayBay's serves!!

Jr Hi Neighbor was a very fun tournament for me and the team. I think that we all did a great job and worked extreamly well as a team. We had our first jump serve game and the girls did great! I think i heard houser say we only missed 3 serves that whole game! Amazing!! Im very thankful for taylor and i dont know what i would do without her to sleep with at night after i watch scary movies! :] hahha thanks tay! Lastly i want to say that i love all the girls on this team and am very happy i get to be on a team with them. Only 2 more tournaments together :[ Keep up the great work!
Bekah Jane



We ate out at Ryan's on Saturday night and sung happy birthday to Bekah!!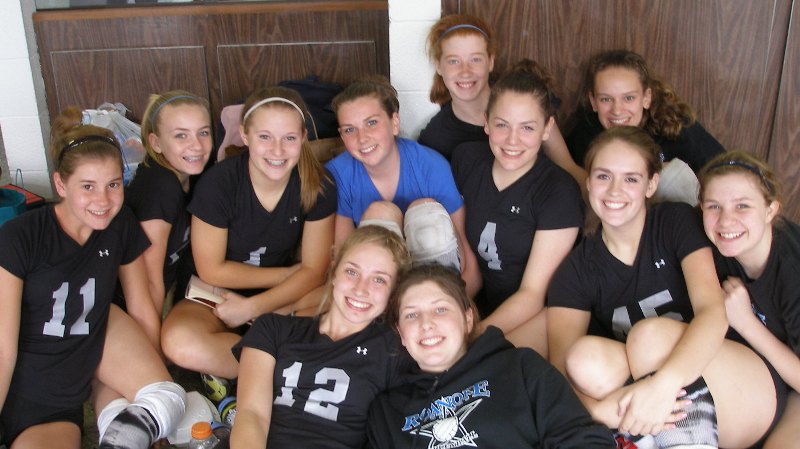 On Saturday morning, we had some tight games against A-5 from Atlanta,
but we finished our first pool 3-0.




Between pools on Saturday, we watched baseball, got bored; then, watched softball, got bored; then we watched men's lacrosse......we weren't bored any longer!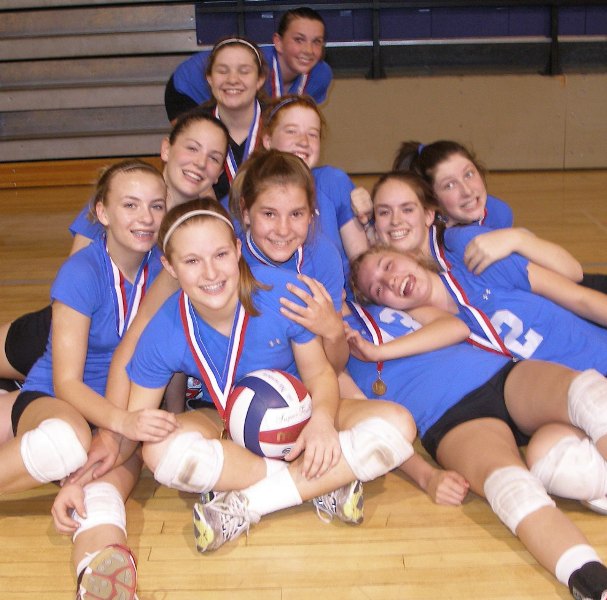 After the girls has the serious pictures taken,
the parents asked them to take a silly one......
Hey......there's only 10 players.........where's Jessi?



How We Did

FIRST POOL:
We defeated Winning In Christ Lady Force: 25-12, 25-15. (FJ5WNCVB1CR)
We defeated Biltmore 15-1: 25-11, 25-22. (FJ5BILTM1CR)
We defeated A-5 Minuzo 15-3: 25-17, 19-25, 15-11. (FJ5AFIVE3SO)

SECOND POOL:
We defeated Georgia Juniors 15-1: 25-15, 25-13. (FJ5GAJRS1SO)
We defeated Transylvania 15 Red: 25-11, 25-10. (FJ5TRNSV1PM)
We defeated Hickory Hammers: 25-12, 25-21. (FJ5HHMMR1CR)

PLAYOFFS:
We defeated A-5 Minuzo 25-17, 25-20 (FJ5AFIVE3SO)
We defeated Biltmore 15-1: 25-11, 25-16 (FJ5BILTM1CR)
We defeated East Carolina Jr Vball Club: 25-12, 28-26. (FJ5ECJVC1CR)


What's this?
In 2004, my 16's team also won Jr Hi Neighbor,
beating a team from Dayton Ohio in the finals. The members of that team were:
Back row: Paige Greenburg, Erica Wiegand, Lauren Clary, Laura Jones, Jennifer Harvey.
Front row: Coach Houser, Katie Breene, Stacey Craighead, Joanna McGrath, Katherine Jetton & Kaitlyn McFaddin.

~ ~ ~ ~ ~ ~ ~ ~ ~ ~ ~ ~ ~ ~ ~ ~ ~ ~ ~ ~ ~ ~ ~ ~ ~ ~ ~ ~ ~ ~ ~ ~ ~ ~ ~ ~ ~


The Websites That We Found Useful:

For more info, the Hi Neighbor tournament website was here.
A lot of info for the tournament could be found here.

The team hotel website was here.
For more info, the hotel box is below.

The Biltmore Volleyball Club sponsors Hi Neighbor.
Their home page is here!


The Teams That Were In The Tournament

1. Biltmore 15-1
2. Carolina Storm 15-1
3. WNC Lady Force 15
4. A5 Misuno 15-3 Amy
5. NETVC 151 Red
6. NETVC 152 Blue
7. Hickory Hammers 15
8. Xtreme 15
9. Davie Dazzle 15
10. Roanoke 15 Open
11. Roanoke 15 Club
12. SWVJ 15 Blue
13. Dig to Win 151
14. SMJVC 151
15. SMJVC 152
16. UVC Ice 15-1
17. Brick City 15 Flamez
18. Georgia Jrs. 15-2
19. NATLV 151 Blaze
20. NATLV 152 Heat
21. FAVA Cyclones 15
22. FAVA Tsunami 15
23. Piedmont East 15
24. Transylvania 15 Red
25. ECJVC 15-1
26. SPVC 15 Steven
27. Phoenix Rising 15-1
28. Floyd 15 Gold
29. Carolina One 15-1
30. Jammers 15 Blue
31. Dove 15 White
32. Glenvar Jrs. 15

OUR PLAYING SCHEDULE!!

The tournament format was 4 team pools and each match was the best 2 out of 3 games to produce a match winner. Games 1 and 2 started at 5 and went to 25. If a third game was necessary, it was played from 0-15. Final pool rankings were determined by match results, not games or total points. All ties were played off in a single game 0-15 format. In case of a three way tie, the higher seeded team reffed the match between the lower seeds and then played the winner. There were two pools before the elimination round began late Sunday morning. The finals were single elimination.

Play stated at 8am both mornings. *yawn*

~~~~~~~~~~~~~~~~~~~~~~~~~~~~~~~~~~~~~~~

Mapquest directions from our hotel to Mars Hill College
http://www.mapquest.com/maps/1+Resort+Dr+Asheville+NC+28806-3815/Mars+Hill+NC/

~~~~~~~~~~~~~~~~~~~~~~~~~~~~~~~~~~~~~~~

Directions from our hotel to Mars Hill College
1: Start out going SOUTH on RESORT DR .
2: Take the I-40 E/ US-19 S/ US-23 S ramp toward I-26/ US-17-ALT WEST. 0.1 mi
3: Keep LEFT at the fork in the ramp. 0.1 mi
4: Merge onto US-19 N/ US-23 N. 0.8 mi
5: Merge onto US-19 N/ US-23 N via EXIT 4A on the LEFT toward UNC-A/ WEAVERVILLE. 16.6 mi
6: Take the NC-213 exit, EXIT 11, toward MARS HILL/ MARSHALL . 0.2 mi
7: Turn LEFT onto NC-213/ CARL ELLER RD. Continue to follow NC-213. 1.1 mi

ESTIMATED TIME TO DRIVE: 24 minutes.
~~~~~~~~~~~~~~~~~~~~~~~~~~~~~~~~~~~

Mars Hill College Website:
http://www.mhc.edu/

A printable map of the campus. http://www.mhc.edu/campusmap/campus_map07.pdf

We played at Chambers Gym, building #14.
The "to Route 19-23" at the bottom of the map..............that's Route 213, the road that comes into campus.
Check in For Teams:

Team check-in was from 7pm to 10pm. I was spring break, so checking the team in was an issue for us.
HOTEL INFO!!!

Crowne Plaza Resort Asheville
One Resort Drive
Asheville, NC 28806
(828) 254-3211 Telephone
(800) 733-3211 Toll Free Reservations

The hotel website was here.


Directions For The Weekend:

The directions from Roanoke (via 81-26) were:
Travel south on I-26 East to I-240 West. Stay in the right lane as you cross the French Broad River Bridge and take Exit 3B - Westgate and Resort Drive (former Holiday Inn Drive). Pass the Westgate Shopping Center on your right. After passing Mr. Transmission, you will see the entrance sign. Turn right onto Resort Drive and proceed to the main entrance.
Junior "Hi-Neighbor" 2008

Age Division:

15's

Here Were The 2008 Opening Round Assignments!

Round #1

Pool - A

Pool - B

Pool - C

Pool - D

Saturday

ct. #21

ct. #22

ct. #23

ct. #24

morning

Mars Hill College

Mars Hill College

Mars Hill College Aux

North Buncombe High

Roanoke 15 Open

ECJVC 15-1

SWVJ 15 Blue

SMJVC 15-1

A5 Mizuno 15-3

SPVC 15 Steven

Transylvania 15 Red

Roanoke 15 Club

WNC Lady Force 15

Hickory Hammers 15

SMJVC 15-2

Carolina One 15-1

Biltmore 15-1

UVC Ice 15-1

Dove 15 White

Glenvar Jrs. 15

Round #1

Pool - E

Pool - F

Pool - G

Pool - H

Saturday

ct. #25

ct. #26

ct. #27

ct. #28

morning

North Buncombe High Aux

North Buncombe Middle

Asheville MIddle

Asheville Middle

Georgia Jrs.15-1

Floyd 15 Gold

Piedmont East 15

Dig to Win 151

NETVC 151 Red

NATLV 151 Blaze

Jammers 15 Blue

Phoenix Rising 15-1

Xtreme 15

NATLV 15-2 Heat

FAVA Cyclones 15

Carolina Storm15-1

Brick City 15 Flamez

FAVA Tsunami 15

Davie Dazzle 15

NETVC 152 Blue