Our Saturday Pool, 2pm
We defeated Cape Fear Fury: 25-15, 25-14
We lost to Brandywine Bombers: 26-24, 21-25, 5-15
We defeated CCVC Matrix 15's (Raleigh): 25-16, 25-23 ..... great comeback Caroline, Rachel K & Bekah!!

Our Sunday Pool, 2pm
We lost to Fredericksburg 15's 26-24, 16-25, 11-15
We defeated Brandywine in an incredible match, 26-24, 22-25, 17-15. In the 3rd game, we were ahead 14-13, then behind 14-15, then won it! Great job!!
We defeated TriState FCA 25-21, 25-12.

Our Monday Playing Schedule, 11am
We defeated Metro Virginia 15R 19-25, 25-22, 15-11.
We defeated Piedmont Triad 15's 26-24, 19-25, 15-13.

FOURTH PLACE!!!!
Congratulations Roanoke 15's Open!!!!
Lots of pics are below!

To see the results of all 15's open teams, you may touch here.
To see the results of all teams in all age groups, touch here.
Both are big PDF files, so older or slower computers
may have some difficulty downloading them!
Pre Tournament Talk
To see a bigger version, touch the thumbnail!!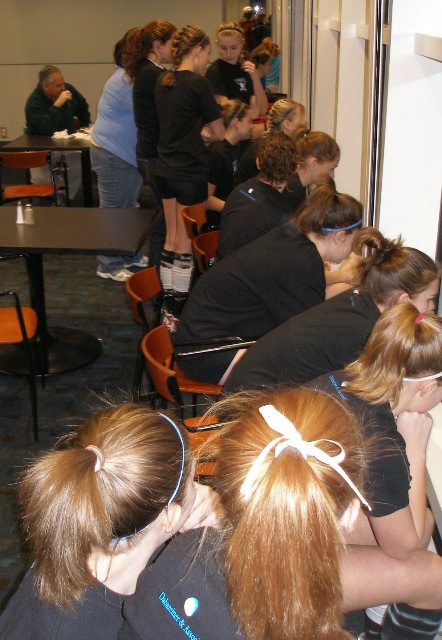 After The First Day,
We Complimented Our Teammates!!
To see a bigger version, touch the thumbnail!!


The First Day Team Pic!!



~~~~~~~~~~~~~~~~~~~~~~~~~~~~~~

Day 2.........Candid Pictures

The Second Day Team Picture!!
Our team picture before we walked out!


Incredible day! We beat Brandywine 17-15 in the 3rd, then beat FCA 2-0.
Now we get to play for 4th place in the OPEN DIVISION!!!
This is not a normal team!!

~~~~~~~~~~~~~~~~~~~~~~~~~~~~~~

The Final Day.....Holy Schmoly!!!


The Final Day Team Picture!!!

We finished 6-2, 4th place overall in the 15's OPEN division!
GREAT win over Metro Virginia!
GREAT win over Piedmont Triad!!

Here's our final team pictures before walking out the final time!
We asked them to please act normal! We look pretty good huh?
(The hats were Shannon's idea!)



Then, we let them be themselves...........and look what happens!




~~~~~~~~~~~~~~~~~~~~~~~~~~~~~~


Some websites that you may want to visit:
The tournament was played at the Richmond Convention Center.
403 North 3rd Street, Richmond VA 23219
The tournament website was here.
Directions to the Richmond Convention Center were here.
Parking info could be seen here. We have always parked in #5.

Richmond Convention Center Rules.
No outside food was allowed in the RCC.........but some years they have allowed food inside. Odd.
Coolers were not permitted in the RCC at all......but they let us to do that some years also. Real odd.
Normally: Unattended coolers could not be left outside the RCC and folding chairs could not be taken into the facility.
There were lots of security people, and, as the kids will say, they're "Nazis".

Our Division:
We entered into 15's Open.....where the best 15's teams in the area battled it out!

HOTEL INFO!!!

For the 4th year, we stayed at the Hampton Inn-Richmond West

10800 West Broad Street, Glen Allen, Virginia.
1-804-747-7777 or 1-800-HAMPTON.
The hotel website is here!

Directions to the hotel: Take I-64 East to Exit 178B (Route 250 East/West Broad St.). At the 2nd stop light turn left on Cox Road. Take first right onto Innslake Drive. Hotel is on the right.

Parents got the confirmation # in an email. I resent it to anyone who wished.
Check in was Friday night Jan 18th for 3 nights at $95/night.
HOWEVER, we didn't play until Sat 2pm, so everyone cancelled their first nights!

Parents needed to call Crystal Padgett at 804-747-7777 and give her a credit card # to reserve a room before Jan. 4. Each parent could request at that time 2 queens or one king.

Teams That Were Entered
Twenty one teams entered. Here is the list!

15 Open

NC Challengers

FJ5NCCHL1CR

Brandywine Bombers

Brandywine Volleyball Club

FJ5BRNDY1CH

CCVC Matrix 15-1

Capital City Volleyball Club

FJ5CCVC11CR

Chas Jrs 15 Red

Charleston Jrs.

FJ5CHVBC1PM

CHAVC Kaepa 15-1

Chapel Hill Area Volleyball Cl

FJ5CHAVB1CR

Clash 15's

Clash Volleyball

FJ5ODRCL1OD

Diamond Juniors 15's

Diamond Juniors Volleyball Clu

FJ5DIJRS1OD

ECJVC 15-1

EastCarolinaJrVolleyballClub

FJ5ECJVC1CR

FAVA Cyclones 15

Fayetteville Area VB Assoc

FJ5FAVBA2CR

FJVC 15-1 National

Fredericksburg Juniors

FJ5FRDJR1OD

MVSA 15R

MVSA VBC

FJ5MVSAV1CH

PTVC-Piedmont 15's

Piedmont Triad VBC

FJ5PDTRD1CR

Roanoke 15 Open

Roanoke Juniors

FJ5RNKJR1OD

RVC 15N

Richmond VBC Juniors

FJ5RVCJR1OD

Triangle 15 Black

Triangle Volleyball Club

FJ5TRNGL1CR

Triangle 15 Blue

Triangle Volleyball Club

FJ5TRNGL2CR

Tri-State FCA Halos 15-1

Tri-State FCA Volleyball Club

FJ5FCAVB1CH

TVA 15

Tidewater Volleyball Juniors

FJ5TIDEW1OD

VA Elite 15-1

Virginia Elite

FJ5VEJVB1CH

VBVBA Breakers 15G

Va Beach Volleyball Academy

FJ5VBVBA1OD

Fury

Cape Fear VBC

FJ5CAPEF1CR

WEST END JRS 15-1

West End Jrs Vball

FJ5WEJVB1OD
Directions For The Weekend:

If you coming from i-64 to our team hotel on Friday 1/18.
From West - Take I-64 East to Exit 178B (Route 250 East/West Broad St.). At the 2nd stop light turn left on Cox Road. Take first right onto Innslake Drive. Hotel is on the right.


If you're not spending the night in Richmond , but are coming I-64 to our playing site on Saturday morning:
From West of Richmond I 64 East Bound to I-95 South to 64 East Bound:
Interstate 64 East to junction Interstate 95 South to I-64 East/Third Street Exit#75. Bear right for 3rd Street (Do not go straight on the junction, it will take you to I-64 East). Travel ahead to 3rd and Marshall Streets. The Greater Richmond Convention Center's Parking Deck will be on the left on 3rd Street.

Directions from our team hotel to our playing site:
Get back on I-64 and use the directions above.

Directions from the Richmond Convention Center back to our hotel:
As you come out of the parking garage, turn left (one way)- go 0.2 mi
Turn right on BROAD ST - go 0.2 mi
Turn right on BROOK RD (one way) - go 0.3 mi
Bear left on W LEIGH ST - go 0.1 mi
Turn right on N BELVIDERE ST - go 0.1 mi
Take ramp onto I-95 NORTH toward WASHINGTON/CHARLOTTESVILLE - go 2.8 mi
Take exit #79 onto I-64 WEST toward POWHITE PKWY/CHARLOTTESVILLE - go 8.4 mi
Take exit #178B/US-250 EAST onto W BROAD ST toward RICHMOND - go 0.7 mi
Arrive at 10800 W BROAD ST, GLEN ALLEN, on the left