Jefferson Forest High School
High Expectations Camp

Monday June 16 - Thursday June 19, 2008
• StandardCamp • HighExpectationsCamp • CoachesCampInfo • Staff • InSeasonCamps • TenReasonsWhy •
• 2007 STAR Calendar • WestoverChristian2007 • JeffesonForest2007 • Timberlake2007 • RedLionDE2007 • OconeeSC2007 •
• 2008 STAR Calendar • WestoverChristian2008 • Jeff Forest HighExp 2008 • JeffForest2008 • StMary'sPA2008 • RoanCath2008 • RedLionDE2008 •



Does a girl want more time with my staff? We offer private lessons at North Cross School most Sat & Sun nights. Touch here for more info.
The new JF gym had A.C. and three courts!

IT WAS AWESOME!
Congratulations To These Fall 2008 Award Winners!!
SEMINOLE DISTRICT:
1st team - Tori Blanks, Jordan Hawkins and Megan Prothero
2nd team - Kelsey Stapleton and Erin McIntyre
Honorable Mention - Lindsey Smith

WESTERN VALLEY DISTRICT:
1st team - Meg Kenny & Kim Amerell.
Co Player Of The Year: Meg Kenny
Jefferson Forest High Expectations Camp


Back Row: Coach O'Donnell, Coach King, Coach Devyn, Kara, Savannah, Kelsey M, Felicia, Megan, Erin, Lindsey, Jordan, Jacey, Coach Katie, Coach Miller, Coach Houser
Middle Row: Lexi, Sandy, Kelsey S, Meg, Kim, Rachel, Emily B, Allison
Front Row: Brooke, Emily T, Tori, Ashley, Kaitlin, Shelley, Devani


Coach Aaron's Orange/White/Black Team!! GREAT JOB!
Coach Katie & Devyn's Grey Team!! You're Awesome!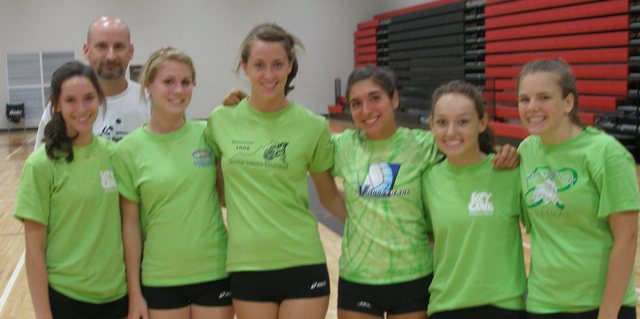 Coach Miller's Green Team! They did great!!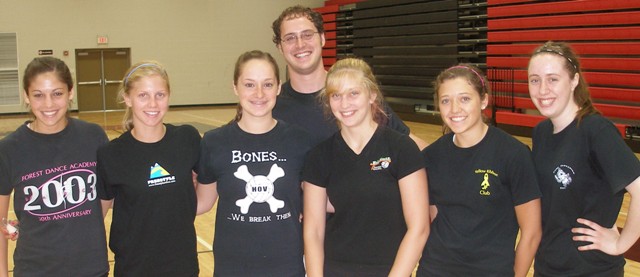 Coach O'Donnell's Black Team! GREAT JOB!
Steal The Bacon Champions!
Brooke, Lexi, Lindsey, Kelsey

Steal The Bacon Runner Ups!
Emily T, Emily B, Shelley, Sandy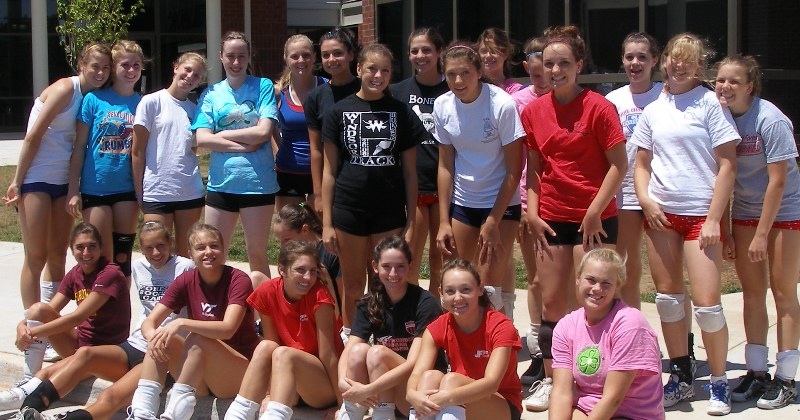 It was an interesting Tuesday! First the water works for only 30 minutes.
Then when the fire alarm won't turn off, Coach Miller continued his talk about playing college volleyball outside!




This team won the 4-contacts warmup!
Congrats to Devani, Meg, Jordan & Rachel!!

High Expectation Smiles!

High Expectation Campers In Action On Wednesday!



High Expectation Campers on Thursday!


2008 Camp Format:

Mon - Wed : 9 am to 4pm, with 60 minutes for lunch.
Thursday: 9 am to 12:30pm.


Cost: $225

Maximum # of Campers: 24

Registration Info: The registration form was here for easy download!

Who Should Register? This was not a camp for everyone. This was be such a high intensity camp, a player must have an extensive volleyball back

ground before she was be accepted.



~~~~~~~~~~~~~~~~~~~

If you have more questions about the camp, you may email the camp director, Coach Tom Houser,
at coachhouser@yahoo.com or the camp host, JF Head Coach Steve Mills, at Mills30@verizon.net





Coach Houser,
Thank you so much for offering me your help. Just telling me to get both arms up, one small little difference, made a huge difference in the outcome. I find myself thoroughly excited to be progressing with each new technique or skill learned. I may not be a great player yet, but I will be. I need help getting there and I am so glad that you came to help and that I was able to attend this camp. If I do not play D1 ball it will be because I am simply not good enough, not because I didn't give one-hundred percent of my time and effort and ability. Please, if you see me making a mistake over and over again, pull me aside and tell me what I am doing wrong. Each time you help me, I understand more clearly what I am supposed to do to improve my game and increase the confidence my teammates and I have in myself. Each time I will be progressively getting better and if I fix things now and correctly, that's just one step closer I get to playing to my full potential. I thank you greatly for coming and being here to increase the school's team and ability to play together.



Coach Houser, you are one special coach. I've had coaches before who did not care about our team very much and it's unity and spirit. I've also had coaches who could not teach us anything about volleyball. You do both!



Hey Coach Houser, I didn't get a chance to talk to you after camp was done but I just wanted to let you know what an amazing coach and person I think you are. You really have taught me more about skills and team unity than any other coach I've had and I just wanted to show my appreciation.



I just wanted to give you a quick email thanking you for your time and support during the camp. I started my high school conditioning last night with our new coach and she was very impressed with my steady platform. =). I enjoyed your camp and I learned a lot of very valuable things from it. I hope to attend your camp next year as well.



Thank you, Coach Houser, for your coaching expertise! [My daughter] enjoyed camp this past week and of course, enjoyed you and your staff. She always learns so much as she walks away from these camps each year. She mentioned to me how much she'll miss all of the coaches. Thanks for always encouraging and motivating [my daughter] to be the best she can be. She enjoys your sense of humor as well. You make volleyball FUN! Thanks again and I hope you do the High Expectations Camp again next year. I'm glad it was a success. Have a wonderful summer.



Hey, I just wanted to say thanks for camp this week. I know it took a lot of time and effort to plan everything. I learned a lot and I am sure that the other girls too. I hope you will be coming again next year and the other coaches too, they were great. I'll be at star camp next week too, and I am sure it will be fun.



Coach Houser! I meant to email you earlier, but I took the opportunity to just reply to the one you sent to everyone instead. I wanted to say thank you so much for yet another great week at camp with you! I'm so glad I came. I really appreciate the opportunity to be challenged and to learn new skills at a higher level with skilled girls. I worked hard and I plan to take the skills I learned through the next season. Everything you teach me about team and effort means a lot. Thank you very much for reassuring me about what is the most important. I hope to see you during the season, and, if not then, next summer!



Camp Coaches!!

Danny Miller
Head Coach, Averett University
Coach Miller has been the head coach at Averett University for 13 years. Miller has led the Cougars to a 319 -137 record and four NCAA Tournament appearances. He also has won seven conference tournament titles and nine regular season crowns. The Averett University volleyball website can be seen here. You can contact Coach Miller here: danny.miller@averett.edu or you can call his office at 434-791-5734

Kolby O'Donnell
Assistant Coach, Appalachian State University
For the past two seasons, Coach O'Donnell has been the assistant coach and recruiting coordinator at Radford University. While working with the Highlanders, he managed game-day operations, in-season travel and development of practice plans. A native of Pennsylvania, O'Donnell was the camp director for Appalachian State's volleyball camp in the summer of 2007, and has worked with several other camps in the region since 2003. O'Donnell graduated from Lees-McRae College, where he was a four-year letterman and captain of the men's volleyball team. You can contact Coach O'Donnell at odonnellkc@appstate.edu or at his office phone 828-262-2844
Aaron King
Former Assistant Coach, Hollins University
Aaron is presently the JV coach at Hidden Valley High School. He is an incredible indoor and outdoor player, a coach with Roanoke Juniors for 10 years, a man that players and parents admire and coaches envy! Aaron has been a referee for high school, college, and USAV for 9 years. He also has received his CAP 1 coaching accreditation. You can contact Coach King here: king4life@cox.net


List Of Camp Assistants:

Maggie Allison
Maggie is a freshman at Ferrum College where she rooms with Devyn (below). She tried out for the team in August and MADE IT!!! While in high school, she has played 1 year of J.O. vball on my 16's team, played 4 years of varsity vball, and 3 years of middle school ball. She also played high school varsity softball and basketball. Maggie has assisted with 13 STAR camps! Her screen name is JrHsBaMbInA her email is MAllison@FERRUM.EDU and her myspace is maggie_may07.

Devyn Bayes
Devyn is a freshman at Ferrum College, where she rooms with Maggie (above)! She also tried out for the team and made it!!! She graduated from George Washington High School in Danville, VA in 2007, where she played volleyball for six years. She started out as a setter, but in her junior year, she became a starting OH. That year she was named the team's Outstanding Server! Devyn has now assisted at six STAR volleyball camps. Email: bowlingdevil@hotmail.com Screen Name: bowlingdevil9007 MySpace Page: http://www.myspace.com/21189496

Katie Hambrick
Katie was a team MVP, all-district & all-state performer at Patrick Henry High School in Roanoke. She also played OH and MB for Roanoke Juniors for four years. She was on my first Roanoke Juniors team in the spring of 2001 and she is still an avid player in adult leagues in Charlottesville. She is graduating from UVa in May '08, and will begin grad school at VCU immediately after this camp is over!! She will be working towards her Doctor of Physical Therapy degree. You can contact Katie at klh7t@cms.mail.virginia.edu


















Jefferson Forest High School
info:

Touch here to see the JFHS website.

1 Cavalier Circle
Forest, VA 24551
Phone: (434)525-2674 Fax: (434)525-0106

Touch here to see a map to the school.

• StandardCamp • HighExpectationsCamp • CoachesCampInfo • Staff • InSeasonCamps • TenReasonsWhy •
• 2005 STAR Calendar • Bassett2005 • BassCommCenter2005 • JeffersonForest2005 • Westover2005 • Narrows2005 • AnEntireList • Search CoachHouser.com •
• 2006 STAR Calendar • JeffersonForest2006 • WestoverChristian2006 • Lebanon2006 • NewCovenant2006 • Bassett2006 • RedLionDE2006 •
• 2007 STAR Calendar • WestoverChristian2007 • JeffesonForest2007 • Timberlake2007 • RedLionDE2007 • OconeeSC2007 •
• 2008 STAR Calendar • WestoverChristian2008 • Jeff Forest HighExp 2008 • JeffForest2008 • StMary'sPA2008 • RoanCath2008 • RedLionDE2008 •

| | |
| --- | --- |
| Last updated: 01/24/2010 02:59 PM | |