Westover Christian Academy
Monday June 9 - Wed July 11, 2008
• StandardCamp • HighExpectationsCamp • CoachesCampInfo • Staff • InSeasonCamps • TenReasonsWhy •
• 2007 STAR Calendar • WestoverChristian2007 • JeffesonForest2007 • Timberlake2007 • RedLionDE2007 • OconeeSC2007 •
• 2008 STAR Calendar • WestoverChristian2008 • Jeff Forest HighExp 2008 • JeffForest2008 • StMary'sPA2008 • RoanCath2008 • RedLionDE2008 •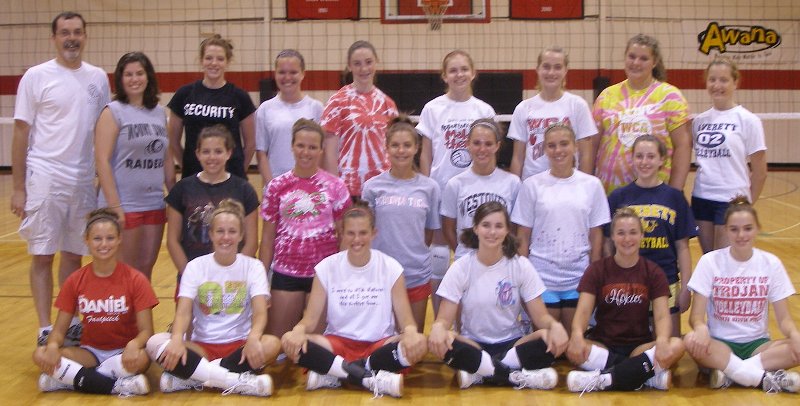 Back row: Coach Tom Houser, Coach Maggie Allison, Coach Sam Thomas, Haley Johnson, Gussie Revercomb, Rachel, Peyton Parrish, Donna, Coach Devyn Bayes.
Middle row: Amanda, Morgan Robison, Meghan Setliff, Logan Shackelford, Alysha Clayton, Katie Holley
Front row: Hope Davis, Amanda Alderson, Taylor Nunn, Katie, Laura Gibson, Austin Holley.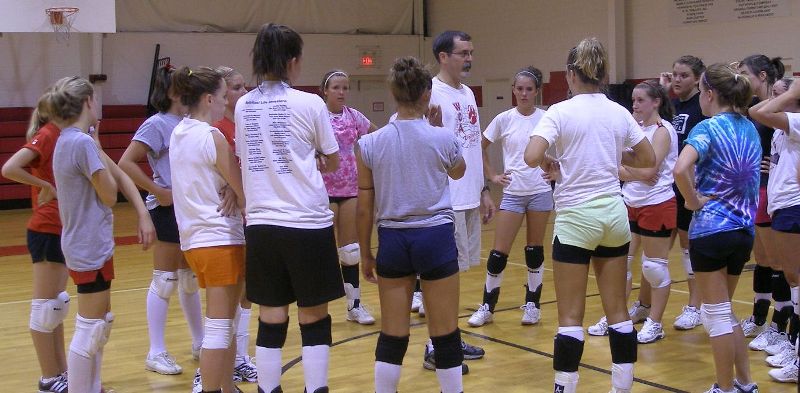 Coach Houser gives his "being a good team member" speech.




The campers wonder what Maggie, Devyn and Sam will come up with next!




It's been a great camp!!! Everyone improved so much. Keep checking back in the next few days for more pictures!

2008 Camp Format:

1pm to 5pm

Cost:
$75 for WCA veterans ($85 for others)

Registration Info:
Will be available here soon!
The camp registration form can be downloaded here.


There will probably be a 25 camper limit per session, so register early!!


If you have any questions about the camp, you may email the camp director, Coach Houser,
at coachhouser@yahoo.com or the camp host,
WCA head coach Jim Barber, at jbarber@westoverministries.org



List Of Camp Assistants:

Maggie Allison
Maggie is a freshman at Ferrum College where she rooms with Devyn (below). She tried out for the team in August and MADE IT!!! While in high school, she has played 1 year of J.O. vball on my 16's team, played 4 years of varsity vball, and 3 years of middle school ball. She also played high school varsity softball and basketball. Maggie has assisted with 13 STAR camps! Her screen name is JrHsBaMbInA her email is MAllison@FERRUM.EDU and her myspace is maggie_may07.

Devyn Bayes
Devyn is a freshman at Ferrum College, where she rooms with Maggie (above)! She also tried out for the team and made it!!! She graduated from George Washington High School in Danville, VA in 2007, where she played volleyball for six years. She started out as a setter, but in her junior year, she became a starting OH. That year she was named the team's Outstanding Server! Devyn has now assisted at six STAR volleyball camps. Email: bowlingdevil@hotmail.com Screen Name: bowlingdevil9007 MySpace Page: http://www.myspace.com/21189496

Sam Thomas
Sam is a senior at North Cross School. She started playing volleyball in the 8th grade, has played 3 years of Juniors (one on my 15 Red team here) and 4 years of school ball. Sam was just named 2nd team All-Conference and was a starter on the North Cross varsity team that made the final 4 in the state tournament. She is presently assisting me with my 15's Open Roanoke Juniors team. Her email address is samadamsthomas@yahoo.com



• 2005 WCA Camp • 2006 WCA Camp • 2007 WCA Camp • 2008 WCA Camp • 2011 WCA Camp •
• 2012 WCA Camp • 2013 WCA Camp • 2014 WCA Camp • 2015 WCA Camp •

Westover Christian Academy info:

Touch here to see the WCA website.

5665 Riverside Drive
Danville, VA 24541
Phone: Phone: 434-822-0800

Touch here for directions to the school.


• StandardCamp • HighExpectationsCamp • CoachesCampInfo • Staff • InSeasonCamps • TenReasonsWhy •
• 2005 STAR Calendar • Bassett2005 • BassCommCenter2005 • JeffersonForest2005 • Westover2005 • Narrows2005 • AnEntireList • Search CoachHouser.com •
• 2006 STAR Calendar • JeffersonForest2006 • WestoverChristian2006 • Lebanon2006 • NewCovenant2006 • Bassett2006 • RedLionDE2006 •
• 2007 STAR Calendar • WestoverChristian2007 • JeffesonForest2007 • Timberlake2007 • RedLionDE2007 • OconeeSC2007 •
• 2008 STAR Calendar • WestoverChristian2008 • Jeff Forest HighExp 2008 • JeffForest2008 • StMary'sPA2008 • RoanCath2008 • RedLionDE2008 •

| | | |
| --- | --- | --- |
| | If anyone is interested in some one-on-one training. Coach Houser offers player training in Roanoke. There are athletes who come from Pulaski, Martinsville, Hillsville, Lynchburg, etc. The website is here. It's a TON of fun!! Please pass the word!! If you or your teammates have any questions, you can email him anytime at coachhouser@yahoo.com | |