Red Lion Christian Academy
Bear, Delaware
Monday Aug 14 - Wed Aug 16, 2006


• Home • StandardCamp • HighExpecationsCamp • MaxExpectationsCamp • Staff • In-SeasonClinics • 10ReasonsWhy • A Complete List! •
• 2006 STAR Calendar • JeffersonForest2006 • WestoverChristian2006 • Lebanon2006 • NewCovenant2006 • Bassett2006 • RedLionDE2006 •

2006 Awards Red Lion 2007 Camp Page 2008 Red Lion Camp Page 2009 Red Lion Camp Page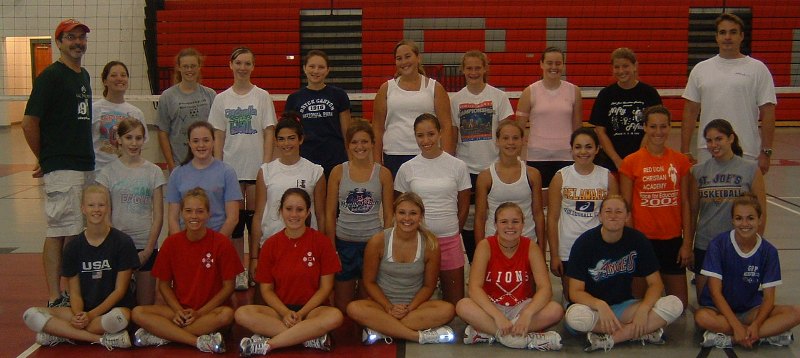 Back row: Coach Tom Houser, Coach Devyn Bayes, Becky, Jenn, Naomi Wolf, Michelle Osborne, Stephanie Manning, Sammi Shimock, Karly, Coach Scott Hammon
Middle row: Kristi, Emily D., Angel, Courtney Smith, Michelle H, Leslie Manning, Andrea DeMaio, Emily Netta, Coach Maggie Allison
Front row: Megan, Alexis Kulesza, Emily Stave, Ashley DePonte, Lexi Bradley, Lori Bryant, Janie Sykes




But first, I took a picture without telling them. So I caught everyone acting normal.

~~~~~~~~~~~~~~~~~~~~~~~~~~~~~~~~~~~~~~~~~~~~~~~~~~~~~~~





If you thought taking a team pic is challenging for these guys,
how about lining up in order by your phone number? Jeeeeeze!!



~~~~~~~~~~~~~~~~~~~~~~~~~~~~~~~~~~~~~~~~~~~~~~~~~~~~~~~

Red Lion Faces!
Playing 6's!!
The 6's Teams!!
| | |
| --- | --- |
| | Coach Houser's "The Super Best Friends" |
| | Coach Devyn's and Coach Maggie's "The Redneck Spikers" |
| | Coach Scott's "The Red Lionesses" |
The Camp Format Was:

8am to noon
Monday through Wednesday

Cost:
$80


If you have any questions about the camp,
you may email the camp host, Kellie Stave, at stave@aol.com



This is what Devyn emailed me after she got home! How cool is this?

"Coach Houser: Thank you sooo much for letting me come with you!!! I had soo much fun and I dont think Ive laughed that much in a long time!!! That was definitely what I needed to get me focused back on school and that last lil bit of fun was wonderful!!! I really loved being a coach with them...they were wonderful and 2 of them have already found me on myspace!! I love those girls!! Thanks for teaching me sooo much in these 3 days!!

Here Is The List Of The Camp Assistants:

Maggie Allison
Maggie is the top STAR camp assistant. This will be her 6th camp as an assistant. Maggie is a rising senior at James River High in Botetourt County. She played 1 year of J.O. vball on my 16's Red team two years ago, has played 3 years of varsity ball at Roanoke Catholic and JRHS, and 3 years of middle school ball. She also plays softball and basketball.
Email address: jrhsbambina@aim.com

Scott Hammon
Scott and I have known each other since around 1997 when I began writing for www.volleyball.about.com Scott is a graduate of Troy State in Alabama. He's an avid vball player, writer and webmaster. He has coaching & refereeing experience also!

Devyn Bayes
Devyn is a rising senior at George Washington High School in Danville, VA. She has been playing volleyball for five years and this fall will be her third year playing on the school's varsity team. She has been a setter ever since she started playing volleyball, but last year she became a starting OH, where she was named the team's Outstanding Server! She was named setter of the week at last year's Westover Christian Academy STAR Camp. She also plays softball and bowls.
Email: bowlingdevil@hotmail.com


Red Lion Christian Academy :
1390 Red Lion Road, Bear, Delaware 19701
Phone: (302) 834-2526 Fax: (302) 836-6346
Touch here to see the school website.