Day 3: Incredible Tournament! We won 5 of 8 matches & 11 games! Let's do this again!!

All tournament pairings and results for all ages can be seen here.
Day 1 Jan 16 Our Playing Schedule!
Matches
Our First Day Results
We defeated United 15 National, 25-23, 17-25, 15-13
We lost to NVVA 15 VB Rags 16-25, 18-25.
We lost to MVSA 15 R 15-25, 25-23, 13-15.
Record/Stats
Matches

Sets

Team

Won

Lost

Won

Lost

Final

2

1

5

3

1st (beat MVSA head to head)

1

2

4

4

4th

2

1

4

4

2nd

1

2

3

5

3rd (beat United head to head)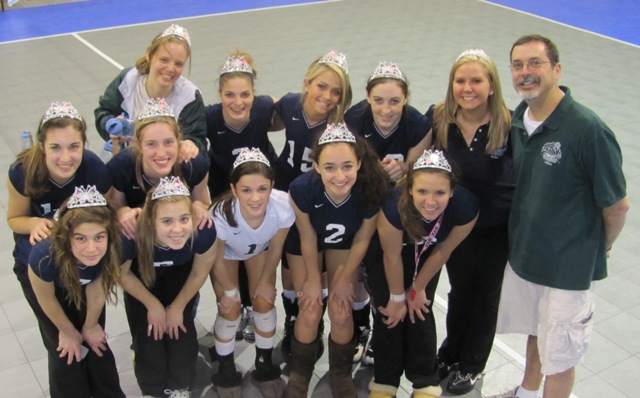 After Day 1! Thanks Jenny for the crowns!!!

Day 2 Sunday Jan 17!

Our Match Schedule
We defeated Williamsburg 15 Black 25-21 (after being down 12-21..you go Jenny's serve!) and 28-26 (after being down 2-10!)
We defeated Ichiban Tachi15: 25-10, 25-15. GREAT WIN!
We defeated TCA 15-1 from Maryland: 25-20, 25-22
Record/Stats
Matches

Sets

Team

Won

Lost

Won

Lost

Final

1

2

2

4

3

3

0

6

0

1

0

3

0

6

4

2

1

4

2

2

Day 2: After elbow tag.....that was FUN!!
Day 3 Monday Jan 18....It's Time For Playoffs!
Record/Stats
Matches

Sets

Team

Won

Lost

Won

Lost

FINAL PLACE

1

1

2

2

12th

0

2

1

4

13th

2

0

4

1

11th
Matches
Our Match Schedule
We lost to SC Juniors 15 Blue 21-25, 19-25
We defeated VBVBA 15N 25-14, 25-10.
CONGRATULATIONS NRV 15N! 14th in 15's Open!
OUR NRV TEAMMATES!!!

Congrats to our 18's team that finished 8th in the 32-team 18's division!
Congrats to our 15Club team that won their flight!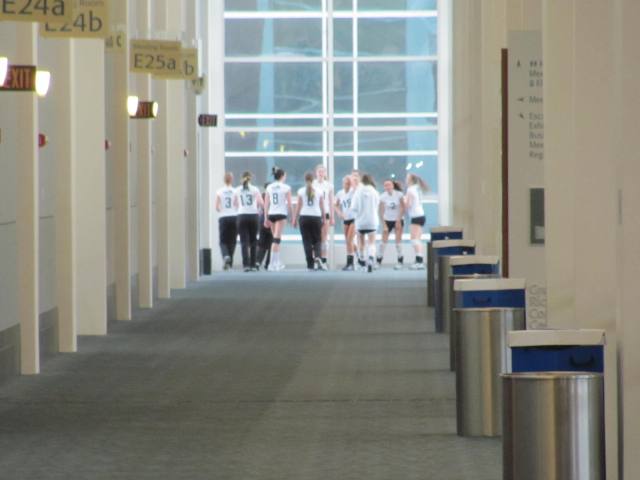 That was a long, long jog to the end of the hallway!
Some tournament websites!!
The tournament is played at the Richmond Convention Center.
403 North 3rd Street, Richmond VA 23219

The tournament website is here.
Directions to the Richmond Convention Center is here.
Parking info can be seen here. I recommend parking in #5.

Typical Richmond Convention Center Rules.
No outside food is allowed in the RCC.........but some years they have allowed food inside. Odd.
Coolers are not permitted in the RCC at all......but they let us to do that some years also. Really odd.
Normally: Unattended coolers can not be left outside the RCC
and we are normally told that folding chairs would not be allowed into the facility......but yet they are.

Our Division:
We are entered into 15's Open.....where the best 15's teams in the area will battle it out!
Inauguration!

The inauguration of the new governor, lieutenant gov, etc. begins Friday and lasts until around noon Sunday. Hmmmm. The exact schedule was emailed to parents. I recommend we leave for the site much earlier!
OUR TEAM HOTEL!

Our team hotel is the Hampton Inn-Richmond West

Parents can make reservations through 1-800-HAMPTON or by calling the hotel directly prior to January 1, 2010. Parents may refer to our block of rooms by using code that you were sent in the December 1st email.

The street address:
Hampton Inn Richmond-West
10800 West Broad Street
Glen Allen, VA 23060
1-804-747-7777 or 1-800-HAMPTON.

The hotel website is here!

Directions to the hotel: Take I-64 East to Exit 178B (Route 250 East/West Broad St.). At the 2nd stop light turn left on Cox Road. Take first right onto Innslake Drive. Hotel is on the right.

If you have any questions, call Lisa Anderson
Assistant General Manager
lisa.anderson@hilton.com
tel: 804-747-7777
fax: 804-747-7069


Virginia Commonwealth University's head women's volleyball coach, James Finley, will be conducting a FREE recruiting seminar Friday evening from 6:00pm - 8:00pm on the VCU campus. The seminar will be held in the Sports Medicine Building which is next to the Siegel Center. The address is 1300 West Broad Street.

Monument City Classic
15 Open Division for 2010

Teams That Were Entered

| | | |
| --- | --- | --- |
| Team Code <![if !vml]><![endif]> | | |
| fj5259531ch | SMJ15's | Southern Md Js |
| fj5brndy1ch | Brandywine 15-1 | Brandywine Vball Club |
| fj5ccvbc1cr | CCVC 15-1 | Capital City Vball Club |
| fj5charl1pm | Chas Jrs 15 Red | Charleston Jrs |
| fj5cjvvb1cr | CJV - 15 Blaze | Carolina Jrs Vball |
| fj5clbrd1cr | Club Red 15 Red | Club Red |
| fj5clubs1pm | Club South 15N Ashley | Club South |
| fj5cvvbc1od | Coastal 15 Blue | Coastal Va Vball Club |
| fj5dvavc1ch | DVA15National | Delaware Vball Academy |
| fj5ecjvc1cr | ECJVC 15 Purple | East Carolina Jr Vball Club |
| fj5elite1od | Beach Elite 15 Roxy | Beach Elite Vball Club |
| fj5hovjv1od | HOV 15s | Heart of Va Vball |
| fj5ichva1ch | Ichiban Tachi 15 | Ichiban Va Vball |
| fj5icstr1cr | IC Stars 15 | I.C. Stars |
| fj5mavbc1od | MAVC15A | MID ATLANTIC VBALL CLUB |
| fj5mdjrs1ch | MDJRS 15 Elite | MD Juniors VBC |
| fj5mdjrs2ch | MDJRS 15 OPEN | MD Juniors VBC |
| fj5mvsav1ch | MVSA 15 R | MVSA |
| fj5nrvjo1od | NRV 15 National | NRV Junior Olympic Vball |
| fj5nvpvb1ch | NV Premier 15-1 | NV Premier |
| fj5nvvai1ch | NVVA 15 VB Rags | Northern Virginia Vball Association |
| fj5rnkjr1od | Roanoke 15 Open | Roanoke Jrs |
| fj5scplx1pm | SC Juniors 15 Blue | South Carolina Jrs |
| fj5trngl1cr | Triangle 15 Black | Triangle Vball Club |
| fj5trngl2cr | Triangle 15 Blue | Triangle Vball Club |
| fj5unvbc1cr | United 15 National | United Vball Club |
| fj5vbvba1od | VBVBA 15N | V Beach Vball Academy |
| fj5vejvb1ch | VA Elite 15s | Virginia Elite |
| fj5wmsbg1od | Williamsburg 15 Black | Williamsburg Vball Club |

Directions For The Weekend:
If you're coming from I-64 to our team hotel on Friday Jan 15th.
From West - Take I-64 East to Exit 178B (Route 250 East/West Broad St.). At the 2nd stop light turn left on Cox Road. Take first right onto Innslake Drive. Hotel is on the right.

If you're coming on I-64 Saturday morning directly to our playing site:
From West of Richmond I 64 East Bound to I-95 South to 64 East Bound:
Interstate 64 East to junction Interstate 95 South to I-64 East/Third Street Exit#75. Bear right for 3rd Street (Do not go straight on the junction, it will take you to I-64 East). Travel ahead to 3rd and Marshall Streets. The Greater Richmond Convention Center's Parking Deck will be on the left on 3rd Street.
Time: 3 hours, 20 minutes.

Directions from our team hotel to our playing site:
Get back on I-64 and use the directions above.

Directions from the Richmond Convention Center back to our team hotel:
As you come out of the parking garage, turn left (one way)- go 0.2 mi
Turn right on BROAD ST - go 0.2 mi
Turn right on BROOK RD (one way) - go 0.3 mi
Bear left on W LEIGH ST - go 0.1 mi
Turn right on N BELVIDERE ST - go 0.1 mi
Take ramp onto I-95 NORTH toward WASHINGTON/CHARLOTTESVILLE - go 2.8 mi
Take exit #79 onto I-64 WEST toward POWHITE PKWY/CHARLOTTESVILLE - go 8.4 mi
Take exit #178B/US-250 EAST onto W BROAD ST toward RICHMOND - go 0.7 mi
Arrive at 10800 W BROAD ST, GLEN ALLEN, on the left