The ODR Bid Tournament
Richmond, Va. March 19-20, 2011
Tournament Information Page
The more of ourselves that we sacrifice for our team, the more glory our team will give back to us.
Last updated: 02/06/2013 08:03 AM


The ODR Bid Tournament, 2011.
We stayed in Ashland, about 15 minutes from the site. Awesome!


Our Playing Schedule!

Our First Pool:
We defeated Beach Elite 16 Roxy: 20-25, 25-19, 15-7
We defeated MAVC National Blue: 25-10, 25-12
We lost to Hampton Roads Jrs 16-1 Matrix: 23-25, 25-8, 15-17

Our second Day:
We lost to Williamsburg 25-16, 15-25, 10-15
We defeated MAVC National Black: 25-18, 25-18
We defeated HOV 16 Black: 25-21, 25-16

SO WE ARE ONE OF THE 8 TEAMS THAT QUALIFIED FOR GOLD!
We lost to Mid Atlantic East Coast Elite: 22-25, 15-25

So we finished 5th in the Old Dominion Region Bid Tournament!
GREAT JOB EVERYONE!! Can't WAIT for Shamrock next weekend.


After The First Pool! We're 2-1 and now let's play Williamsburg!

The Location!

I received the following info a week nbefore the tournament:
Our entire tournament will be at RVC North.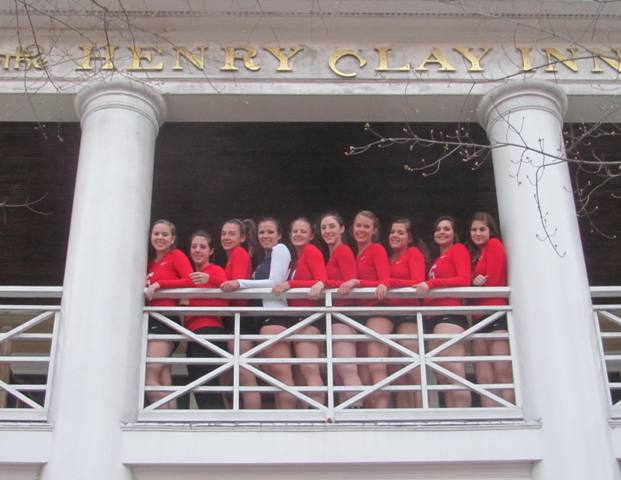 We stayed at the Henry Clay Inn. It was wonderful! What's up with that "C"?



Saturday night at the Henry Clay Inn! THANKS parents for the great supper!

Our Team "Hotel"

Our team hotel was not a team hotel at all!
It was the The Henry Clay Inn in Ashland! Sweeeeet!
http://www.henryclayinn.com
114 North Railway Ave, Ashland, Va 24586

There was a parlor upstairs which worked great for guests to gather and talk, play games, relax. The Inn had two public porches, one of which is screened in with tables. Also the rooms on the rear of the inn had a balcony.
We all had keys to the Drawing Room so that you could
use it for dinner in the evening.
Each room had a private bathroom, cable tv, wireless internet,
coffee, hair driers etc..


No food allowed at RVC North. None. But, that's OK. We made do!
Thank you parents for all the food. It was super!
These Teams That Were Accepted!
Seventeen teams! Wow!

| | | |
| --- | --- | --- |
| Team Code <![if !vml]><![endif]> | | |
| fj6cavcx2od | Charlottesville 16 Black | Charlottesville Area Vball Club |
| fj6cvvbc1od | Coastal 16 Blue | Coastal Virginia VBC |
| fj6elite1od | Beach Elite 16 Roxy | Beach Elite Vball |
| fj6elite2od | Beach Elite 16 Mizuno | Beach Elite Vball |
| fj6hovjr1od | HOV U16 Navy | Heart Of Va Jrs |
| fj6hovjr2od | HOV U16 Red | Heart Of Va Jrs |
| fj6hrjrs1od | HRJ 16-1 Matrix | Hampton Roads Jrs |
| fj6mavbc1od | MAVC East Coast Elite | Mid Atlantic Vball Club |
| fj6mavbc2od | MAVC National Black | Mid Atlantic Vball Club |
| fj6mavbc3od | MAVC National Blue | Mid Atlantic Vball Club |
| fj6nrvjo1od | NRV 16 National | Next Revolution N Vball |
| fj6odrcl1od | Clash 16 Impact | Clash Vball Club |
| fj6pjvbc1od | Peninsula Jrs 16 U | Peninsula Jrs Vball Club |
| fj6rvcjr1od | RVC 16N | Richmond Vball Club |
| fj6rvcjr2od | RVC 16Z | Richmond Vball Club |
| fj6uspav1od | USPAV 16 | USPAV (U-Turn) |
| fj6wmsbg1od | Williamsburg 16 Black | Williamsburg Vball Club |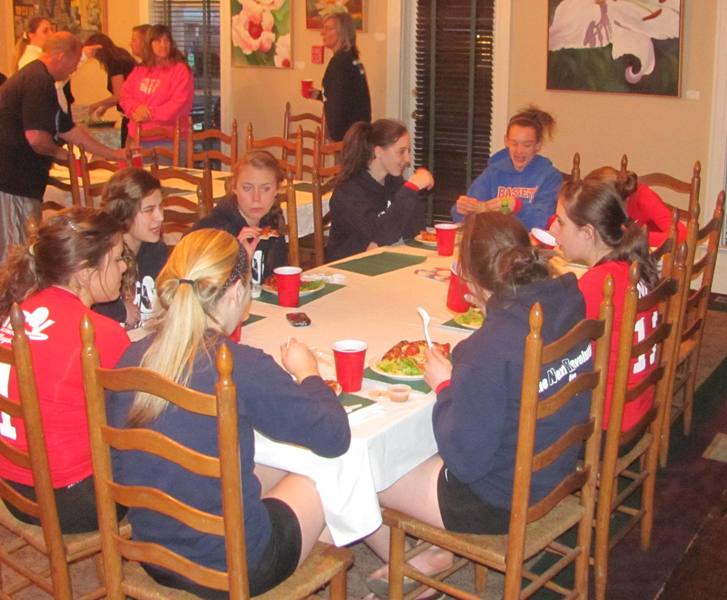 Pizza, salad .... and YUMMY dessert! We work up an appetite playing 11 sets in one day!

Driving Directions From Roanoke
To Henry Clay Inn, Ashland

There does appear to be a back roads way of arriving at the Inn.
But unless I'm convinced otherwise, I think I'll just stick to 64, 295 and 95.
Take exit #177/AIRPORT/WASHINGTON/NORFOLK onto I-295 S - go 8.9 mi

Take exit #43/RICHMOND/WASHINGTON onto I-95 N toward #43C/#43A/#43A/WASHINGTON - go 8.5 mi

Take exit #92B/ASHLAND onto COURTHOUSE RD(VA-54 E) - go 0.5 mi

Continue to follow VA-54 W - go 1.1 mi· Turn Right on N RAILROAD AVE

Arrive at 114 N RAILROAD AVE, ASHLAND, on the Left

Total distance: 193.8 miles. Time: 3 hours, 9 mins.

Driving Directions From The Inn To RVC North
The address is 2921 Byrdhill Rd.
Henrico, VA 23228. The RVC website here.
Go back toward I-95 South, approx 1.2 miles.

Bear Right to take ramp onto I-95 S toward RICHMOND - go 12.6 mi

Take exit #79/POWHITE PARKWAY onto I-64 W toward CHARLOTTESVILLE - go 1.3 mi

Take exit #185/STAPLES MILL RD onto STAPLES MILL RD(US-33 W) - go 0.5 mi

Turn Right on DUMBARTON RD - go 0.2 mi

Turn Right on BYRDHILL RD - go 0.4 mi

Arrive at 2921 BYRDHILL RD, HENRICO, on the Right
Distance: 16.27 mi Time: 21 mins


This picture was taken and posted here by the request of about 20 members of our team.
Aren't they cute?