Virginia Episcopal School
Monday July 26 - Friday July 30, 2010
Lynchburg, Va Directed by Tom Houser

• Home • CampHostingInfo • StandardCamp • HighExpecationsCamp • MaxExpectationsCamp • Staff • In-SeasonClinics • 10ReasonsWhy • Camp Calendar2013 • A Complete List! • Facebook
2010 STAR Calendar • DanRiver2010 • HighExp@VES2010 • Timberlake2010 • RoanCath2010 • StMarysPA2010 • VirginiaEpiscopal.2010 • PatrickCounty2010 • Fuqua2010 Facebook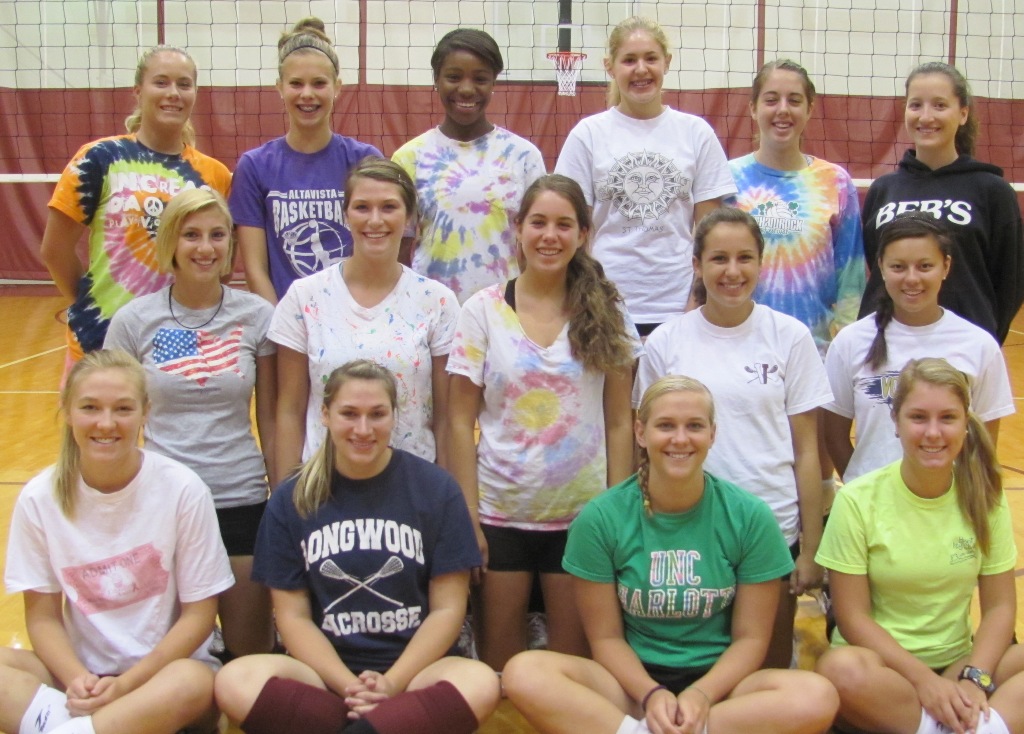 The VES STAR Camp for 2010!
Back Row: Coach Jessica Bowles, Wyatt Jordan, Dominique Nelson, Jenna Pierce, Chrisitina Dietz, Coach Devyn Bayes
Middle Row: Mackenzie Winston, Lindsay Leake, Morgan Oppenheimer, Madison Brown, Alexandra Rapadoes
Front Row: Mallory Marshall, Natalie Coleman, Emily Wayland, Sloan Lyndon



At the end of the first day of the VES STAR Camp! We had a GREAT day!! We can't wait for tomorrow!!!
Back: Mallory, Sloan, Lindsay, Madison, Natalie, Alexandra, Emily, Coach Jessica, Mackenzie, Dominique, Morgan.
Front: Jenna, Wyatt, Coach Devyn, Christina.
Natalie will be Captain of the Day, and the talk is on "Team" by Coach Houser.


Great Tournament! What Incredible Improvement!!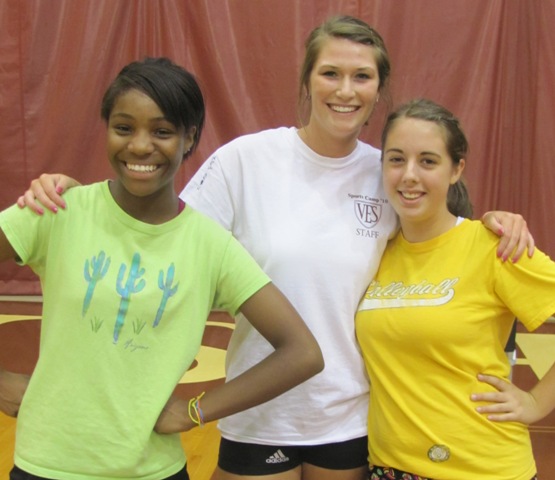 On the left...............The "Steal The Bacon" Winners: Dominique, Lindsay and Christina! CONGRATS!! The only undefeated team!
And Coach Jessica's talk on attitude! Remember, it takes 20 positives to cancel one negative. And the attitude you leave your house with is your choice.




The Tournament Teams:
Devyn's & Jessica's Team: The Black Outs. Coach Houser's Team: The White Outs.


Captains Of The Day

Monday - Christina Dietz
Tuesday - Natalie Coleman
Wednesday - Sloan Lyndon
Thursday - Alexandra Rapados
~~~~~~~~~~~~~~~~~~~
2010 Camp Format:
Monday - Thursday 9am to 4pm,
with 1 hour lunch break.
Friday 9am to noon

Cost: $200

Maximum Number:
16 to 18

Registration Info:
This camp will be open to only VES girls, unless a girl gets permission from Coach Greene.

A registration form will be posted here soon.






If you have any questions about the camp,
you may email the camp director, Coach Houser,
at coachhouser@yahoo.com
or the camp host, VES head coach
Will Greene at wgreene@ves.org





List Of Camp Assistants:

Devyn Bayes
Devyn just graduated from Ferrum College, where she made the volleyhball team as a walk-on her freshman year!! She graduated from George Washington High School in Danville, VA in 2007, where she played volleyball for six years. Devyn gives private volleyball lessons in Roanoke on many Saturday & Sunday nights that her schedule allows! She is also involved in our volleyball VIP training for 8 - 12 year olds. Devyn has now assisted with thirteen STAR volleyball camps, including being the rookie camp director at Chugiak High in Anchorage Alaska in July of 2009. She will begin work on her master degree at Seton Hall this fall! You go Devyn! Her email is: dbayes@ferrum.edu. MySpace Page: http://www.myspace.com/21189496

Jessica Washburn Bowles
Jessica is a Physical Education teacher at Callaway Elementary school, where she teaches children from Pre-K-5th grade. She graduated from Ferrum College in 2009, where she played volleyball all 4 years. At Ferrum Jessica earned Academic All-Conference in 2007 - 2009. Jessica graduated from Franklin County High School in 2005, where she played 2 years of JV, and 2 years of varsity. She was a team captain her sophomore and senior years. She also played 2 years of club volleyball. While at FCHS, she was awared 1st team All-Conference in 2004. Jessica was an assistant coach on my New River Valley team this past season and is the director of the VIP training in Roanoke for girls ages 8 - 12. You can contact Jessica at jwashburn@ferrum.edu















| | |
| --- | --- |
| Last updated: 12/19/2012 10:45 AM | |