St. Marys Area High School
St. Marys, PA
Monday July 20 - Thursday July 23, 2009
• Home • CampHostingInfo • StandardCamp • HighExpecationsCamp • MaxExpectationsCamp • Staff • In-SeasonClinics • 10ReasonsWhy • Camp Calendar2013 • A Complete List! •
2010 STAR Calendar • DanRiver2010 • HighExp@VES2010 • Timberlake2010 • RoanCath2010 • StMarysPA2010 • VirginiaEpiscopal.2010 • PatrickCounty2010 • Fuqua2010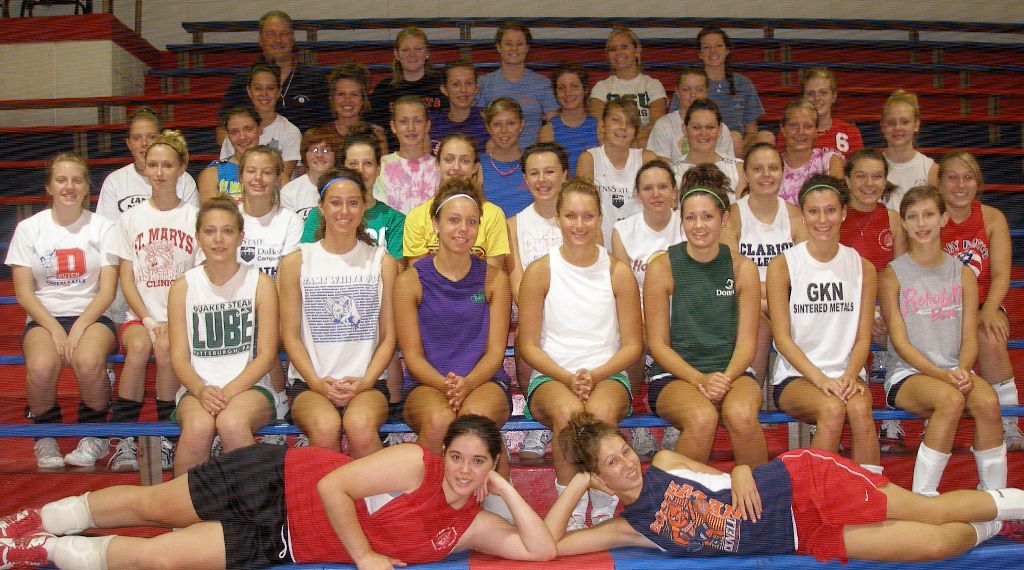 Back Row: Coach Barry Kane, Coach Laura Jones, Coach Emily Quesinberry, Coach Kendall Patterson, Coach Sam Thomas
4th Row: Deanna Yost, Nykita Anderson, Bella Cordori, Kristi Wendel, Machaela Rupprecht, Caylin Smith.
3rd Row: Abby Dobson, Taylor Bellini, Tonya Copello, Abby Dobson, Kristen Anderson, Kayla Nussbaum, Tori Dezanet, Jolene Herbstritt, Erin Gahn.
2nd Row: Jolene Young, Lauren Geer, Emily Pollino, Abbey Cribbs, Chelsie Gregori, Sami Hanes, Jenna Anderson, Chelsie Gaton, Courtney Bankovich, Lauren Dalessandro.
1st Row: Paula Hogan, Shelby Zomcik, Morgan Cartwright, Karisa Krieg, Kindred Wiseman, Megan Longhi, Carley McMackin.
Front Row: Rachel Swasta, Lucia Codori



CONGRATULATIONS TO THE 2009
STEAL THE BACON CHAMPIONS!!

First Place: Shelby, Kristi, Taylor, Caylin
Second Place: Jenna, Abbey, Carley, Chelsie
Some Pretty Cool Memories

OK, what's going on? Oh, oh!!
It's Amoeba Tag!!!!


The Tournament Teams!


The Pretty Uglies, The Lopsided Lollipops, and The Awesome Possums!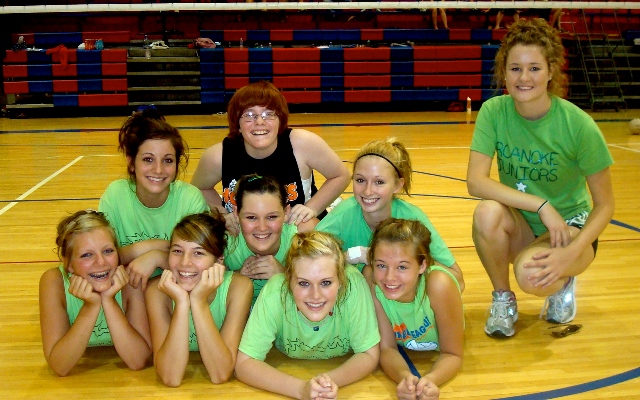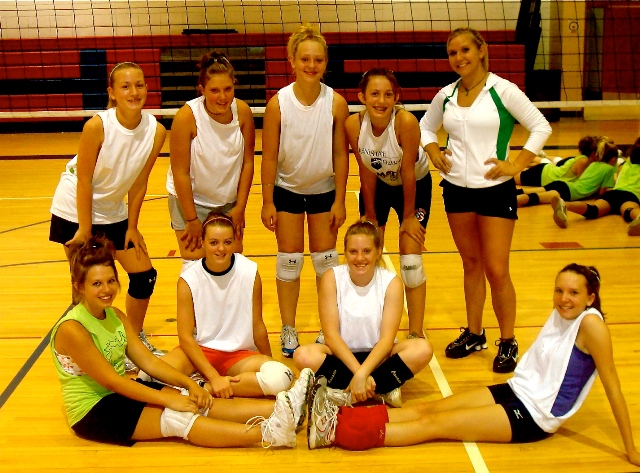 The Seat Turtles and the Parachute Packers


The Tournament!!
(Touch a picture to see a larger version)

July 23, 2009, 10:16pm, the night after our final day of camp.
The staff had been back home in Virginia less than 2 hours when I got this text from Coach Vogt !
YOU GO LADY DUTCHMEN!!!
"Varsity just beat our town rival ECC in summer league play! Great game!"



hey coach houser;
i finally got the chance to tell you what a wonderful time i had at camp. It was SO much fun ! When i found out you were coming this year i was extremely excited ! This year was even better than last year , i learned so much about so many different things, not only volleyball. I can tell now when i'm playing the things that i've improved in and the things i still have to work on. haha. My award is on my dresser right beside the one from last year, i told mom i'm going to have to make a shelf just for coach houser trophies (: haha. Well i just wanted to let you know how much fun it was and that it went by WAY too fast ! i missed it as soon as i walked out of the gym. but thank you alot , (:


"Coach Houser:
I think this year volleyball is going to 110% better than last. The majority of us are all there for the same reason because we love the sport and everything that comes with it. I think what you said in the hallway really touched deep in a lot of people, including me."

Varsity & JV Tournaments were on
Thursday starting at 11am!
Parents, family, friends were welcome!
~~~~~~~~~~~~~~~~~~~
Captains Of The Day

Junior Division:
Monday -- Lauren Geer
Tuesday -- Jenna Anderson
Wednesday -- Erin Gahn
Thursday -- Jolene Herbstritt

Varsity Division:
Monday -- Lucia Cadori
Tuesday -- Shelby Zomcik
Wednesday -- Karisa Kreig
Thursday -- Kindred Wiseman

~~~~~~~~~~~~~~~~~~~

2009 Camp Format:

The camp was Mon - Wed : 9 am to 4pm, with 60 minutes for lunch.
Thursday: 9 am to 1pm.

Cost: $150

Registration Info:

The 2009 registration form was here

The camp was split into a Veteran Division and a Rookie/Middle Division.

The camp was limited to the first 20 girls who signed up in each division. This camp was open to girls from other schools!

The veteran campers again had a tournament on Thursday from 11am to 12:45pm!! Middle/rookie campers had a mini-tournament also! That final day was awesome!

If you have any questions about the camp, you may email the camp director, Coach Houser,
at coachhouser@yahoo.com or you may email the camp host, Coach Erica Vogt at elvst2@yahoo.com



~~~~~~~~~~~~~~~~~

Coach Houser coming back to Pennsylvania
in the fall of 2009!

Coach Houser's stepdaughter will be a senior at Radford University this fall. Her page is here.

On August 28 - 29, Radford will be playing in a tournament at Duquesne University. Duquesne is in Pittsburg and is about 132 miles from St Marys.

Then on Sept 18 - 19, her team plays in a tournament at Bucknell University. Bucknell is in Lewisburg which is about 134 miles from St Marys.


Rookie Camp Director:


Barry Kane
Coach Kane has immense experience in volleyball. He has been a high varsity coach, a camp director and has even been a STAR camp host in 2007. He was the head coach at Timberlake Christian School near Lynchburg, Va coach for 13 years. His teams were conference champs twice and were ranked in the top 8 in the Virginia Division III final poll every year. His overall coaching record is 208-85 (71% wins) His two daughters, Jessie and Holly, currently play on the varsity team for Timberlake Christian School (who made it to the State Division III Final Four). Coach Kane is now a 7th grade teacher in Appomattox County, Virginia. He has been married for 22 years to Cheryl. He is a perfect fit for the director of this division!



List Of Camp Assistants:


Sam Thomas
Sam just completed her first year of college at Shenandoah University where she played on the volleyball team and was a starting OH. Sam is now transferring to Cape Fear Community College in Wilmington North Carolina, where she has already tried out and made the 2009 volleyball team. She started playing volleyball in the 8th grade, played 3 years of Juniors (one on my 15 Red team here) and 5 years of school ball. She is a 2008 graduate of North Cross School where she was a starter on team that made the final 4 in the state tournament in 2008. She assisted me with my 2007 Roanoke Juniors 15's team and has now been an assistant at seven STAR camps! Her email is: samadamsthomas@gmail.com

Laura Jones
Laura has played volleyball since 7th grade…6 years of school ball and 5 years of Juniors. She's been the captain of her intramural teams at Virginia Tech for the past three years. I assisted with Coach Houser's club team in 2006. Laura will be graduating in 2010 from Virginia Tech. She is majoring in Business Management with a minor in Business Diversity. She is really looking forward to this summer! You can contact Laura at ljones06@vt.edu


Helping With The Rookie Division:

Emily Quesinberry
Emily is a sophomore at Christiansburg High School where she is an OH and MB. Emily is presently a member of Coach Houser's Roanoke Juniors 16's National team. Emily is in her 4th year of club ball, having played 1 year for NRV and 2 years for SWVA. She is an honor student with a 3.8 GPA. She played basketball throughout elementary and middle school and is a member of SADD, the Spirit Club and Young Republicans. You can contact Emily at EmQberry15@gmail.com

Kendall Patterson
Kendall played 6 years of school ball and three years of Juniors. She is now a freshman at Radford University, where she's been playing intramurals and hopes to try out for the club team next fall. She was a star member of Coach Houser 2005 15's Roanoke Juniors club team that finished 3rd in the state championships that year! Touch Kendall's name to see her Junior Volleyball website from 4 years ago.

St. Marys Area High School

info:



The St Marys Area High School website is here
And the St Marys volleyball page is here

St. Marys Area School District
977 South St. Marys Road
St. Marys, PA 15857
814-834-7831


The soccer boys played the varsity girls in late August 2009. And, of course, the varsity girls beat them!


Here are both teams on "Meet the Dutch Night" on Sept 2 at the school.
The girls all got to walk around the track and they announced their names. It was pretty cool



• Home • CampHostingInfo • StandardCamp • HighExpecationsCamp • MaxExpectationsCamp • Staff • In-SeasonClinics • 10ReasonsWhy • Camp Calendar2013 • A Complete List! •
• 2005 STAR Calendar • Bassett2005 • BassCommCenter2005 • JeffersonForest2005 • Westover2005 • Narrows2005 • AnEntireList • Search CoachHouser.com •
• 2006 STAR Calendar • JeffersonForest2006 • WestoverChristian2006 • Lebanon2006 • NewCovenant2006 • Bassett2006 • RedLionDE2006 •
• 2007 STAR Calendar • WestoverChristian2007 • JeffesonForest2007 • Timberlake2007 • RedLionDE2007 • OconeeSC2007 •
• 2008 STAR Calendar • WestoverChristian2008 • Jeff Forest HighExp 2008 • JeffForest2008 • StMary'sPA2008 • RoanCath2008 • RedLionDE2008 •
2009 STAR Calendar • FranklinCo2009 • Riverheads2009 • HighExp@ECGlass2009 • Timberlake2009 • RoanCath2009 • Fuqua2009 • StMarysPA2009 • ChugiakAlaska2009 • RedLionDE2009
2010 STAR Calendar • DanRiver2010 • HighExp@VES2010 • Timberlake2010 • RoanCath2010 • StMarysPA2010 • VirginiaEpiscopal.2010 • PatrickCounty2010 • Fuqua2010
• Home • 2011 STAR Calendar • Timberlake2011 • DanRiver2011 • JamesRiver2011 • HighExp@VES2011 • MaxExp@VES2011 • RoanCatholic2011 • Carlisle2011 • PatrickCo2011 • Westover2011 • Facebook •
• Home • 2012 STAR Calendar • Timberlake2012 • Dan River2012 • MagnaVista2012 • HighExp2012 • MaxExp2012 • Westover2012 • RoanokeCatholic2012 • Carlisle2012 • PatrickCounty2012 • PaulVI2012 • JohnBattle2012 •


| | |
| --- | --- |
| Last updated: 12/19/2012 10:45 AM | |