EC Glass High School
Lynchburg, Virginia
High Expectations Camp
Monday June 29 - Thursday July 2, 2009
• Home • CampHostingInfo • StandardCamp • HighExpecationsCamp • MaxExpectationsCamp • Staff • In-SeasonClinics • 10ReasonsWhy • Camp Calendar2013 • A Complete List! •
2009 STAR Calendar • FranklinCo2009 • Riverheads2009 • HighExp@ECGlass2009 • Timberlake2009 • RoanCath2009 • Fuqua2009 • StMarysPA2009 • ChugiakAlaska2009 • RedLionDE2009

We're on the Channel 13 news! Touch here for the story. Touch here to see the video!!





Back Row: Coach Steven Benson, Coach Sam Thomas, Ryan Martin, Paige Riley, Morgan Horne, Daphne Allen, Amanda Barrick, Jen Garrett, Coach Lindsey Campbell, Coach Kaitlyn Collins, Coach Cassie Pochyla, Coach Shannon Mincey, Coach Tom Houser

Middle Row: Emily Wayland, Christine Surface, Brittany McCormick, Rachel Hall, Rosie Buzzy, Annie Frost, Aubrey Blanchette, Ashleigh Terry, Daylin Tyree, Lauren Ratcliffe.

Front Row: Eliza Parrot, Laura Sharrett, Sandy Serio, Kaitlyn Duncan, Taylor Riley, Mary Grace Lemon, Blair Blanchette, Rachel Mullen, Kim Amerell.

I will post more pictures as soon as I can!
I have pictures of drills, the tournament, etc.!


CONGRATULATIONS TO THE STEAL THE BACON CHAMPIONS!!

FIRST PLACE!
Daylin, Eliza, Sandy, Morgan, Coach Katelyn
SECOND PLACE!
Ryan, Lauren, Mary Grace, Paige, Blair



"Last week was absolutely amazing! I was so nervous about this coming season,
because my coach wanted me to play a new position I wasn't used to,
but now I feel totally ready for the coming school season!
I'm so grateful for you and all the coaches for pushing me to learn and prepare myself.
I'll keep you and all the coaches in mind this year every game!
Thank you!"



"I honestly feel your camp was the best money I have spent on helping
her skills. Where she is now has a lot to do with what she
got from the camp and coaches."

The Tournament! It Was INCREDIBLE!!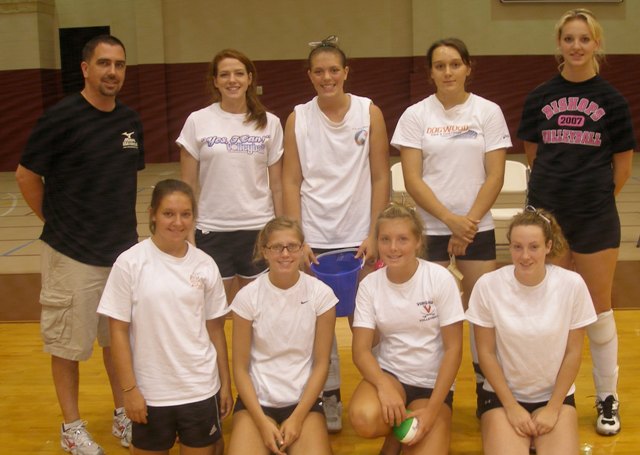 White Magic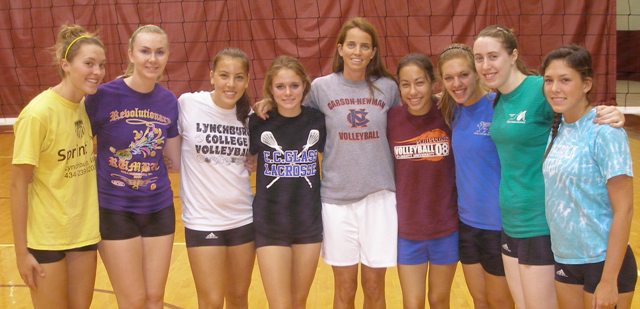 The Hard Core Skeetles....yes, "ee" is right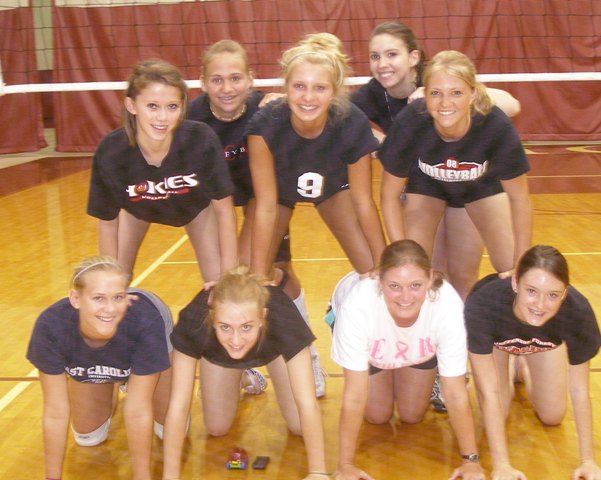 The Black Outs...The Tournament Champs!

2009 Camp Format:

Mon - Wed : 9 am to 4pm, with 60 minutes for lunch.
Thursday: 9 am to 12:30pm.



The camp had a max of 4:1 camper to coach ratio!!!!


Cost: $225

Maximum Campers: 24



Registration Info:


The registration form was here.


If you have any questions about the camp, you may email the camp director, Coach Houser,
at coachhouser@yahoo.com or the camp host,
Amy Amerell at amybdesigns4u@aol.com


~~~~~~~~~~~~~~~~~~~

List Of Camp Assistants:

Kaitlyn Collins
Kaitlyn is a sophomore at the University of Virginia's, College at Wise where she plays volleyball for the Lady Cavs as a middle hitter! During her freshman year, the Lady Cavs claimed the NAIA Region 12 Championship title, allowing them to advance to the NAIA National Tournament!! Kaitlyn graduated from Lebanon High School in Lebanon, VA in 2007, where she played volleyball for five years. During her senior season, she was awarded the Player of the Week Award by the Lebanon News, was on the Castlewood Classic All-Tournament Team, and was awarded the team's Blocker of the Year award! This will be Kaitlyn's first year assisting with STAR volleyball camp, and she is very excited! Her email is: knc4x@uvawise.edu or vball_athlete109@yahoo.com AIM Screen Name: KaitVb08


Sam Thomas
Sam just completed her first year of college at Shenandoah University where she played on the volleyball team and was a starting OH. Sam is now transferring to Cape Fear Community College in Wilmington North Carolina, where she has already tried out and made the 2009 volleyball team. She started playing volleyball in the 8th grade, played 3 years of Juniors (one on my 15 Red team here) and 5 years of school ball. She is a 2008 graduate of North Cross School where she was a starter on team that made the final 4 in the state tournament in 2008. She assisted me with my 2007 Roanoke Juniors 15's team and has now been an assistant at seven STAR camps! Her email is: samadamsthomas@gmail.com

Lindsey Campbell
Lindsey will be a 2009 graduate of Franklin County High. Lindsey started playing volleyball in the 7th grade, and hasn't stopped since. In addition, she's played Roanoke Juniors since she was in the 8th grade. She was on Coach Houser's team in the 8th grade, and again the next year as the team qualified for Nationals. But not only is she a great player, Lindsey is a leader by example. Her work ethic and team spirit are 2nd to none. Presently, her post high school plans are undecided. Lindsey can be contacted here: volliball4fc@live.com


Court Coaches:

Shannon Mincey
Coach Mincey is the head coach at Carson Newman College, in Jefferson City, Tennessee. She played at King College, and team went 164-36 in her 4 years. She started coaching at the high school level, then became an assistant at Milligan, then at East Tennessee State before taking over at Carson-Newman in five years ago. Her team finished in the conference last fall with a 24-15 record, and were 23-11 the year before. MacKenzie Tyree, Timesland Player Of The Year, will be attending Carson Newman next fall. You can see more about Coach Mincey here, and you can contact her at smincey@cn.edu .

Cassie Pochyla
Coach Pochyla has been the head coach at Emory & Henry College for the past 7 years. She started her career on scholarship at UVa-Wise whre she played volleyball and basketball, and was a member of the conference All-Academic Team. She then transferred to E&H where she graduated in 2001. She was the head JV coach at Abingdon H.S. before taking the job at E&H. She is married to Angus Pochyla and has a son, Neal. You can contact Coach Pochyla at cpochyla@ehc.edu

Steve Benson
Coach Benson is both the men's and women's head coach at Eastern Mennonite University in Harrisonburg, Va. Coach Benson played volleyball in college. Coach Benson coached high school ball for 4 years and club ball for 6 years while living in Florida. He also coached college ball for 4 years before taking over at EMU in 2004. His teams at EMU have improved their winning % nearly every year since arriving. During the summer of 2007, Benson was selected as a training coach of the USA Select A1 Boys team. You can read more about him here, and you can contact Coach Benson at steve.benson@emu.edu .


~~~~~~~~~~~~~~~~~~~



The camp was held at Virginia Episcopal School in Lynchburg!

Incredible facility! Air conditioned! Curtains between courts!
More info about VES can be found at the bottom of this page.

~~~~~~~~~~~~~~~~~~~

First Day Camp Director:
(While Coach Houser is at Nationals with his Roanoke Jrs 16N team)

Tamalyn Tanis
Tamalyn is a 1989 graduate of Cave Spring High and a 1993 graduate of Mary Washington College, where she broke numerous volleyball records. She was the JV coach at Cave Spring for years, before taking over the varsity position in 2002. With husband Mark as her assistant coach, she immediately had incredible success, winning the AAA state championship in 2003, then the AA state championship in 2004, 2006 and 2007. She and Mark are the directors of Roanoke Juniors, and they run the Shamrock Festival.

~~~~~~~~~~~~~~~~~~~

Captains Of The Day
Monday: Aubrey Blanchette.
Tuesday: Jennifer Garrett
Wednesday: Sandy Serio.
Thursday: Laura Sharrett & Rachel Mullen


Camp Info:

Touch here to see the Virginia Episcopal website.
400 VES Road, Lynchburg, VA 24503
Phone: 434.385.3600

Touch here to see directions to VES.
Mapquest map is here.

~~~~~~~~~~~~~~~~~~~~~~~~~~

The camp was going to held at EC Glass High,
but it had to be moved. The EC Glass school website is here.
Glass's address is: 2111 Memorial Avenue, Lynchburg, VA 24501


Glass's p

hone Number: (434) 522-3712
Touch here to see a map to EC Glass.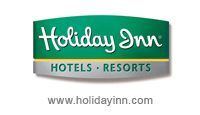 The coaching staff stayed at the
Holiday Inn Lynchburg Select.
It's website is here.



• Home • CampHostingInfo • StandardCamp • HighExpecationsCamp • MaxExpectationsCamp • Staff • In-SeasonClinics • 10ReasonsWhy • Camp Calendar2013 • A Complete List! •
• 2005 STAR Calendar • Bassett2005 • BassCommCenter2005 • JeffersonForest2005 • Westover2005 • Narrows2005 • AnEntireList • Search CoachHouser.com •
• 2006 STAR Calendar • JeffersonForest2006 • WestoverChristian2006 • Lebanon2006 • NewCovenant2006 • Bassett2006 • RedLionDE2006 •
• 2007 STAR Calendar • WestoverChristian2007 • JeffesonForest2007 • Timberlake2007 • RedLionDE2007 • OconeeSC2007 •
• 2008 STAR Calendar • WestoverChristian2008 • Jeff Forest HighExp 2008 • JeffForest2008 • StMary'sPA2008 • RoanCath2008 • RedLionDE2008 •
2009 STAR Calendar • FranklinCo2009 • Riverheads2009 • HighExp@ECGlass2009 • Timberlake2009 • RoanCath2009 • Fuqua2009 • StMarysPA2009 • ChugiakAlaska2009 • RedLionDE2009
2010 STAR Calendar • DanRiver2010 • HighExp@VES2010 • Timberlake2010 • RoanCath2010 • StMarysPA2010 • VirginiaEpiscopal.2010 • PatrickCounty2010 • Fuqua2010
• Home • 2011 STAR Calendar • Timberlake2011 • DanRiver2011 • JamesRiver2011 • HighExp@VES2011 • MaxExp@VES2011 • RoanCatholic2011 • Carlisle2011 • PatrickCo2011 • Westover2011 • Facebook •
• Home • 2012 STAR Calendar • Timberlake2012 • Dan River2012 • MagnaVista2012 • HighExp2012 • MaxExp2012 • Westover2012 • RoanokeCatholic2012 • Carlisle2012 • PatrickCounty2012 • PaulVI2012 • JohnBattle2012 •
| | |
| --- | --- |
| Last updated: 12/30/2011 09:09 AM | |