James River High School
Monday June 27 - Thursday June 30, 2011
Buchanan, Va Directed by Tom Houser

• Home • CampHostingInfo • StandardCamp • HighExpecationsCamp • MaxExpectationsCamp • Staff • In-SeasonClinics • 10ReasonsWhy • Camp Calendar2013 • A Complete List! • Facebook
• Home • 2011 STAR Calendar • Timberlake2011 • DanRiver2011 • JamesRiver2011 • HighExp@VES2011 • MaxExp@VES2011 • RoanCatholic2011 • Carlisle2011 • PatrickCo2011 • Westover2011 • Facebook •





The 2011 James River Volleyball Campers



Back Row: Coach Devyn Bayes, Caitlin Hileman, Emily Falls, Meagan Long, Becca Thompson, Taylor Peery, Coach Kim Amerell
Middle Row: Jordan Epperly, Kaitlyn Barger, Jenna Sprinkle, Kendal McGuire, Taylor Hodges, Lindsay Shotwell, Leah Wright
Front Row: Sarah Huff, Maribeth Kern, Haily Cook, Racheal Hepler, Conner Sprinkle, Rene Smith, Ashley Cunnmings


~~~~~~~~~~~~~~~~~~~~~~~~~~

Defensive Teams from Tuesday's "Offense vs. Defense" Drills



Devyn's Team beat Coach Houser's! "Ayyyyyye Ayyyyyye Captain!"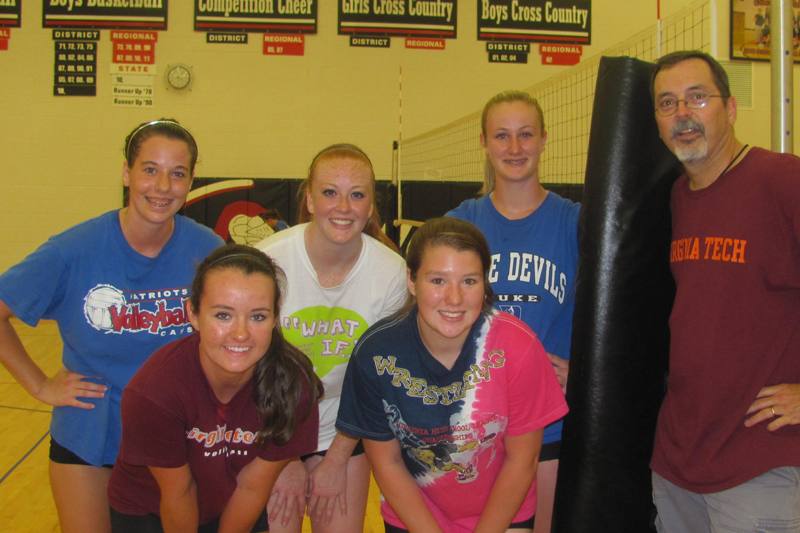 That tall skinny girl standing beside Coach Houser? That's Rachel. Yep, she's one of our setters.

Thanks for all you did to help me become a better middle and everything you taught me, i really had a great time and i hope ya'll come back next year!

All I heard was such positive comments about u and the camp. My daughter simply loved it all! Thanks for helping each girl and the team as a whole.

My daughter thinks it is the best camp she has had. Thanks!

Everyone is having a blast at camp. They talk about how good it is and have already learned so much. Thanks to you, Devyn, and Kim!

Thanks for helping me with being a middle! I appreciate all you taught me!

~~~~~~~~~~~~~~~~~~~~~~~~~~~~~

Here Are The "Steal The Bacon" Winners!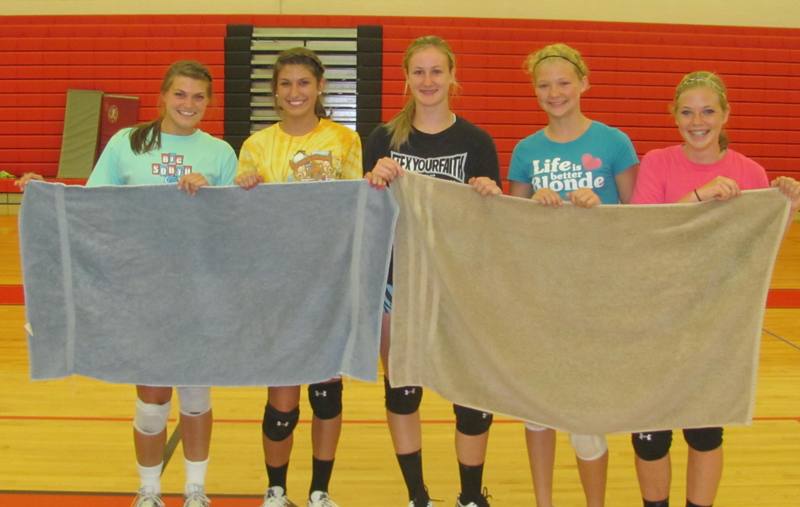 Congrats to Maribeth, Kendal, Taylor, Katie and Lindsay!
You guys rule!


~~~~~~~~~~~~~~~~~~~~~~~~~~~~~

The Tournament!


~~~~~~~~~~~~~~~~~~~~~~~~~~~~~

The Tournament Teams!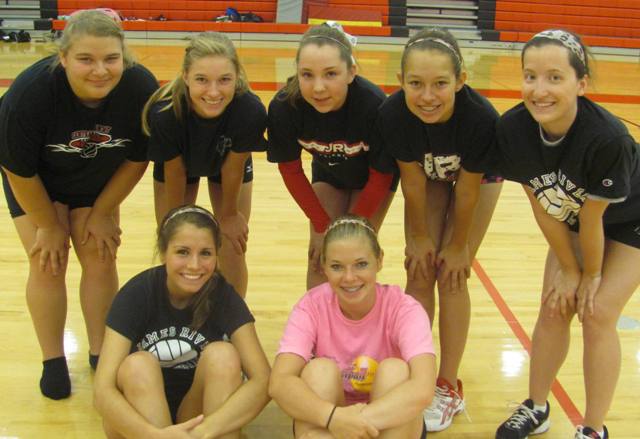 Coach Devyn's team was the Black Bots. Coach Houser's team was the Knight Riders....rrrrmmm



Coach Amerell's team was the Jaboodys!
~~~~~~~~~~~~~~~~~~~~~~~~~~~~~

The Athletes of James River High!



2011 Camp Format:
Monday - Wednesday 9am to 4pm,
with 1 hour lunch break.
Thursday 9am to noon

We are expecting this camp to be a one division camp for veterans of the game.

Cost: $160

Maximum Number: 25

Registration Info:
The camp registration is here!

"All participants must have a current physical on file with the JRHS Athletic Department."



If you have any questions about the camp,
contact Audrey Easter at aeaster@bcps.k12.va.us, or
you may email the camp director, Coach Houser, at coachhouser@yahoo.com



List Of Camp Assistants:


Devyn Bayes
Devyn graduated from Ferrum College in 2010, where she made the volleyball team as a walk-on her freshman year!! She graduated from George Washington High School in Danville, VA in 2007, where she played volleyball for six years. Devyn is now in graduate school at American University in Washington DC. Devyn has now assisted with seventeen STAR volleyball camps, including being the rookie camp director at Chugiak High in Anchorage Alaska in July of 2009 and at Timberlake Camp in July 2010. Her email is: dbayes@ferrum.edu Facebook page is here.


Kim Amerell
Kim just completed her freshman year at Pfeiffer University where she was named Conference Freshman of the Year! She was a big star at EC Glass in Lynchburg, where she was named first-team all-district as a junior and senior. As a senior she was also named Region III Honorable Mention and First Team All Lynchburg. She was named Server of the Week at the High Expectations Camp in 2008 and Hitter Of The Week at the High Expectations Camp in 2009. You can contact her at kimmy2591@aol.com

~~~~~~~~~~~~~~~~~~


Pictures from the 2010 and 2011 camps are on Facebook!
They are here!



| | |
| --- | --- |
| Last updated: 12/19/2012 10:45 AM | |