Roanoke Catholic School
Monday July 11 - Thursday July 14, 2011
Roanoke, Virginia Directed by Tom Houser
• Home • CampHostingInfo • StandardCamp • HighExpecationsCamp • MaxExpectationsCamp • Staff • In-SeasonClinics • 10ReasonsWhy • Camp Calendar2013 • A Complete List! •Facebook
• Home • 2011 STAR Calendar • Timberlake2011 • DanRiver2011 • JamesRiver2011 • HighExp@VES2011 • MaxExp@VES2011 • RoanCatholic2011 • Carlisle2011 • PatrickCo2011 • Westover2011 • Facebook •






The STAR Division!
Back Row: Coach Tim McSherry, Coach Sam Thomas, Coach Holly Kane, Madeline Cobbler, Michaela Bentley, Christy Goldsmith, Ashley Stump, Courtlyn Plunkett, Michaela Maddox, Rachel Frazier, Olivia Frank, Hannah Nimmo, HB Galbraith, Molly Cardenas, Morgan Starnes, Cara Ghaphery, Alexis Ballard, Lyndsey McLucas, Rachel Ward, Lauren Slough, Coach Tom Houser, Coach Aidan Guilfoyle.
Middle Row: Coach Devyn Bayes, Fallon Delp, Georgia Farthing, Lexi Baylor, Taylor Braford, Hana Coogan, Meagan Harrison, Alayna Foutz, Emily Spickard, Ashley Sweet, Breanna Lockhart, Piper Roe, Alex Wolfe, Jane Revercomb, Marilyn Bandy, Payton Johnson, Madison Woodell, Jordan Doubles, Coach Kim McDow
Front Row: Erin Newell, Amy Kuhlmeier, Ann Claire Levy, Zoe Doubles, Gussie Revercomb, Rachel Nester, Jordan Grinde, Amelia Dalton, Victoria Baldwin, Emilla Conlon, McKinley Saunders, Taylor Lewis.





The Rising STAR Division!
Standing: Coach Sam Thomas, Coach Holly Kane, Coach Aidan Guilfoyle, Isabella Kevorkian, Erin Harrison,
Allie Knight, Gretchen Kepley, Rachel Baldwin, Abbey Shorten, Julia Cundiff, Coach Morgan Robison, Coach Devyn Bayes.
Sitting: Savannah Thompson, Hannah Chorba, Savannah Pugh, Miranda Gaither , Jenna Motley, Delanie McKeel, Maggie Scott , Rachel Lybolt
Other girls who attended the camp: Taylor Hampton, Maddie Harrison, Savannah Farris, Bianca Roman, McKenzie Baylor

July 14, 2011
Thank you Coach Houser for everything this week (: I had so much fun!! Also I am honored to have won an award. :D Cant wait for schedule some private lessons(: .

July 14, 2011
My daughter said that she learned more in one day at your clinic than all the others she had attended combined! It was a thrill for me to watch, as well! I saw her really, for the first time, come alive! She seems really excited about volleyball and improved so much at Rke Catholic! Thank you!
~~~~~~~~~~~~~~~~~~~

The STAR Camp Tournament Was Awesome!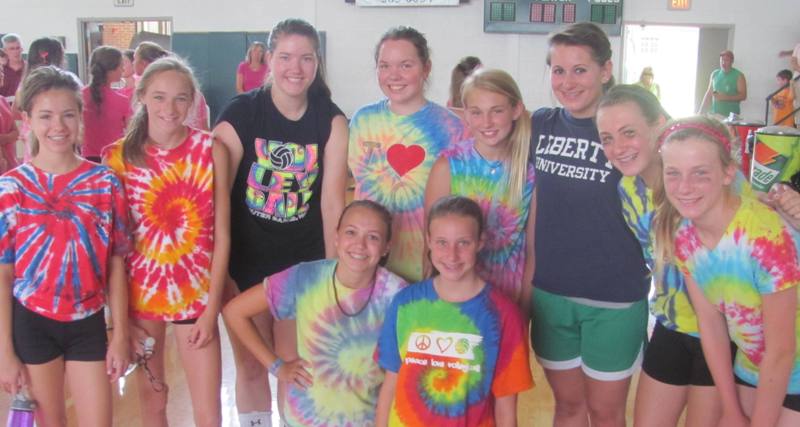 The Skittles!
Hana Coogan , Michaela Maddox, Rachel Nester, Coach Holly Kane, Olivia Frank, Coach Jewel Hoornick, Meagan Harrison, Peyton Johnson
Front: Lynsey McLucas, Morgan Starnes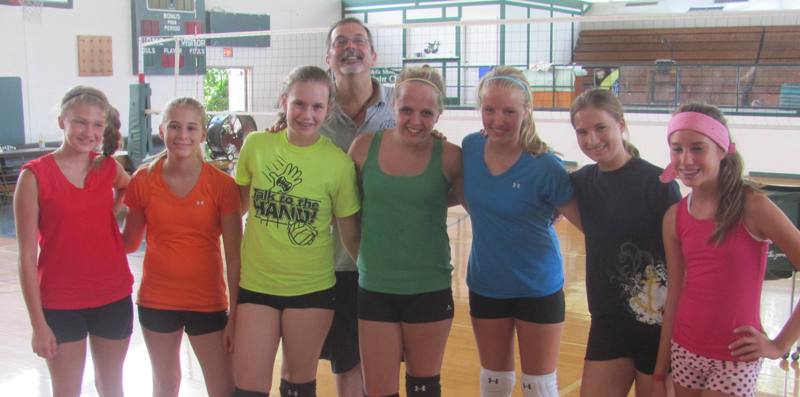 The Rainbows!
Hannah Nimmo, Alexis Ballard, Breanna Lockhart, Rachel Ward, Maddie Cobbler, Anne Clair Levy, Christy Goldsmith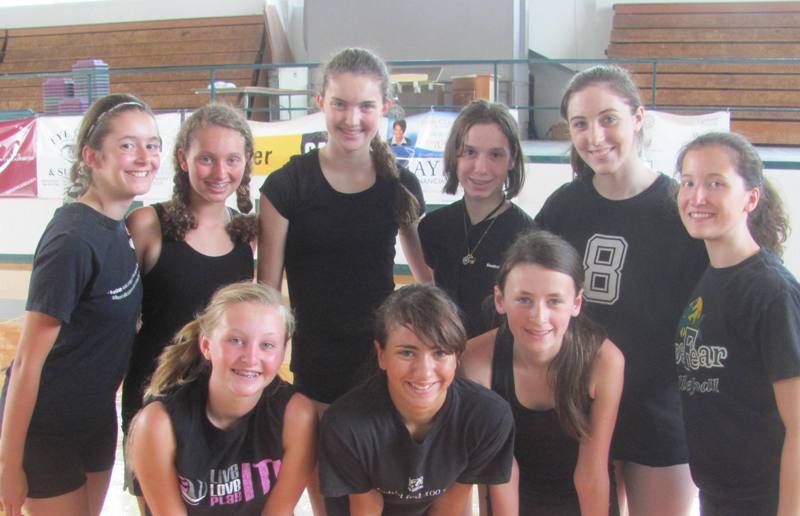 The Ninjas!
Cara Ghephery, Marilyn Bandy, Piper Roe, Madison Woodell, Gussie Revercomb, Coch Devyn Bayes.
Front: Lexi Baylor, Jordan Doubles, Amy Eggleston. The Ninja's finished runner ups! CONGRATS!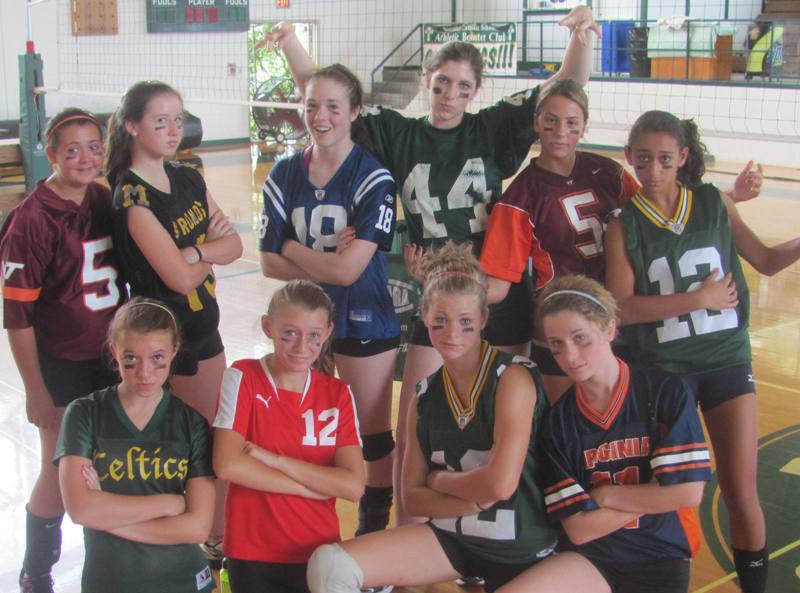 The Jammin' Jocks!
Taylor Lewis, Jenna Motley, Amelia Dalton, Coach Aidan Guilfoyle, Zoe Doubles, Georgia Farthing
Jordan Grinde, Courtlyn Plunkett, Alex Wolfe, Jane Revercomb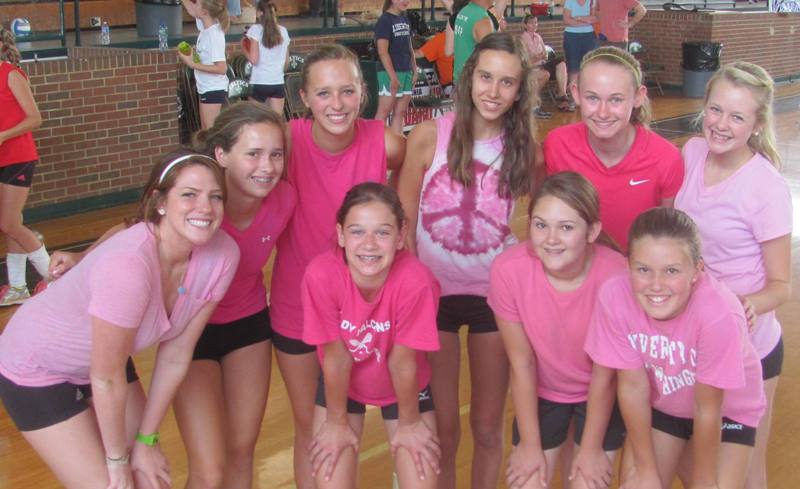 The Dig Pinks!
Coach Sam Thomas, Fallon Delp, Emily Spickard, Molly Cardenas, McKinley Saunders, Amy Kuhlmeier
Rachel Frazier , Michaela Bentley, HB Galbraith. The Dig Pinks won the Silver Division!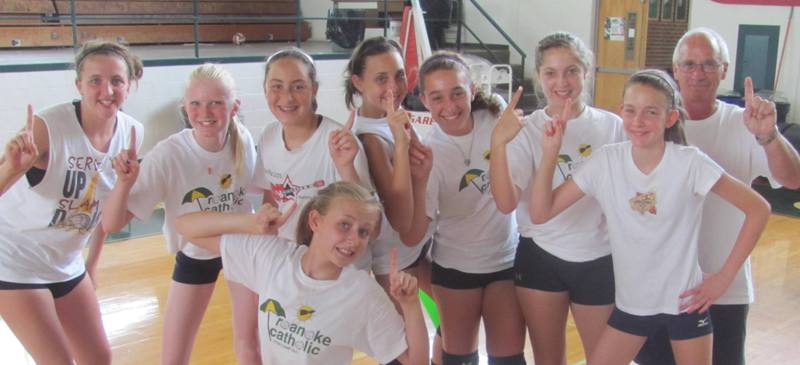 The Polar Bears!
The Tournament Champs at 5 - 2! CONGRATS!
Back: Lauren Slough, Alayna Foutz, Ashley Sweet, Erin Newell, Victoria Baldwin, Emilla Conlan, Ashley Stump , Coach Tim McSherry
Front: Taylor Braford

~~~~~~~~~~~~~~~~~~~

The Rising STAR Camp Tournament Was Super!



2011 Camp Info:

Format.... Different that last year!
STARS Camp: 8am to noon.
This will include all nonrookies! But don't worry! Girls will be assigned to appropriate divisions where they will be neither overwhelmed or bored.
RISING STARS 1pm to 5pm.
This will be the division for all rookies or girls with very, very little playing experience.

Registration Info:
A 2011 registration form is here!

Maximum Campers:
The maximum # will be 40 in each division!

Cost:
$160

Value:
We believe this camp will offer the girls
high quality instruction and will give
more personal attention to the participants.
Is there any other camp where up to 40 girls will work with up to nine coaches & assistants?
~~~~~~~~~~~~~~~~~~~

If you have any questions about the camp, you may email the camp director, Coach Houser,
at coachhouser@yahoo.com or the camp host,
Frank Guilfoyle at
roanokehb@earthlink.net



~~~~~~~~~~~~~~~~~~~



More Camp Assistants:


Holly Kane
Holly is the daughter of rookie camp director Barry Kane! She is a rising senior at Timberlake Christian School near Lynchburg Va. She won the Coaches Award in Volleyball: 6th, 7th, and 9th grades, she was named Miss All Around Volleyball: 8th grade. She started on varsity as a freshman, and her team made it to the Final Four. She has played two years of travel volleyball for Heart Of Virginia Juniors. This past season she was named Region Player Of The Year! You can contact Holly at hkane01@ymail.com




Rookie Camp Director:



Devyn Bayes
Devyn graduated from Ferrum College in 2010, where she made the volleyball team as a walk-on her freshman year!! She graduated from George Washington High School in Danville, VA in 2007, where she played volleyball for six years. Devyn is now in graduate school at American University in Washington DC. Devyn has now assisted with seventeen STAR volleyball camps, including being the rookie camp director at Chugiak High in Anchorage Alaska in July of 2009 and at Timberlake Camp in July 2010. Her email is: dbayes@ferrum.edu Facebook page is here.


Camp Assistants:

Sam Thomas
Sam has coached on year of JV at Topsail High School, and one year of jrs with the Cape Fear Volleyball Club. She played one year at Shenahdoah University and one year at Cape Fear Community College. She started playing volleyball in the 8th grade, played 3 years of Juniors (one on my 15 Red team here) and 5 years of school ball. She is a 2008 graduate of North Cross School where she played vball. She assisted me with my 2007 Roanoke Juniors 15's team and has now been an assistant at fifteen STAR camps! Her email is: samadamsthomas@gmail.com. Her Facebook page is here.

Kimberly McDow
Monday & Tuesday only
Kimberly just graduated from Hidden Valley High School in Roanoke. She has played school ball for 6 years and club ball for 5 years. She received all district honors her sophomore year and Hidden Valley was AA State runner up that year as well. In her junior year she received all district and all region honors. As as senior, she was first team AllDistrict & All Region as her team made the state final four. She was a member of Coach Houser's 2008 15's junior team that was ranked #1 in the Old Dominion Region, and his 2009 Region Champion team that qualified for Nationals spent a week in Miami in June of 2009. She also plays softball for Hidden Valley.

Aidan Guilfoyle
Aidan just graduated from Roanoke Catholic School in June. She has played 5 years of varsity, 1 year of JV and 7 years of club ball. She will be playing volleyball this fall at Lafayette University in Easton Pennsylvania! She participated with the Roanoke Juniors 17's at AAU Nationals in Orlando. She was a member of Coach Houser's 2008 15's junior team that was ranked #1 in the Old Dominion Region, and his 2009 Region Champion team that qualified for Nationals and spent a week in Miami in June of 2009. You can contact Aidan at lemonaidan21@cox.net

Tim McSherry
Tim has been playing organized league volleyball for 19 years. He serves on the board of directors for the Roanoke Valley Volleyball Association. www.RVVA.net He was an assistant coach at Faith Christian School for 4 years and acted as head coach for 1 year. He assisted at Roanoke Catholic School in 2009, and then became the head JV coach in the fall of 2010. You can contact Tim at rcemsmedic@cox.net
July 7, 2011
I am very excited that my daughter will be able to learn from you to prepare herself for the try outs. Thank you SO much for all of your help, again.

July 15, 2011
My girl really enjoyed the camp at Roanoke Catholic. She commented that she learned more at that camp than at any other.



Check out some 2010 camp pics at Roanoke.com here!
And some pictures are on Valley Sports Now here.







Roanoke Catholic School
info:

Touch here to see the RCS website.

Roanoke Catholic School
621 N. Jefferson St.
Roanoke, VA 24016 · (540) 982-3532

Touch here for directions to the school.



• Home • CampHostingInfo • StandardCamp • HighExpecationsCamp • MaxExpectationsCamp • Staff • In-SeasonClinics • 10ReasonsWhy • Camp Calendar2013 • A Complete List! •
• 2005 STAR Calendar • Bassett2005 • BassCommCenter2005 • JeffersonForest2005 • Westover2005 • Narrows2005 • AnEntireList • Search CoachHouser.com •
• 2006 STAR Calendar • JeffersonForest2006 • WestoverChristian2006 • Lebanon2006 • NewCovenant2006 • Bassett2006 • RedLionDE2006 •
• 2007 STAR Calendar • WestoverChristian2007 • JeffesonForest2007 • Timberlake2007 • RedLionDE2007 • OconeeSC2007 •
• 2008 STAR Calendar • WestoverChristian2008 • Jeff Forest HighExp 2008 • JeffForest2008 • StMary'sPA2008 • RoanCath2008 • RedLionDE2008 •
2009 STAR Calendar • FranklinCo2009 • Riverheads2009 • HighExp@ECGlass2009 • Timberlake2009 • RoanCath2009 • Fuqua2009 • StMarysPA2009 • ChugiakAlaska2009 • RedLionDE2009
2010 STAR Calendar • DanRiver2010 • HighExp@VES2010 • Timberlake2010 • RoanCath2010 • StMarysPA2010 • VirginiaEpiscopal.2010 • PatrickCounty2010 • Fuqua2010
• Home • 2011 STAR Calendar • Timberlake2011 • DanRiver2011 • JamesRiver2011 • HighExp@VES2011 • MaxExp@VES2011 • RoanCatholic2011 • Carlisle2011 • PatrickCo2011 • Westover2011 • Facebook •

| | |
| --- | --- |
| Last updated: 01/12/2013 08:15 AM | |