Carlisle School
Monday July 25 - Thursday July 28, 2011
Martinsville, Va Directed by Tom Houser

• Home • CampHostingInfo • StandardCamp • HighExpecationsCamp • MaxExpectationsCamp • Staff • In-SeasonClinics • 10ReasonsWhy • Camp Calendar2013 • A Complete List! • Facebook
• Home • 2011 STAR Calendar • Timberlake2011 • DanRiver2011 • JamesRiver2011 • HighExp@VES2011 • MaxExp@VES2011 • RoanCatholic2011 • Carlisle2011 • PatrickCo2011 • Westover2011 • Facebook •






Back Row: Coach Barry Kane, Marlee Hunt, Kayla Divers, Lauren Stowe, Taylor Doss, Delanie McKeel, Miranda Jones, Aleisha Hodges, Savannah Pugh , Kalie Clark, Rachel Scott, Coach Jordan Hawkins, Coach Aidan Guilfoyle, Coach Devyn Bayes

Middle Row: Coach Holly Kane, Brooke Darden, Claire Downing, Maggie Toms, Sarah Scott, Lindsay Tsernia, Emily Donley, Tyler Harrell, Amy Eggleston, Emilee Aaron

Front Row: Leslie Reeves, Casey Tunnell, Patrice Adams, Hayley Darden, Caroline Harris

~~~~~~~~~~~~~~~~~~

Jordan mentioned "Teammates Matter," a book written by a college athlete. The website is here.

One quote on the website says, "It's amazing what a group of people can accomplish, when no one cares who gets the credit." Wow!

~~~~~~~~~~~~~~~~~~
"Thank you so much for coming and all the amazing skills you have taught me. I really had a great time at the camp and its just made me want to work even harder in everything I do."

The Crayons! GREAT JOB!
Sarah, Maggie, Coach Aidan, Brooke, Casey, Rachel, Lindsey



The Bumblebees!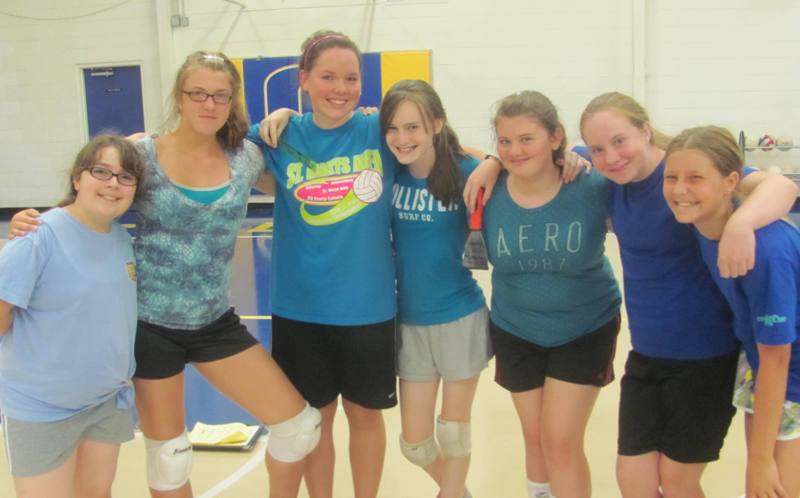 The Ice Breakers!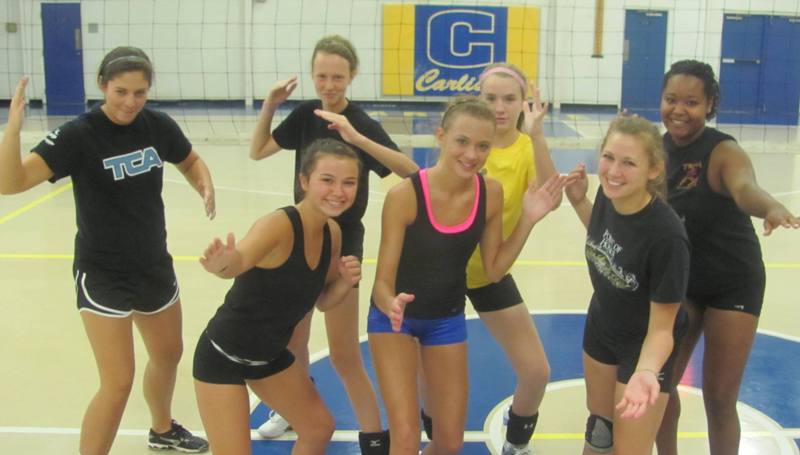 The winner of the veteran tournament: The Ninjas! It was a thrilling 5-game match!
Coach Jordan, Caroline, Claire, Leslie, Nora, Hayley, Patrice

Coach Houser, first of all, as a parent, let me say a huge thank you for coming to our school. My daughter had such an amazing time, and has learned so many new skills. We are hoping that this camp will continue each year! I also wanted to thank you for your personal words of encouragement to her after camp. Your words really hit home. So thank you very much. We look forward to more camps...even if we have to drive to Roanoke!


Carlisle Volleyball Personalities! :)

~~~~~~~~~~~~~~~~~~

The Steal The Bacon Tournament!


Steal The Bacon Champs! 4-0 record, surviving the "blonde" game. :)
Lindsay, Kayla, Savannah and Maggie.





Camp Format:
Mon - Wed 9am to 4pm
Thursday 9am to 12:30pm

There were be two divisions: Varsity & JV/Middle. Both divisions were in separate gyms.

Cost: $160

Maximum Number: 20 in the varsity division.
25 in the JV/Middle division.


Registration Info:
The 2011 registration form was here!




~~~~~~~~~~~~~~~~~~~




If you have any questions about the camp, you may email the camp director, Coach Houser,
at coachhouser@yahoo.com or the camp host,
Julianna Garren at jgarren@carlisleschool.org




~~~~~~~~~~~~~~~~~~


Pictures from the 2010 camps are on Facebook!
They are here!





















Rookie Camp Director:


Devyn Bayes
Devyn graduated from Ferrum College in 2010, where she made the volleyball team as a walk-on her freshman year!! She graduated from George Washington High School in Danville, VA in 2007, where she played volleyball for six years. Devyn is now in graduate school at American University in Washington DC. Devyn has now assisted with seventeen STAR volleyball camps, including being the rookie camp director at Chugiak High in Anchorage Alaska in July of 2009 and at Timberlake Camp in July 2010. Her email is: dbayes@ferrum.edu Facebook page is here.


List Of Camp Assistants:

Barry Kane
Coach Kane is the head coach at Timberlake Christian School. He has immense experience in volleyball. He has been a high school varsity coach, a camp director and has even been a STAR camp host in 2007, 2009 - 2011. He has been the head coach at Timberlake Christian School coach for 15 seasons. His teams were conference champs twice and were ranked in the top 8 in the Virginia Division III final poll every year. His overall coaching record is 223-94. Coach Kane is presently a 7th grade teacher in Appomattox County, Virginia. He has been married to Cheryl for 23 years. He has been the rookie camp director at Roanoke Catholic the past two summers! We're excited that he's back. You may contact Coach Kane at barrykane1@aol.com

Aidan Guilfoyle
Aidan is a 2011 graduate of Roanoke Catholic School. She has played 4 years of varsity, 1 year of JV and 6 years of club ball. During her high school career, Aidan was an incredible combination of serving, serve receiving, hitting, blocking and digging! She has committed to play volleyball next year at Lafayette University in Easton Pennsylvania! She participated with the Roanoke Juniors 17's at AAU Nationals in Orlando. Aidan was a part of Coach Houser's 2009 ODR Region championship team, and took a trip to Junior Nationals in Miami that summer! You can contact Aidan at lemonaidan21@cox.net


Jordan Hawkins
Jordan is a 2011 graduate of Jefferson Forest High near Lynchburg, Va where her school team just finished 28-1 and made the state tournament! Jordan was a member of Coach Houser's 2009 Region Champion Junior team that qualified for Nationals & spent a week in Miami in June of 2009. Jordan was named 1st team All-District and 2nd team All-Region III as a soph, 1st team All-District and 2nd team All-Lynchburg her senior and junior year, was named "rookie of the year" on her freshman team, Athlete-Of-The-Week in Bedford Bulletin during each year in school, and Athlete-Of-The-Month in the Forest Focus during her sophomore year. You can contact Jordan at jehawkins08@aim.com

Holly Kane
Holly is the daughter of rookie camp director Barry Kane! She is a rising senior at Timberlake Christian School near Lynchburg Va. She won the Coaches Award in Volleyball: 6th, 7th, and 9th grades, she was named Miss All Around Volleyball: 8th grade. She started on varsity as a freshman, and her team made it to the Final Four. She has played two years of travel volleyball for Heart Of Virginia Juniors. This past season she was named Region Player Of The Year! You can contact Holly at hkane01@ymail.com


| | |
| --- | --- |
| Last updated: 02/05/2013 09:29 AM | |