Dan River High School
Monday June 20 - Thursday June 23, 2011
Ringgold, Va Directed by Tom Houser

• Home • CampHostingInfo • StandardCamp • HighExpecationsCamp • MaxExpectationsCamp • Staff • In-SeasonClinics • 10ReasonsWhy • Camp Calendar2013 • A Complete List! • Facebook
• Home • 2011 STAR Calendar • Timberlake2011 • DanRiver2011 • JamesRiver2011 • HighExp@VES2011 • MaxExp@VES2011 • RoanCatholic2011 • Carlisle2011 • PatrickCo2011 • Westover2011 • Facebook •




Standing: Coach Aidan Guilfoyle, Coach Jordan Hawkins, Kennedy Farmer, Erika Dodson, Rebekah Burner, Meagan Collins, Madison Vogltanz, Jessica Preston, Mason Moorefield, Sydney Shelton, Coach Heather Springs, Coach Sam Thomas, Coach Devyn Bayes
Middle: Hannah Dewberry, Rebecca Hall, Karissa Rejino, Taylor Nelson, Carley Ford, Cutler Blankenship, Holly Keller, Hannah Shields, Blair Bolton, Maddie Hughes
Front: Chrissy Palmer, Kellie O'Boyle, Courtney Smithers, Ricki Smithers, Katlin Liggon, Erin Gusler, Ja'Maiya Logan


~~~~~~~~~~~~~~~~~~~~~~~~~~

Steal The Bacon!
This was our after lunch warm up on Wednesday!


And the Steal The Bacon Champs!
Hannah Dewberry, Kellie O'Boyle, Carley Ford, Erika Dodson
~~~~~~~~~~~~~~~~~~~~~~~~~~

June 23, 2011
Thank you very much for taking the time to come to Dan River High School. The camp was great and i enjoyed every minute of it!! I loved learning more about the sport I love to play, volleyball! I hope that y'all will come back next year and we will have even more girls show up. Have a great summer!

~~~~~~~~~~~~~~~~~~~~~~~~~~

The Tournament Teams!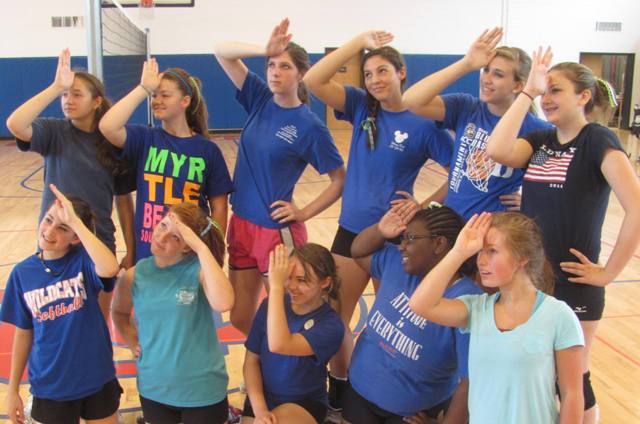 The SharkSwags! They went 2-2! GREAT JOB!!!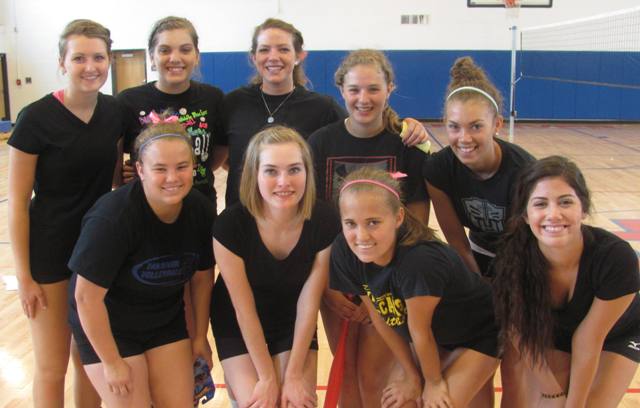 The Pink Panthers. These girls won the tournament with a 3-1 record!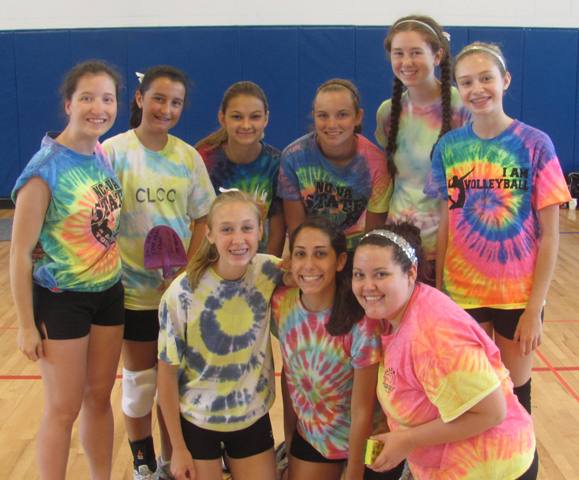 The Bursts!
This team was the only team to beat The Pink Panthers!



June 23, 2011
Had a really good last day of camp.
I'm going to miss everybody that was there and the coaches.


~~~~~~~~~~~~~~~~~~~~~~~~~~

The Tournament! It was FANTASTIC!
The ball control was more than we could have imagined! Great job everyone!
June 24, 2011
Thank so much for coming to Danville, I've learned so much this week!!!! :)
And i cant wait til you come back!!
Dan River Wildcat Faces!

Congrats 2011 All-Metro Volleyball Team!
Hannah Shields (Dan River c/o '15): First Team.

Captains Of The Day:

Monday - Hannah Shields
Tuesday - Carley Ford
Wednesday - Blair Bolton
Thursday - Chrissy Palmer

~~~~~~~~~~~~~~~

2011 Camp Format:
Mon - Wed 9am to 4pm
Thursday 9am to noon.

There was one STAR division.

Cost: $175

Maximum Number: 20

Registration Info:
The camp registration form was here!



$50 deposit was due with registration.
Balance due by June 1.

There was be limited number of spaces available, plus, players from other schools were allowed to attend, so, campers were urged to not procrastinate!



If you have any questions about the camp,
contact Allan Springs at allen.springs@pcs.k12.va.us,

you may email the camp director, Coach Houser, at coachhouser@yahoo.com




List Of Camp Assistants:


Devyn Bayes
Devyn graduated from Ferrum College in 2010, where she made the volleyball team as a walk-on her freshman year! She graduated from George Washington High School in Danville, VA in 2007, where she played volleyball for six years. Devyn is now in graduate school at American University in Washington DC. Devyn has now assisted with seventeen STAR volleyball camps, including being the rookie camp director at Chugiak High in Anchorage Alaska in July of 2009 and at Timberlake Camp in July 2010. Her email is: dbayes@ferrum.edu Facebook page is here.

Sam Thomas
Sam has coached on year of JV at Topsail High School, and one year of jrs with the Cape Fear Volleyball Club. She played one year at Shenahdoah University and one year at Cape Fear Community College. She started playing volleyball in the 8th grade, played 3 years of Juniors (one on my 15 Red team here) and 5 years of school ball. She is a 2008 graduate of North Cross School where she played vball. She assisted me with my 2007 Roanoke Juniors 15's team and has now been an assistant at fifteen STAR camps! Her email is: samadamsthomas@gmail.com. Her Facebook page is here.

Jordan Hawkins
Jordan is a 2011 graduate of Jefferson Forest High near Lynchburg, Va where her school team just finished 28-1 and made the state tournament! Jordan was a member of Coach Houser's 2009 Region Champion Junior team that qualified for Nationals & spent a week in Miami in June of 2009. Jordan was named 1st team All-District and 2nd team All-Region III as a soph, 1st team All-District and 2nd team All-Lynchburg her senior and junior year, was named "rookie of the year" on her freshman team, Athlete-Of-The-Week in Bedford Bulletin during each year in school, and Athlete-Of-The-Month in the Forest Focus during her sophomore year. You can contact Jordan at jehawkins08@aim.com

Aidan Guilfoyle
Aidan is a 2011 graduate of Roanoke Catholic School. She has played 4 years of varsity, 1 year of JV and 6 years of club ball. She has committed to play volleyball next year at Lafayette University in Easton Pennsylvania! She participated with the Roanoke Juniors 17's at AAU Nationals in Orlando. Aidan was a part of Coach Houser's 2009 ODR Region championship team, and took a trip to Junior Nationals in Miami that summer! You can contact Aidan at lemonaidan21@cox.net



~~~~~~~~~~~~~~~~~~

Pictures from the 2010 and 2011 camps are on Facebook!
They are here!




• Dan River 2010 • Dan River 2011 • Dan River 2012 • Dan River 2017 •
• Dan River Awards 2010 • Dan River Awards 2011 • Dan River Awards 2012 • Dan River Awards 2017 •