John Battle High School
Monday Aug 6 - Thursday Aug 9, 2012
Bristol, Va Directed by Tom Houser

• Home • CampHostingInfo • StandardCamp • HighExpecationsCamp • MaxExpectationsCamp • Staff • In-SeasonClinics • 10ReasonsWhy • Camp Calendar2013 • A Complete List! • Facebook
• Home • 2012 STAR Calendar • Timberlake2012 • Dan River2012 • MagnaVista2012 • HighExp2012 • MaxExp2012 • Westover2012 • RoanokeCatholic2012 • Carlisle2012 • PatrickCounty2012 • PaulVI2012 • JohnBattle2012 •


Back Row: Coach Sam Washburn, Coach Tom Houser, Katelyn Sauls, Tara Hankins, Briana Mills, Cortney Kinder, Coach Enid Badillo, Coach Katie Holley
Middle Row: Kelsie Perrigan, Erikah Shutters, Maddy Gibson, Daphne Hawkins, Sarah Nash, Emily Wilson, Caitlynn Doss, Kaley Spears, Kacey Greczek
Front Row: Kylie Smith, Ashton Rasnick, Keri Childers, Berkeley Lowe, Kaycee Crusenberry, Sarah Robbins, Temple Cannon.
Not in the picture: Sarah Canter



Then, we turn our backs..... and they go back to acting normal. :)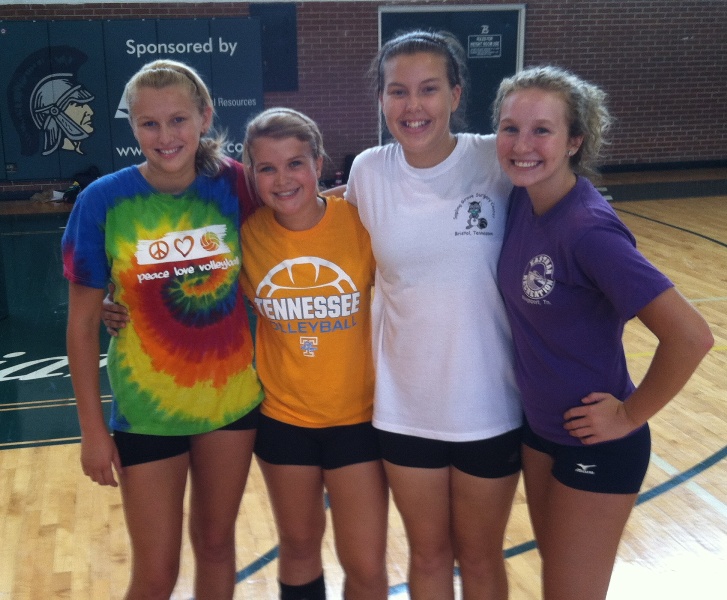 Here are the "Steal The Bacon" winners: Sarah Nash, Sarah Canter, Courtney Kinder, Ashton Rasnick.



On Wednesday, many of the campers went out to Sweet Frog! Wow, that stuff is GOOD! :)


"Captains Of The Day"
Varsity
Monday: Ashton Rasnick. Tuesday: Kaycee Crusenberry
Wednesday: Berkeley Lowe. Thursday: Keri Childers

2012 Camp Format:
Two divisions: JV & Varsity
9am to 4pm on Mon, Tues & Wed,
with a lunch break from 12:30 to 1:30.
9am to 1pm on Thursday, with no lunch break.
Cost: $160

Registration Info:
The camp registration form is now here!


If you have any questions about the camp,
contact Stephanie Meade at smeade@highlandscsb.org, or you may email the camp director, Coach Tom Houser, at coachhouser@yahoo.com

~~~~~~~~~~~~~~~~~~

Pictures from the 2010, 2011 and 2012 camps are on Facebook!
They are here!



List Of Camp Assistants:


Enid Badillo
Former Assistant Coach, Peace College
Enid Badillo joined the Peace College volleyball coaching staff two years ago after a five-year stint developing the Raleigh Charter High School varsity volleyball program. She led the team to the final-four among North Carolina High School Athletic Association 1A teams two of her last three years there, losing to the eventual state champ both times. She is now with NC Elite Vball club after coaching six years Capital City Volleyball Club (CCVC) in Raleigh. Badillo began her playing career and love of the game in Bayamon, Puerto Rico. She continued to compete through her first year of college. Coach Badillo has a daughter Maya. You can reach her at eb8vball@gmail.com

Sam Washburn
Sam is a '11 graduate of Franklin County High. She has played both school and club volleyball since the 7th grade. Her school teams always were strong, finishing 1st or 2nd in their conference every year. Sam played for Coach Houser's 16National team in 2009 that won the ODR Bid Tournament and played at Nationals in Miami. She is now a student at James Madison University, where she played on their club team. You can contact Sam at Samm_iam18@yahoo.com

Katie Holley
Katie is a c/o '12 graduate of Westover Christian. She has played school ball for 6 years, club ball for 3 years and considering playing volleyball at either Averett or Eastern Mennonite next fall. She has assisted with one STAR camp, and is ready to help girls learn the game she loves. You can contact Katie at setter4wca@gmail.com



John Battle High School
Touch here to see the high school website! Touch here to see their volleyball webiste!
Touch here to see a map to the high school.

~~~~~~~~~~~~~~~~~~~~~~

John S. Battle High School
21264 Battle Hill Drive, Bristol, VA 24202
Phone: 276-642-5300

~~~~~~~~~~~~~~~~~~~~~~
Driving Directions

Take Exit #10 off of Interstate 81. If you are coming from the north, turn right at the end of the ramp, (if you are coming from the south, turn left at end of ramp). At traffic light turn left onto Lee Highway. The school is on the right about one mile from the traffic light.

~~~~~~~~~~~~~~~~~~~~~~

The staff will be staying at the Microtel, off I-81, exit 7.
131 Bristol East Road, Bristol, Virginia 24202 United States


According to NCAA rules, players from the class of 2010 ARE eligible to participate in a summer high school camp. This will not get them in any trouble and it will not jeopardize their college volleyball eligibility.

• Home • CampHostingInfo • StandardCamp • HighExpecationsCamp • MaxExpectationsCamp • Staff • In-SeasonClinics • 10ReasonsWhy • Camp Calendar2013 • A Complete List! •
• 2005 STAR Calendar • Bassett2005 • BassCommCenter2005 • JeffersonForest2005 • Westover2005 • Narrows2005 • AnEntireList • Search CoachHouser.com •
• 2006 STAR Calendar • JeffersonForest2006 • WestoverChristian2006 • Lebanon2006 • NewCovenant2006 • Bassett2006 • RedLionDE2006 •
• 2007 STAR Calendar • WestoverChristian2007 • JeffesonForest2007 • Timberlake2007 • RedLionDE2007 • OconeeSC2007 •
• 2008 STAR Calendar • WestoverChristian2008 • Jeff Forest HighExp 2008 • JeffForest2008 • StMary'sPA2008 • RoanCath2008 • RedLionDE2008 •
2009 STAR Calendar • FranklinCo2009 • Riverheads2009 • HighExp@ECGlass2009 • Timberlake2009 • RoanCath2009 • Fuqua2009 • StMarysPA2009 • ChugiakAlaska2009 • RedLionDE2009
2010 STAR Calendar • DanRiver2010 • HighExp@VES2010 • Timberlake2010 • RoanCath2010 • StMarysPA2010 • VirginiaEpiscopal.2010 • PatrickCounty2010 • Fuqua2010
• Home • 2011 STAR Calendar • Timberlake2011 • DanRiver2011 • JamesRiver2011 • HighExp@VES2011 • MaxExp@VES2011 • RoanCatholic2011 • Carlisle2011 • PatrickCo2011 • Westover2011 • Facebook •
• Home • 2012 STAR Calendar • Timberlake2012 • Dan River2012 • MagnaVista2012 • HighExp2012 • MaxExp2012 • Westover2012 • RoanokeCatholic2012 • Carlisle2012 • PatrickCounty2012 • PaulVI2012 • JohnBattle2012 •

| | |
| --- | --- |
| Last updated: 12/19/2012 10:43 AM | |