Paul VI School
Monday July 30 - Thursday August 2, 2012
Fairfax, Va Directed by Tom Houser

• Home • CampHostingInfo • StandardCamp • HighExpecationsCamp • MaxExpectationsCamp • Staff • In-SeasonClinics • 10ReasonsWhy • Camp Calendar2013 • A Complete List! • Facebook
• Home • 2012 STAR Calendar • Timberlake2012 • Dan River2012 • MagnaVista2012 • HighExp2012 • MaxExp2012 • Westover2012 • RoanokeCatholic2012 • Carlisle2012 • PatrickCounty2012 • PaulVI2012 • JohnBattle2012 •

Veteran Awards • Rookie Awards



Back Row: Coach Gussie Revercomb, Coach Kara Matthews, Curry Ward, Kate Preister, Emma Meng, Maddie Page, Abby Reeves, Siri Fredericksen, McKenzie Melville, Issie Carey, Sarah Hasseinian, Teal Schuppin, Madi Barnett, Emlie Razuri, Caroline Payne, Savannah Phillips, Anna Miner, Brooke Stanley, Mak Balderson, Stephanie Neves, Tori Sedlock, Coach Tori Kramer, Coach Sam Washburn, Coach Lynsey Barker
Middle Row: Chloe Shaltanis, Rachel Ermalinski, Kelli Krapcho, Grace Liu, Jasmine Richardson, Virginia Wang Zhang, Erin Brunk, Mariah Neumaier, Lianna Pendleton, Alyssa Summers, Kim Rieder, Kerry Knight, Angela Bozik, Dawson Boese, Sarai Del Cid, Coach Maribeth Kern
Front Row: Coach Mary Kane, Claudia Castro, Megan Fleming, Madison Nguyen, Meredith Cirvi, Melissa Thiringer, Jaime Lockhard, Annie Kane, Adri Talbot, Katelan Young, Caroline Rosini.
Also in the camp, but not in the picture: Jenna Califa, Kate May, Brenda Uriona and Bobbie Foster.

Tuesday we worked on defense, defense ...... and more defense!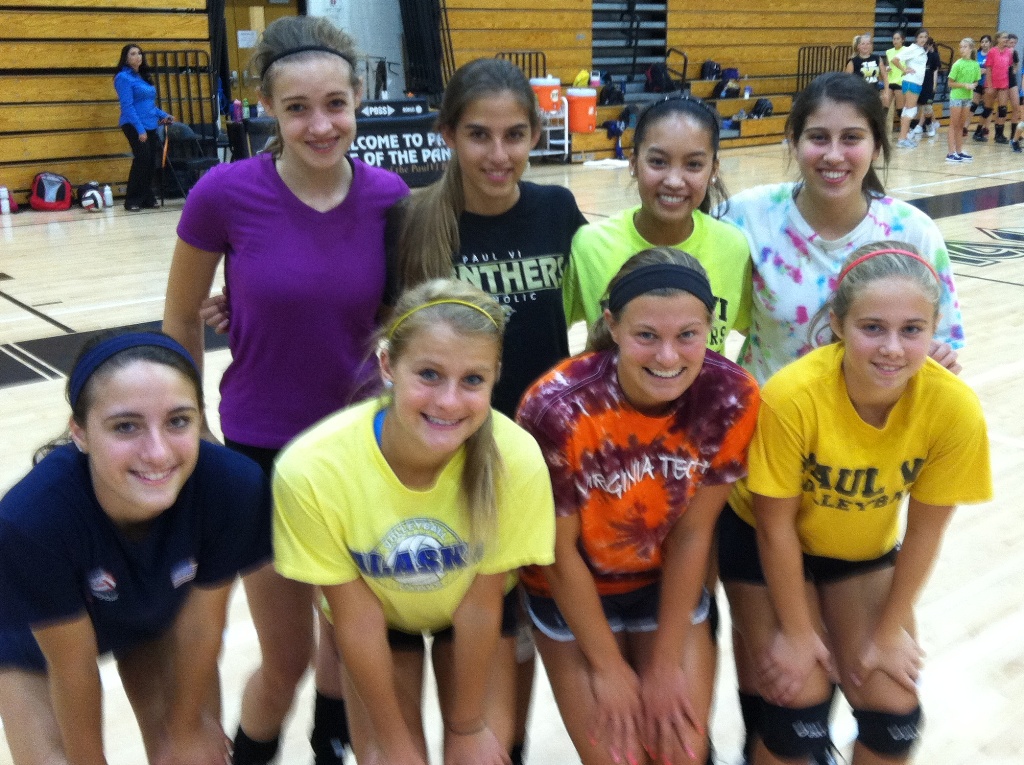 Back Row: Brooke Stanley, Adri Talbot, Madison Nguyen, Teresa Neves
Front Row: Dawson Boese, Caroline Rosini, Coach Maribeth Kern, Maddie Page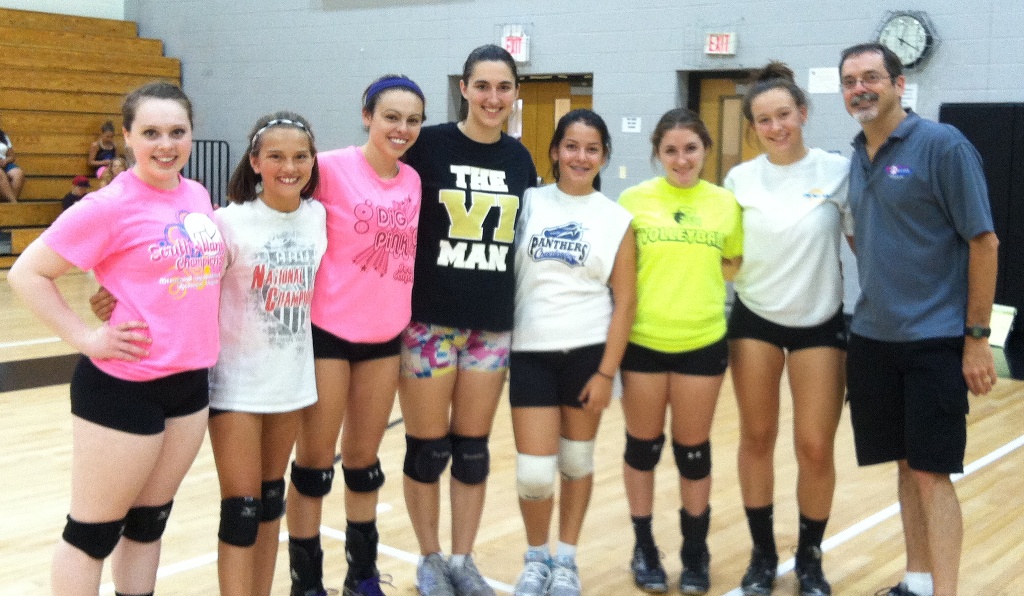 Katelan Young, Curry Ward, Alyssa Summers, Melissa Thiringer, Sara Del Cid, Jaime Lockhard, Mak Balderson, Coach Tom Houser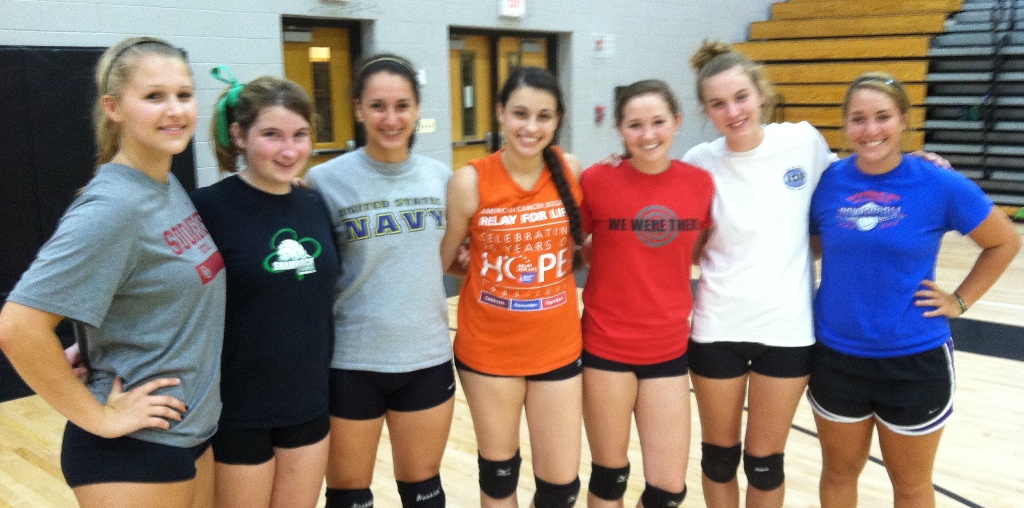 Lianna Pendleton, Kerry Knight, Meredith Cervi, Claudia Castro, Annie Kane, Megan Fleming, Coach Sam Washburn

Aug 2, 2012
"Thanks again for everything ,and for teaching me all new kinds of things I didn't know I really appreciate it."


The Varsity Tournament!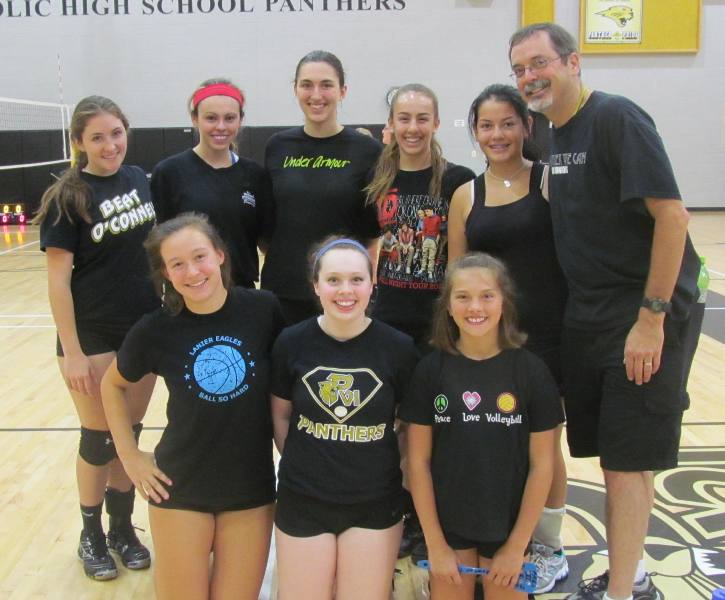 Coach Houser's Team: Intensity. They finished 2nd.
Jaime, Alyssa, Melissa, Angela, Sarai and Coach Houser. Mak, Katelan and Curry.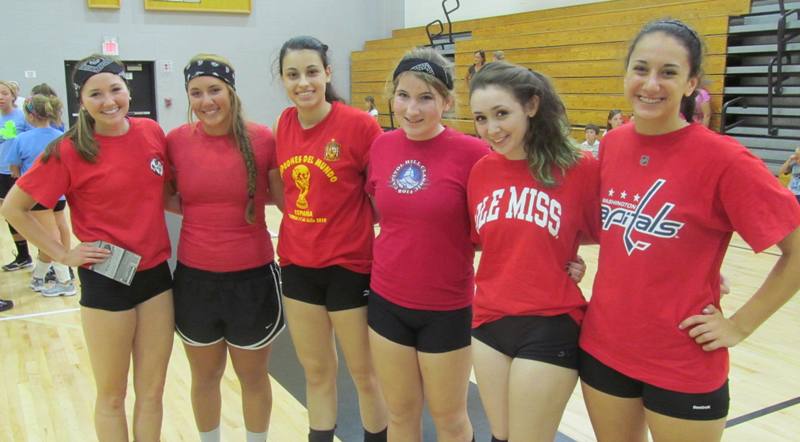 Coach Sam's team. The Beast Crew! GREAT JOB!!
Annie, Coach Sam Washburn, Claudia, Kerry, Bobbie, Meredith.

.
Coach Maribeth's Team.....The Pink & White Fighters......FIRST PLACE!
Brooke, Kathryn Brown, Adri, Teresa and Coach Maribeth Kern. Maddie, Madison and Dawson.

August 4, 2012
Coach Houser: I just wanted to let you know that this camp was very special! It was remarkable seeing the improvement and love for the game that so many of the girls at camp showed. Not only were the girls talented, but they were such a joy to work with. I was very impressed with how most of the campers were willing to take our advice and give it a try!
Coach Maribeth Kern

The Junior Varsity Tournament!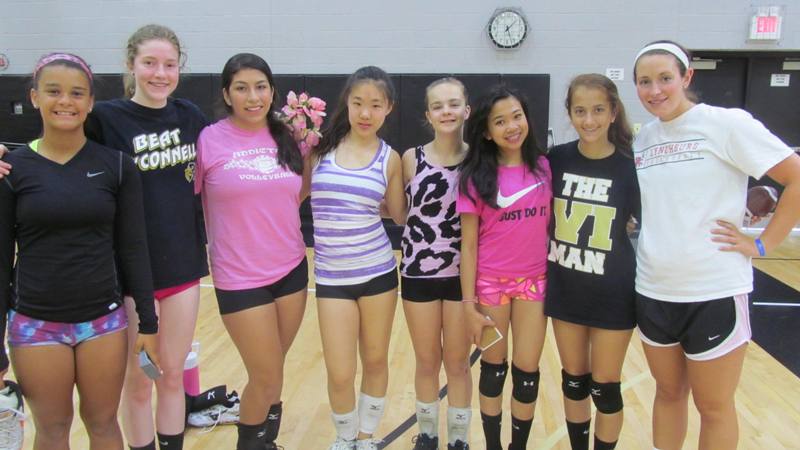 Coach Gussie's Team: TEAM LOCKTE!
Gussie team: Anna Miner, Kelli Krapcho, Coach Gussie Revercomb, Mackenzie Melville, ....?..., Emma Meng, Abby Reeves. In front: Teal Schuppin
Coach Kara's Team: The Spiker Women!
Kara's team: Jasmine Richardson, Erin Brunk, ...?..., Virginia Wong, Rachel Ermalinski, Emelie Razuri, Sarah Hasseinian and Coach Kara Matthews.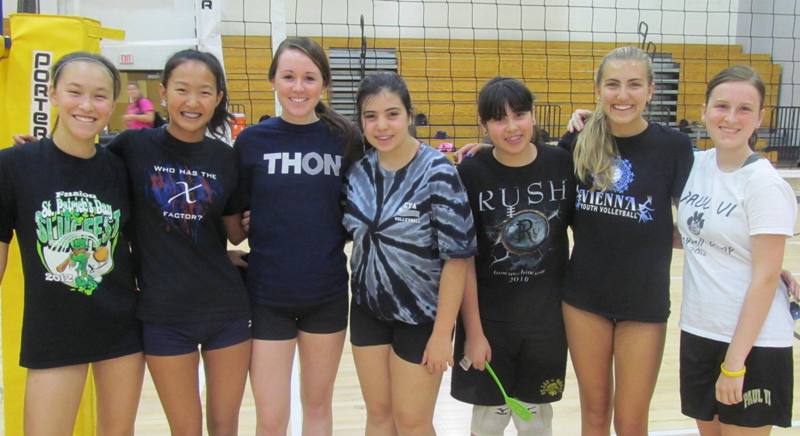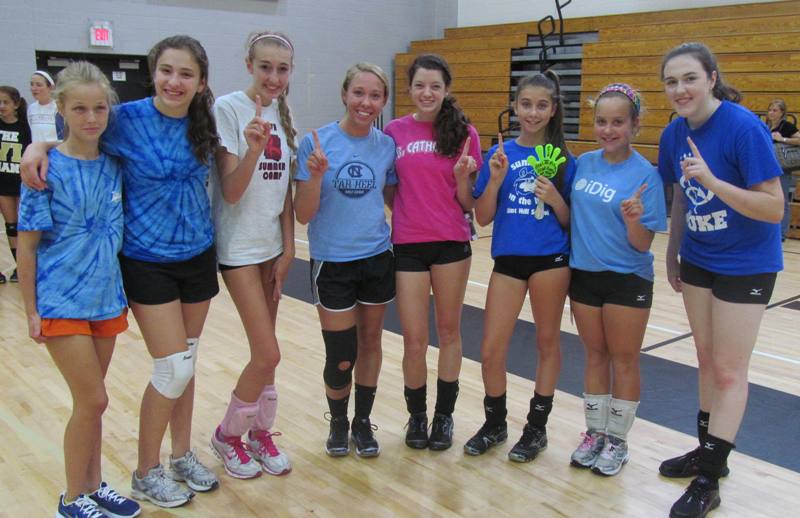 Coach Mary's Team: TEAM HURRICANE!
Coach Mary's Team: Siri Fredericksen, Grace Liu, Coach Mary Kane, ....?...., Stephanie Neves, Mariah Neumaier, Savannah Phillips.
Coach Lynsey's team won the tournament: The Blue Bombers
Coach Lynsey's team: Chloe Shaltanis, Caroline Payne, Issie Carey, Coach Lynsey Barker, Kim Rieder, Kate Preister, Tori Sedlock, Madi Barnett.

Saturday, August 4, 2012
Hey Coach Houser. I had a great time at camp and it was really, really fun. So i wrote a poem about what a great coach you are. Coach, friend, leader, biggest-fan.
There aren't enough words to describe
What you've meant to us this year.
You've been by our side through thick and thin,
Whether its a hug to congratulate,
Or to wipe away the tears.
You've brought us strength when we were weak,
You've given us courage when we felt meek.
Always pushing us to do our best,
To never give up until we've beaten the rest.
You taught us to be a team,
And to strive our goals,
No matter how impossible they seem.
We've been pushed, yelled at, preached at, too,
But the more that this happened, the more we grew.
We will carry you with us for the rest of our lifes,
Hearing that voice encouraging us to overcome any strife.
It's hard to say goodbye, but we want you to know,
How thankful we are for that friend we call Coach.


Wednesday, Aug 1, 2012
Hey Coach Houser and assistants:
I've learned so much in just the little time we had together. I have been going to volleyball camps since the 7th grade, and never have I experienced a camp quite like this. The amount of improvement I've seen in myself and in my team is astronomical and I thank you from the bottom of my heart. I plan to use and pass on all I've learned for years to come.

P.S. A big thank you to Maribeth, my team coach! :) <3


"Captains Of The Day"
Varsity
Monday: Annie. Tuesday: Megan
Wednesday: Katelan. Thursday: Jaime.

Camp Format:
9am to 4pm Mon - Wednesday.
There was a one hour lunch break, which will be approximately 12:15 to 1:15.

9am to 1pm Thursday.
The tournament began at approximately 11am.

Divisions:
There were 2 divisions:
STARS for the most experienced.
Rising STARS for the least experienced.

Cost:
$235
($20 discount for Paul VI students)

Maximum Number:
20-25 campers for the Stars
30-35 for the Rising Stars


Registration Info:
The 2012 registration form is here.

Other Info:
Snacks and drinks will be available for purchase.
Facility will be open beginning at 8:30am each morning.


~~~~~~~~~~~~~~~~~~~

If you have any questions about the camp, you may email:
the camp director, Coach Houser at coachhouser@yahoo.com, or the camp host, Sam Farrar at sfarrar@paulvi.net or at sam_farrar@yahoo.com

~~~~~~~~~~~~~~~~~~


Rookie Division Director:

Kara Matthews
Kara is the assistant coach at Randolph College, in Lynchburg, Va. She has played on the Lynchburg College volleyball team all 4 years as a DS/Libero, and graduated with a sports management major. She graduated for Douglass Freeman High School in Richmond in 2008. She was named team MVP in 2005 and tournament MVP in 2004. She played for Richmond Volleyball Club for 5 years as a DS/OH and this past club season was assistant coach for Heart Of Virginia 16 Regional-2 team. You can see her LC volleyball website here and you can contact her at KaraMatthews2@gmail.com . If you want to talk to her, you can contact the office of the head coach at Randolph College, Johnathan Willis, at 434-947-8339

List Of Camp Assistants:

Sam Washburn
Sam is a '11 graduate of Franklin County High. She played both school and club volleyball since the 7th grade. Her school teams always were strong, finishing 1st or 2nd in their conference every year. Sam played for Coach Houser's 16National team in 2009 that won the ODR Bid Tournament and played at Nationals in Miami. She is now a student at James Madison University, where she played on their club team. You can contact Sam at Samm_iam18@yahoo.com

Gussie Revercomb
Gussie has been playing both school and club volleyball since the 6th grade. Her school teams at North Cross have been incredibly successful, winning the Division III state championship in 2009 and in 2010, and they were runner-ups in 2011. Gussie has been named both all-conference and all-state in 2010 and 2011. In the 9th grade, Gussie played for Coach Houser's 15N team along with Lynsey below, then played again for him on his 16N team the next season. You can be in touch with her at grevercomb13@gmail.com

Maribeth Kern
Maribeth is a 2012 graduate of James River High in Botetourt County, Va. She has had a great volleyball career, making 1st team all-district 3 consecutive years, was name district player of the year as a junior, was named 1st team all state as a junior. Her team was the A state championship as a junior. She also played 5 years club ball, and has been on her club's top team each season. In the spring of 2012, she played on Dewaynne Barger's 18 Open team for NRV. It's wonderful to have Maribeth as part of our staff for this summer.

Lynsey Barker
Lynsey is a rising senior at North Cross School. She played on Coach Houser's 15 National team in 2010 with Gussie. She has been a setter her entire career, and broke many of all-time setting records at North Cross School her junior year. You can see a picture of both Lynsey and Gussie here! You can contact Lynsey at blueblonde714@yahoo.com

Mary Kane
Mary is a 2011 graduate of Paul VI where she was the captain of the volleyball team her junior and senior year. She was named 1st team all-state VISA in the fall of 2009 and in the fall of 2010. She was also named 1st team all-conference both years as well. You can contact her at MaryKateKane@gmail.com

Tori Kramer
Tori currently is a RS hitter in her 2nd year at Waynesboro in PA. Tori is the daughter of one of Paul VI ex-coaches who is now the head coach at Freedom High School. Tori has helped at the Paul VI developmental camp the past 2 years. Coach Farrar says that "Tori is very good with the kids, and can teach hitting very well!"

~~~~~~~~~~~~~~~~~~

Pictures from the 2010 and 2011 camps are on Facebook!
They are here!




~~~~~~~~~~~~~~~~~~