Timberlake Christian School
Monday June 11 - Thursday June 14, 2012
Lynchburg, Virginia Directed by Johnathan Willis

• Home • CampHostingInfo • StandardCamp • HighExpecationsCamp • MaxExpectationsCamp • Staff • In-SeasonClinics • 10ReasonsWhy • Camp Calendar2013 • A Complete List! •Facebook
• Home • 2012 STAR Calendar • Timberlake2012 • Dan River2012 • MagnaVista2012 • HighExp2012 • MaxExp2012 • Westover2012 • RoanokeCatholic2012 • Carlisle2012 • PatrickCounty2012 • PaulVI2012 • JohnBattle2012 •






Back row: Camp Director Johnathan Willis, Coach Gracie Darden, Emily Ewers, Darian Finnerty, Tori Stanton, Chloe Beisser, Emily Tharpe, Sarah Keen, Sarah Beisser, Anna Paige Wingfield, Coach Nicole Kane, Coach Jordan Hawkins
3rd Row: Coach Katie Holley, Rookie Camp Director Devyn Bayes, Bree Green, Mackenzie Marten, Kristina Sherwin, Taylor Tanzar, Aubrey Prince, Mary Babcock, Sierra Witt, Payton Adams, Lora Callahan, Carrie Franklin, Coach Arianna Firestone
2nd Row: Autumn White, Allison Maddox, Lauren Thomas, Karli Bryant, Emily Weatherholt, Alex Camplin, Jillian Finnerty, Savanna Breeden, Sarah Lawson
Front Row: Kaitlynn Bratton, Madison Buchanan, Hollie Creasey, Heidi Kearney, Grisell Melendez, Katelyn Hotelling, Chloe Fortney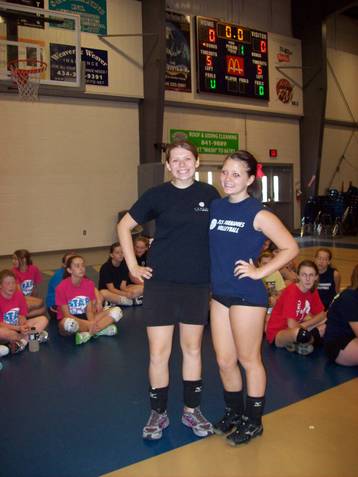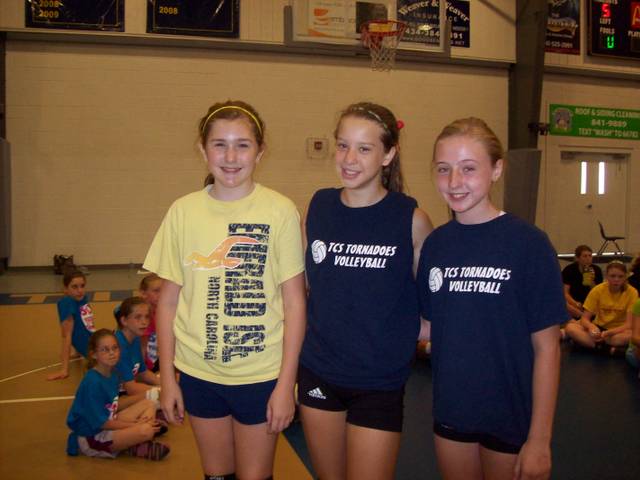 Congrats to Allison Maddox, Kristina Sherwin and Cierra Houser (not pictured) for attending FOUR TIMBERLAKE STAR CAMPS in a row!
Congrats also to Karli Bryant, Taylor Tanzar and Lauren Thomas for attending THREE TIMBERLAKE STAR CAMPS in a row!
You girls are the bomb!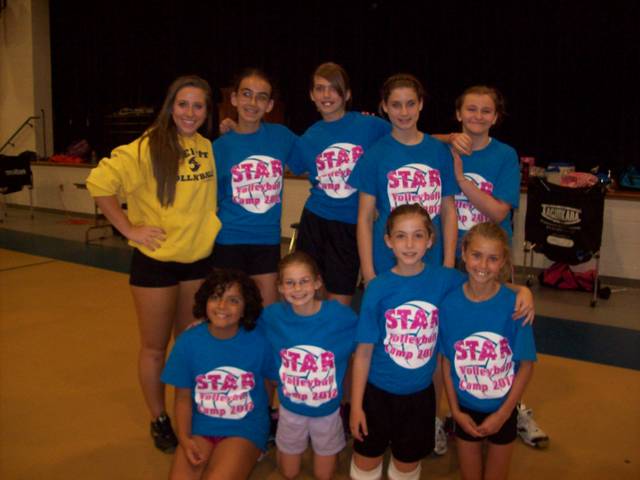 The Rookie Tournament Teams!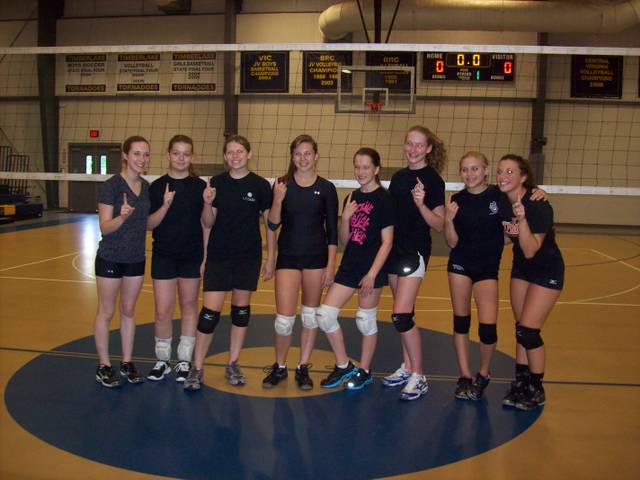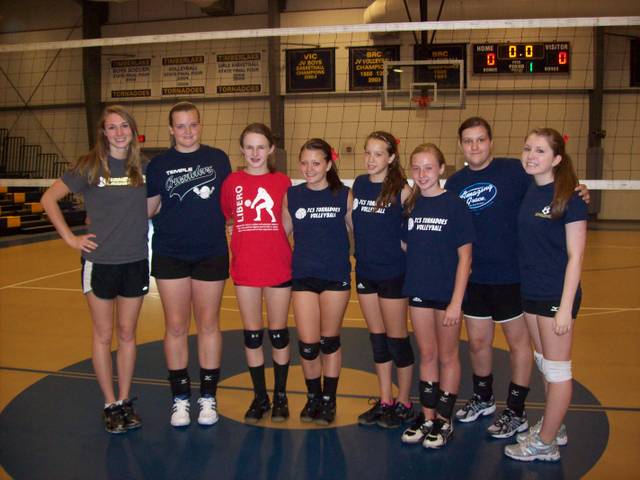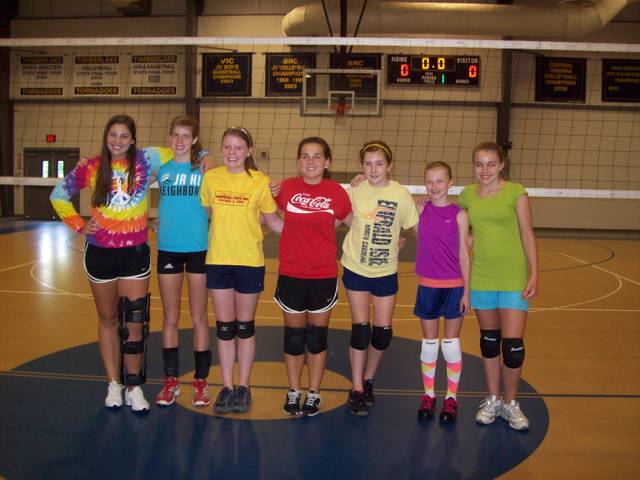 The Veteran Tournament Teams!

2012 Camp Format:

Monday - Wednesday: 9 am to 4pm,
with lunch break 12:30 to 1:30 each day.
Thursday 9 am to 12:30pm.

Water and snacks will be available!

Divisions:
One for the older/more experienced girls.
One for the younger/less experienced girls.
More info on the registration form below!

Max # Of Campers: Approx. 21 per division.

Cost: $160

T-Shirts! This year all campers will get T-shirts!

Registration Form!
The 2012 camp registration form is here.

End Of Camp Tournament!
There will be an a tournament Thursday for the veterans, and one for the younger division also! Both will proabably start at approximately 11am.

Parents are welcome to come!

Why A STAR Camp?
Coach Houser's STAR camps are directed by professional camp instructors who do this every summer , week after week, year after year. We know the high school game, and we work with teenage girls year round. Sure we could double our price, or cut the time with your daughter in half, or send "staff" to direct this camp; but, we believe you deserve better. We are confident your daughter will be satisfied with her camp experience with us.

~~~~~~~~~~~~~~~

If anyone has any questions about the camp, you can email the camp director, Johnathan Willis at jwillis@randolphcollege.edu, the director of STAR Volleyball Camps Tom Houser at coachhouser@yahoo.com or the camp host, Barry Kane, at barrykane1@aol.com






~~~~~~~~~~~~~~~





Aidan Guilfoyle
Aidan was supposed to help with this camp, but hurt her knee in a doubles tournament the day before the camp was supposed to begin. Aidan just finished her freshman season at Lafayette University in Eaton Pennsylvania! You can see her bio here. While in high school at Roanoke Catholic School, she played 5 years of varsity, 1 year of JV and 7 years of club ball. She participated with the Roanoke Juniors 17's at AAU Nationals in Orlando. She was a member of Coach Houser's 2008 15's junior team that was ranked #1 in the Old Dominion Region, and his 2009 Region Champion team that qualified for Nationals and spent a week in Miami in June of 2009. You can contact Aidan at lemonaidan21@cox.net



Camp Director:
Johnathan Willis
Head Coach, Randolph College

Fall 2011 is the 5th season for Johnathan Willis at Randolph College. Willis has coached four All-ODAC Honorable Mention honorees. At Liberty University, his alma mater, Willis served as both a volunteer assistant for the NCAA Division I women's volleyball team as well as the head coach of the Flames men's volleyball club program. ,In addition to his collegiate coaching experience, Willis has worked as a local clinician at Heritage High School, Franklin High School, and Timberlake Christian High School. He also served as the assistant coach at Brookville High School from 2005-2006, during which time the Bees won the district championship and finished second in regionals. Willis has experience at the travel club level as well, having served as the head coach of the Heart of Virginia girl's 16 and under travel volleyball team for the past two years. You can email Coach Willis at jwillis@randolphcollege.edu, or contact him at his office at 434-947-8339. The Randolph College volleyball website is here.

Rookie Camp Director:

Devyn Bayes
Devyn is the head coach of the American University women's club volleyball team. She graduated from Ferrum College in 2010, where she made the volleyball team as a walk-on her freshman year!! She graduated from George Washington High School in Danville, VA in 2007, where she played volleyball for six years. Devyn is now in graduate school at American University in Washington DC, and will graduate this summer. Devyn has assisted with twenty-seven STAR volleyball camps, including being the rookie camp director at Chugiak High in Anchorage Alaska in July of 2009 and at Timberlake Camp in July 2010. Her email is: dbayes@ferrum.edu Facebook page is here.

List Of Camp Assistants:

Jordan Hawkins
Jordan is a freshman at James Madison University and it playing on their club team with former club teammate Sam Washburn and one of Coach Houser's former players, Lindsey Campbell. Jordan is a 2011 graduate of Jefferson Forest High near Lynchburg, Va where her school team was 28-1 and made the state tournament! Jordan was a member of Tom Houser's 2009 Region Champion Junior team that qualified for Nationals & spent a week in Miami in June of 2009. Jordan was named 1st team All-District and 2nd team All-Region III as a soph, 1st team All-District and 2nd team All-Lynchburg her senior and junior year, and Athlete-Of-The-Week in Bedford Bulletin during each year in school. You can contact Jordan at jehawkins08@aim.com

Katie Holley
Katie is c/o '12 at Westover Christian. She has played school ball for 6 years, club ball for 3 years and considering playing volleyball in college. Katie will be playing at Averett University this fall! She has assisted with one STAR camp in 2011, and is ready this summer to travel all over Virginia to help girls learn the game she loves. You can contact Katie at setter4wca@gmail.com

Graycie Darden
Graycie just finished her freshman year at Randolph College where she played in 90 sets, finishing with 168 kills on the year, third-best on the team. She also finished with 28 service aces, including a career-high five in her first collegiate match vs. Mary Baldwin. She sas a two-sport start for Martinsville High School. She starred for three years on the volleyball team, captaining the team her senior season. She was the 2009 Piedmont District Player of the Year and Honorable Mention All-State. She was 2010 All-Piedmont District First-Team as a senior. She also starred for the softball team. You can see her Randolph College info here. You can email her here: graycee1@yahoo.com

Arianna Firestone
Arianna just finished her sophomore year at Randolph College. She played high school volleyball at Lynchburg Christian Academy where she was named both Division I All-State and 2nd team all-Lynchburg as a senior in 2009

Nicole Kane
Nicole is the middle school coach at Timberlake Christian. She is a graduate of Liberty University and teacher physical education at Timberlake. She also coaches girls basketball and assisted this past season with the varsity girls soccer team. You can contact her at nkane@tcs4u.org or ndkane@liberty.edu



DIRECTIONS TO TIMBERLAKE CHRISTIAN

From the west.....as if you're coming from Roanoke:

Take 460 East – Take the 460 Business exit ( also Timberlake Road). Go to the 3rd stoplight and take a left onto Waterlick Road. Go about 1 mile and take a right onto Locksley Place. Go about ¼ mile and the road will T. Take a right and the school is about 200 yards on the right. To get to Timberlake Christian School coming from Danville:

From the south.....as if you're coming from Rustburg, Altavista, etc.:

Come into Lynchburg on 29 North. As you approach Lynchburg take 460 West toward Roanoke. In about 1 mile exit right onto Greenview Drive. Go right at the end of the exit and go to the 3rd stoplight. Take a left on Timberlake Road. Go to the 6th stoplight and take a right onto Waterlick Road. Go about 1 mile and take a right onto Locksley Place. Go ¼ mile and the road will T. Take a right and the school is about 200 yards on the right.

Private Lessons In Roanoke

If anyone is interested in some one-on-one training. Coach Houser offers player training nearly every Sat & Sun night at North Cross School in Roanoke.

Lessons are occurring 12 months a year, but Coach Houser won't personally be offering any lesson b/c of his Junior Volleyball team is!

Girls come from West Virginia, Pulaski, Martinsville, Hillsville, Lynchburg, etc.

Alan Griffith, Todd Lynn and others are offering lessons NOW! The website is here. It's a TON of fun!!

If you or your teammates have any questions, you can email Coach Houser anytime at coachhouser@yahoo.com

The 2011 Camp!

Front Row: Hailey Martin, Allison Tucker, Mackenzie Delappe, Tabitha Lucado, Stephanie Hogan, Canaan Taylor, Taylor Tanzar, Lauren Thomas, Allison Maddox, Karli Bryant, Sarah Marilla, Nichole Blank.

Middle Row: Coach Tim McSherry, Coach Danny Miller, Coach Ashley Edwards, Laura Morris, Mary Lewis, Payton Adams, Stephanie Carroll, Michaela Urbani, Kayla Bryant, Sallie Robertson, Katlyn Layman, Taylor Masssie, Darian Finnerty, Kristina Sherwin, Taylor Tsoleas, Elizabeth Brooks, Rachel Hanson, Tori Gregory, Coach Devyn Bayes.

Back Row: Hannah Mays, Ciera Houser, Anne Harkins, Danielle Alexander, Jewel Hoornik, Emmy Wallace, Holly Kane, Coach Nicole Kane, Coach Allison Sparks, Coach Sarah Sparks


Pictures from the 2010 and 2011 camps are on Facebook! They are here!








Coach Kane now has a new business! Blue Ridge Bagels in Bedford.
You can see the Channel 13 video here.
Timberlake Christian School info:
Touch here to see the school website.
Touch here to see a map to the school. Just scroll down and type in your address.

Timberlake Christian Schools
202 Horizon Drive
Forest, VA 24551

Phone: 434-237-5943 Fax: 434-239-3319



• Home • CampHostingInfo • StandardCamp • HighExpecationsCamp • MaxExpectationsCamp • Staff • In-SeasonClinics • 10ReasonsWhy • Camp Calendar2013 • A Complete List! •
• 2005 STAR Calendar • Bassett2005 • BassCommCenter2005 • JeffersonForest2005 • Westover2005 • Narrows2005 • AnEntireList • Search CoachHouser.com •
• 2006 STAR Calendar • JeffersonForest2006 • WestoverChristian2006 • Lebanon2006 • NewCovenant2006 • Bassett2006 • RedLionDE2006 •
• 2007 STAR Calendar • WestoverChristian2007 • JeffesonForest2007 • Timberlake2007 • RedLionDE2007 • OconeeSC2007 •
• 2008 STAR Calendar • WestoverChristian2008 • Jeff Forest HighExp 2008 • JeffForest2008 • StMary'sPA2008 • RoanCath2008 • RedLionDE2008 •
2009 STAR Calendar • FranklinCo2009 • Riverheads2009 • HighExp@ECGlass2009 • Timberlake2009 • RoanCath2009 • Fuqua2009 • StMarysPA2009 • ChugiakAlaska2009 • RedLionDE2009
2010 STAR Calendar • DanRiver2010 • HighExp@VES2010 • Timberlake2010 • RoanCath2010 • StMarysPA2010 • VirginiaEpiscopal.2010 • PatrickCounty2010 • Fuqua2010
• Home • 2011 STAR Calendar • Timberlake2011 • DanRiver2011 • JamesRiver2011 • HighExp@VES2011 • MaxExp@VES2011 • RoanCatholic2011 • Carlisle2011 • PatrickCo2011 • Westover2011 • Facebook •
• Home • 2012 STAR Calendar • Timberlake2012 • Dan River2012 • MagnaVista2012 • HighExp2012 • MaxExp2012 • Westover2012 • RoanokeCatholic2012 • Carlisle2012 • PatrickCounty2012 • PaulVI2012 • JohnBattle2012 •

| | |
| --- | --- |
| Last updated: 12/19/2012 10:43 AM | |