Franklin County High School
Monday July 11 - July 14, 2016
Rocky Mount, Va Directed by Lanette Upshaw
• Home • CampHostingInfo • StandardCamp • HighExpecationsCamp • MaxExpectationsCamp • Staff • In-SeasonClinics • 10ReasonsWhy • Camp Calendar 2016 • A Complete List! • 2016 Camp Calendar • Facebook •
• 2016 Camp Calendar • RoanokeCatholic2016 • ArundelRookieMD2016 • SweetBriarHighExpVA2016 • SweetBriarCollegeExpVa2016 • ArundelHighExpectationsMD2016 • FortChiswell2016 • FranklinCounty2016 • SonomaCountySTARCA2016 • SonomaCountyHighExpCA2016 • WestoverChristianVa2016 • PatrickCountyVa2016 GretnaVa2016 • ArundelH.S.PrepMD2016 •McMichaelNC2016 • Facebook


The 2016 Camp Award Winners!


Back Row: Coach Kelsey Goodman, Rachel Justice, Abbey Justice, Hayden Kitzmiller, Rylee Elwell, Callie Altice, Bailey Grace Haskins, Reese Turner, Alex Christoff, Coach Hannah Shields.
Middle Row: Laurel Richardson, Logan Pasley, Bethany Jackson, Skylar Grindstaff, Lauren Stone, Hallie Wray, Brooke Harrison, Taylor Anderson.
Front row: Delaney Forbes, Maddy Brown, Aspen Montgomery.

2016 Camp Format:
Monday - Wednesday probably 9am to 4pm with a one hour lunch break.
Thursday probably 9am to 1pm & no lunch break.

Cost:
$200

Registration Form:
The registration form is here!

~~~~~~~~~~~~~~~~~~~


If you have any questions about the camp, you may email the Coach Houser,
at coachhouser@yahoo.com, or the camp host, Audrey Fizer at audrey.fizer@frco.k12.va.us


~~~~~~~~~~~~~~~~~~~


Pictures from the 2010 - 2016 camps are on Facebook!
They are here!!






Camp Director:

Lanette Upshaw
Former Head Coach, Virginia Western Community College
Club Coach, Next Revolution Volleyball, Roanoke, Va
Coach Upshaw started the volleyball program at Virginia Western in 2011. She played juniors at Biltmore Volleyball Club's teams. She played varsity 3 years in high school and was named team MVP twice and named All-MAC three times. Th en she went on to play D1 vball atUNC-Wilmington. Lanette has coached NRV's 18s club team in 2010 and 2012, she coached 17s in 2011, 2013 and 2014. Lanette is married to Omar and has 3 boys. You can contact Coach Upshaw at lupshaw@virginiawestern.edu.

Camp Assistants:

Hannah Shields
Hannah has played 2 years as an OH at Averett University. Both years she has been named 1st team All-Confernece. In her sophomore year she finished the season with the highest kill total in all of NCAA D3. IN her freshman year she was 3rd highest and was also named USA South Rookie Of The Year. During her sophomore year, she was named Conference Player Of The year! Hannah is a 2014 graduate of Dan River High School, near Danville, Va. She played 6 years of school vball and 5 years of club vball. She played on Coach Houser's team in 2012 that attended Jr Nationals in Columbus Ohio! She was named 1st team all state her senior year at Dan River. You can see a nice article about her high school accomplishments here, and an article about her college feats here! You can contact Hannah at hannah_shields3@yahoo.com

Kelsey Goodman
Kelsey comes from a volleyball family! She graduated from Midlothian High in the Richmond area. She played 6 years of school volleyball and 7 years of club volleyball. She will be a sophomore next fall at Roanoke College and is on the volleyball team there! You can find out more about Kelsey here. This is Kelsey's first year working STAR camps, but both her and her sister have been regular participants in the Expectations Camps at Sweet Briar! You can contact Kelsey at kelseygoodman3@gmail.com.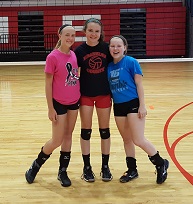 Here are the 7 tournament teams!
The Chupacabras won the tournament!!
The Chinchillas finished 2nd!!



Franklin County High School info:

Touch here to see the Franklin County High website.


Franklin County High School
700 Tanyard Rd, Rocky Mt, VA 24151
(540) 483-0221

• Home • CampHostingInfo • StandardCamp • HighExpecationsCamp • MaxExpectationsCamp • Staff • In-SeasonClinics • 10ReasonsWhy • A Complete List! •
• 2005 STAR Calendar • Bassett2005 • BassCommCenter2005 • JeffersonForest2005 • Westover2005 • Narrows2005 • AnEntireList • Search CoachHouser.com •
• 2006 STAR Calendar • JeffersonForest2006 • WestoverChristian2006 • Lebanon2006 • NewCovenant2006 • Bassett2006 • RedLionDE2006 •
• 2007 STAR Calendar • WestoverChristian2007 • JeffesonForest2007 • Timberlake2007 • RedLionDE2007 • OconeeSC2007 •
• 2008 STAR Calendar • WestoverChristian2008 • Jeff Forest HighExp 2008 • JeffForest2008 • StMary'sPA2008 • RoanCath2008 • RedLionDE2008 •
2009 STAR Calendar • FranklinCo2009 • Riverheads2009 • HighExp@ECGlass2009 • Timberlake2009 • RoanCath2009 • Fuqua2009 • StMarysPA2009 • ChugiakAlaska2009 • RedLionDE2009
2010 STAR Calendar • DanRiver2010 • HighExp@VES2010 • Timberlake2010 • RoanCath2010 • StMarysPA2010 • VirginiaEpiscopal.2010 • PatrickCounty2010 • Fuqua2010
• Home • 2011 STAR Calendar • Timberlake2011 • DanRiver2011 • JamesRiver2011 • HighExp@VES2011 • MaxExp@VES2011 • RoanCatholic2011 • Carlisle2011 • PatrickCo2011 • Westover2011 • Facebook •
• Home • 2012 STAR Calendar • Timberlake2012 • Dan River2012 • MagnaVista2012 • HighExp2012 • MaxExp2012 • Westover2012 • RoanokeCatholic2012 • Carlisle2012 • PatrickCounty2012 • PaulVI2012 • JohnBattle2012 •
• Home • 2013 STAR Calendar •Appomattox2013 • HighExp2013 • CollegeExp2013.htm • MacArthurOK2013 • RoanCath2013 •Chatham2013 •HillcrestMiddleCA2013 •Westover2013 • JohnBattle2013 • SouthCaldwellNC2013 2014 Camp Calendar • PulaskiCo2014 • FoothillsVballClubSC2014• StateLineClub2014 • Appomattox2014 • Gretna2014 • HighExp2014 • CollegeExp2014 •AnalyCA2014 • JohnBattle2014 • WestoverChristian2014 • PatrickCounty2014 • LibertyVa2014 • Facebook • 2015 Camp Calendar • PatrickHenryCommCollVa2015 • AlleghanyVa2015 • LebanonVa2015 • HighExpVA2015 • CollegeExp2015 • ElMolinoCA2015 • HighExpCA2015 • FoothillsVballClubSC2015 • PatrickCountyVa2015• WestoverChristianVa2015 • GretnaVa2015 • SouthCaldwellNC2015 • Facebook •
• 2016 Camp Calendar • RoanokeCatholic2016 • ArundelRookieMD2016 • SweetBriarHighExpVA2016 • SweetBriarCollegeExpVa2016 • ArundelHighExpectationsMD2016 • FortChiswell2016 • FranklinCounty2016 • SonomaCountySTARCA2016 • SonomaCountyHighExpCA2016 • WestoverChristianVa2016 • PatrickCountyVa2016 GretnaVa2016 • ArundelH.S.PrepMD2016 •McMichaelNC2016 • Facebook